Hi all,
it was sadly not possible for me to visit HiveFest last year, even though it was on VR rather than in some faraway town :) I simply did not have the time at that moment.
But this year I am definitely not going to miss the event!
I just set up my Oculus Quest 1 with Altspave VR, as far as I can say it is working quite nice, I even hit a few baskets in the tutorial :)
I even used the time to paint a rather fitting (well, more or less to be honest) Avatar of mine, at least the grey hair is something that reminds me of myself ;)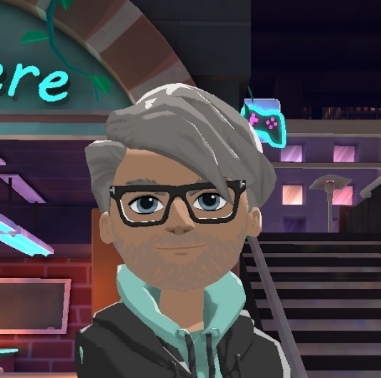 Join Hivefest
If you did not already register, it is free for at least another hour (I do not know which timezone @roelandp is using) ;) Here is the link --> Join Hivefest here
From the 5th of November it will cost 50HBD to register and for the super late owls (from 8th to 11th) it will cost 100HBD.
Happy to meet you!
I am on the chain for quite some time now, sadly I wasn't able to attend a real Hivefest in all that time. It is not quite the same than really drinking a beer or wine with all of you, but it kinda gets close and maybe that's the best we can do for now.
Have a nice evening!
Jan