Dear Hiveans,
today just some short thoughts on conspiracy theories, complexity, razors and stupidity.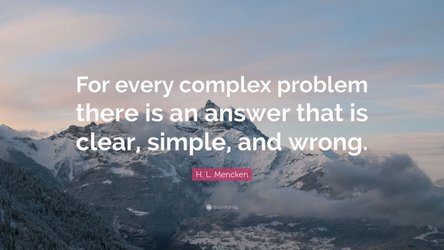 source
The world is immensely complex and over time becomes even more complex. The more people live on earth and the more technology evolves, the more information, decisions and interdependencies exist. (Some) people try to reduce this complexity and come to some easy "truths".
I think reducing complexity is the task of scientists who search for basic laws (gravity, chemical bonds, demand/supply, etc.) and postulate new theories. Scientists should apply the scientific method and continuously try to refute old theories (via falsification / critical rationalism / fallibilism, more info, more on fallibilism).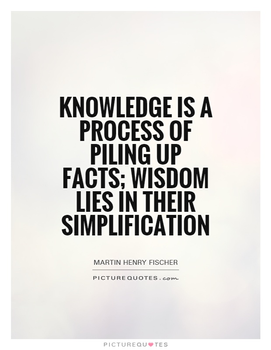 source
As many people crave for simple truths, their demand induces some crooks/con men to create simple stories and to sell them. If something bad happens, it's simple to search for a scapegoat

if I get ill, someone must have made me ill, e.g. via chemtrails or vaccines.
if the economy goes down, someone must be culpable, e.g. the Jews, the Americans, or "the rich".
if some terrorist group arises (Taliban, ISIS, or Boko Haram), it was the US / the CIA who created them.
Sometimes, conspiracy theorists even try to overcomplicate things: if an autocrat invades another country, it's not an invasion but a defensive war against the aggressors of the USA/NATO 🤡. But in the end that's also the result of a simplistic model: if something bad happens, it's the guilt of the US.
There are two rules of thumb that help dealing with (adverse) events in a complex world:
Occam's razor (wiki): When there are competing hypotheses/explanations for an event/occurrence, one should prefer the one that requires the fewest assumptions.
Hanlon's razor (wiki): "Never attribute to malice that which is adequately explained by stupidity." There is an abundance of stupidity in our world and it's a lot more likely that bad things happen due to stupidity than due to some elaborate plan of an elite. Such a plan would require both prudence and a perfect alignment of incentives - which is very, very unlikely. And in a country with one decision maker (dictator), the risk of stupidity leading to very bad decisions is a lot higher than in a (somewhat) democratic country

due to the mitigating effect of bureaucratic coordination (though very far from perfect)
and democracy's core function ("the true purpose of democracy is not to select the best leaders ... but to facilitate the prompt and peaceful removal of obviously bad ones." according to David Deutsch).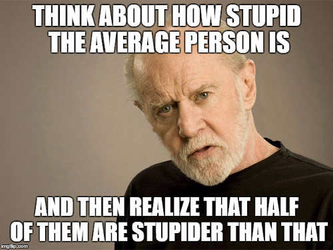 source
Thus, conspiracy theories are based on a fundamental ignorance or misunderstanding of sociological processes (how decisions are made) or on simple hatred of certain groups.
Have a great day,
zuerich
---
Liebe Hiver,
heute nur ein paar kurze Gedanken zu Verschwörungstheorien, Komplexität, Rasierklingen und Dummheit.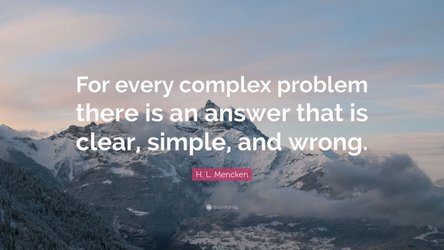 Quelle
Die Welt ist ungeheuer komplex und wird mit der Zeit immer komplexer. Je mehr Menschen auf der Erde leben und je mehr sich Technologie entwickelt, desto mehr Informationen, Entscheidungen und Abhängigkeiten gibt es. (Manche) Menschen versuchen, diese Komplexität zu reduzieren und zu einfachen "Wahrheiten" zu gelangen.
Meiner Meinung nach ist die Reduktion der Komplexität die Aufgabe von Wissenschaftlern, die nach grundlegenden Gesetzen (Schwerkraft, chemische Bindungen, Angebot und Nachfrage usw.) suchen und neue Theorien aufstellen. Wissenschaftler sollten die wissenschaftliche Methode anwenden und ständig versuchen, alte Theorien zu widerlegen (durch Falsifikation / kritischen Rationalismus / Fallibilismus, mehr Infos, mehr zum Fallibilismus).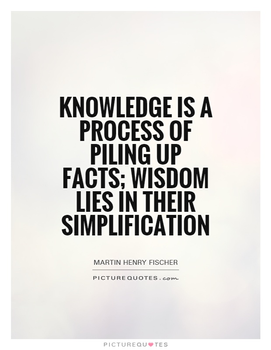 Quelle
Da sich viele Menschen nach einfachen Wahrheiten sehnen, verleitet ihre Nachfrage einige Dummbatzen/Betrüger dazu, einfache Geschichten zu erfinden und sie zu verkaufen. Wenn etwas Schlimmes passiert, ist es einfach, einen Sündenbock zu suchen

Wenn ich krank werde, muss mich jemand krank gemacht haben, z.B. durch Chemtrails oder Impfstoffe.
Wenn die Wirtschaft zusammenbricht, muss jemand schuld sein, z.B. die Juden, die Amerikaner oder "die Reichen".
Wenn eine Terrorgruppe auftaucht (Taliban, ISIS oder Boko Haram), waren es die USA bzw. die CIA, die sie geschaffen haben.
Manchmal versuchen Verschwörungstheoretiker sogar, die Dinge zu verkomplizieren: Wenn ein Autokrat in ein anderes Land einmarschiert, ist das keine Invasion, sondern ein Verteidigungskrieg gegen die Aggressoren der USA/NATO 🤡. Aber auch das ist letztlich das Ergebnis eines simplistischen Modells: Wenn etwas Schlimmes passiert, dann waren es die USA.
Es gibt zwei Faustregeln, die helfen, mit (ungünstigen) Ereignissen in einer komplexen Welt umzugehen:
Ockhams Rasiermesser (wiki): Wenn es konkurrierende Hypothesen/Erklärungen für ein Ereignis gibt, sollte man diejenige bevorzugen, die die wenigsten Annahmen erfordert.
Hanlons Rasiermesser (wiki): "Schreibe niemals der Böswilligkeit zu, was sich durch Dummheit hinreichend erklären lässt." Dummheit gibt es in unserer Welt im Überfluss, und es ist sehr viel wahrscheinlicher, dass schlimme Dinge aufgrund von Dummheit geschehen als aufgrund eines ausgeklügelten Plans einer Elite. Ein solcher Plan würde sowohl Klugheit/Umsicht als auch eine perfekte Alignierung der Anreize erfordern - was sehr, sehr unwahrscheinlich ist. Und in einem Land mit einem Entscheidungsträger (Diktator) ist das Risiko, dass Dummheit zu sehr schlechten Entscheidungen führt, sehr viel höher als in einem (einigermaßen) demokratischen Land

aufgrund der mildernden Wirkung von bürokratischer Koordination (wenn auch bei weitem nicht perfekt)
und der Kernfunktion der Demokratie ("der wahre Zweck der Demokratie besteht nicht darin, die besten Führungskräfte auszuwählen ... sondern die rasche und friedliche Beseitigung offensichtlich schlechter Führungskräfte zu erleichtern", so David Deutsch).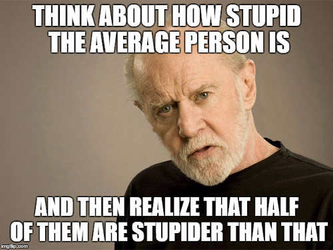 Quelle
Verschwörungstheorien beruhen also auf einer grundlegenden Unkenntnis oder einem Missverständnis soziologischer Prozesse (wie Entscheidungen getroffen werden) oder auf banalem Hass auf bestimmte Gruppen.
Have a nice day,
zuerich
---
Queridos Hiveanos,
hoy sólo unas breves reflexiones sobre teorías conspirativas, complejidad, navajas y estupidez.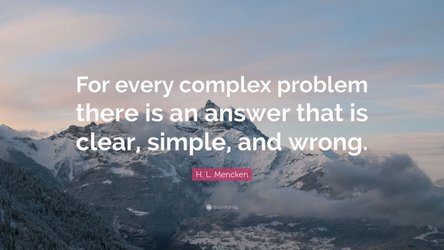 fuente
El mundo es inmensamente complejo y con el tiempo se vuelve aún más complejo. Cuanta más gente vive en la Tierra y más evoluciona la tecnología, más información, decisiones e interdependencias existen. (Algunas) personas intentan reducir esta complejidad y llegar a algunas "verdades" fáciles.
Creo que reducir la complejidad es tarea de los científicos, que buscan leyes básicas (gravedad, enlaces químicos, demanda/oferta, etc.) y postulan nuevas teorías. Los científicos deben aplicar el método científico e intentar refutar continuamente las teorías antiguas (mediante la falsificación / racionalismo crítico / falibilismo, más información, más sobre falibilismo).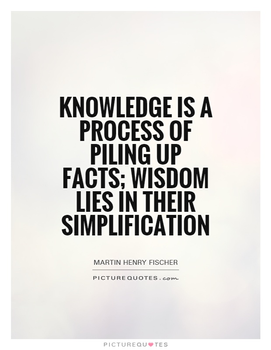 fuente
Como mucha gente ansía verdades sencillas, su demanda induce a algunos estafadores a crear historias sencillas y venderlas. Si pasa algo malo, es fácil buscar un chivo expiatorio

si me pongo enfermo, alguien tiene que haberme provocado la enfermedad, por ejemplo, los chemtrails o las vacunas.
si la economía se hunde, alguien debe ser culpable, por ejemplo, los judíos, los estadounidenses o "los ricos".
si surge algún grupo terrorista (talibanes, ISIS o Boko Haram), fue EE.UU. / la CIA quien los creó.
A veces, los teóricos de la conspiración incluso intentan complicar demasiado las cosas: si un autócrata invade otro país, no es una invasión sino una guerra defensiva contra los agresores de EEUU/OTAN 🤡. Pero al final eso también es el resultado de un modelo simplista: si pasa algo malo, es culpa de EEUU.
Hay dos reglas empíricas que ayudan a tratar los acontecimientos (adversos) en un mundo complejo:
La navaja de Occam (wiki): Cuando hay varias hipótesis o explicaciones para un suceso, se debe preferir la que requiera menos suposiciones.
Navaja de Hanlon (wiki): "Nunca atribuyas a la malicia lo que se explica adecuadamente por la estupidez". En nuestro mundo abunda la estupidez y es mucho más probable que las cosas malas ocurran debido a la estupidez que a un elaborado plan de una élite. Un plan así requeriría tanto prudencia como una alineación perfecta de los incentivos, lo cual es muy, muy improbable. Y en un país con un único responsable de la toma de decisiones (dictador), el riesgo de que la estupidez conduzca a decisiones muy equivocadas es mucho mayor que en un país (en cierto modo) democrático

debido al efecto mitigador de la coordinación burocrática (aunque muy lejos de ser perfecta)
y la función principal de la democracia ("el verdadero propósito de la democracia no es seleccionar a los mejores líderes... sino facilitar la destitución rápida y pacífica de los obviamente malos", según David Deutsch).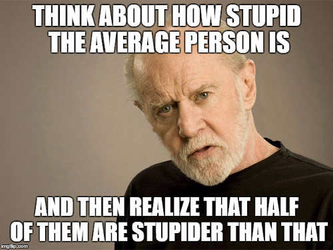 fuente
Así pues, las teorías de la conspiración se basan en una ignorancia o incomprensión fundamental de los procesos sociológicos (cómo se toman las decisiones) o en el simple odio a determinados grupos.
Que tenga un buen día,
zuerich