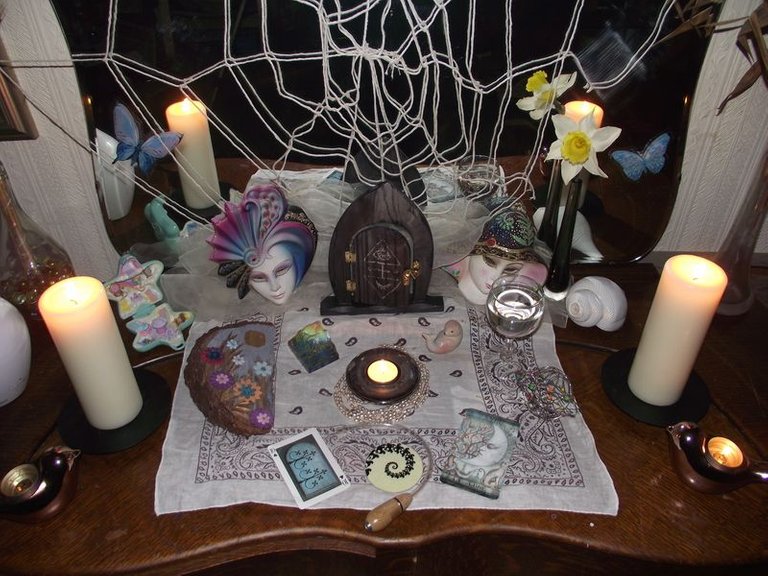 After a very intense week with Doombringer the time came to welcome Ino. Her energy proved very soothing and gentle but with a very sharp edge.
I constructed the altar in the morning and composed incense for her from white sandalwood, blue lotus, jasmine flowers and frankincense. After evoking her I sat in a meditation. I noticed a familiar strange shivery cold feeling creeping up my spine. It was very strong. I interpreted this as a sign of Ino's presence. My mind became flooded with impressions and memories somewhat disjointed but connected through a thread of an invisible force. She revealed herself to me as the May Queen decorated with jasmine and other summer flowers. I received the impression of excitement and joy associated with new discovery. She invites us on a new journey.
What I noticed working with her the first evening as well as later is that she directed my attention inwards and towards my body. Suddenly I could feel all the stiff parts that need a hot bath and some yoga. I could feel the inner tension both physically and psychologically. Becoming aware of it was distracting but also constructive. I was forced to work towards removing it, take some time for myself and just chill.
I didn't get the conversational chatter from her like I did with Agent 663. She was more distant and subliminal. I took notice of a dream involving seals I had during her week.
Seals
I was on a cliff watching the see. Suddenly I noticed a whole family of seals with young pups coming to the shore. They hauled out onto a peer. I felt a strong connection to them, like usual when I dream or see them in real life. Then a noisy family parked their car on the roadside and began strolling towards the seals. Like a typical British family they seemed to behave like the whole world revolves around them. I approached them and confronted them about it, asking them to be more considerate and do not disturb the seals. The family wanted to see the seals but treated them like cartoon caricatures, not the wild sea beasts that they truly are. The father began asking me where I come from and behaving semi racist. I was able to deflect his dominance display and point to the practicality of sharing the space both with myself and the seals. Eventually the family listened and backed off.
The dream seemed to be a powerful cometary about immigration and my anxiety with growth in xenophobia and racism. Speaking out in defence of minorities often results in being attacked and harassed but doing so can have positive results.
UFO Tarot: 7 of Disks and 4 of Swords
"Keeping the desire for knowledge alive means giving oneself the possibility of growth."
"Serenity and wisdom are achieved by accepting destiny."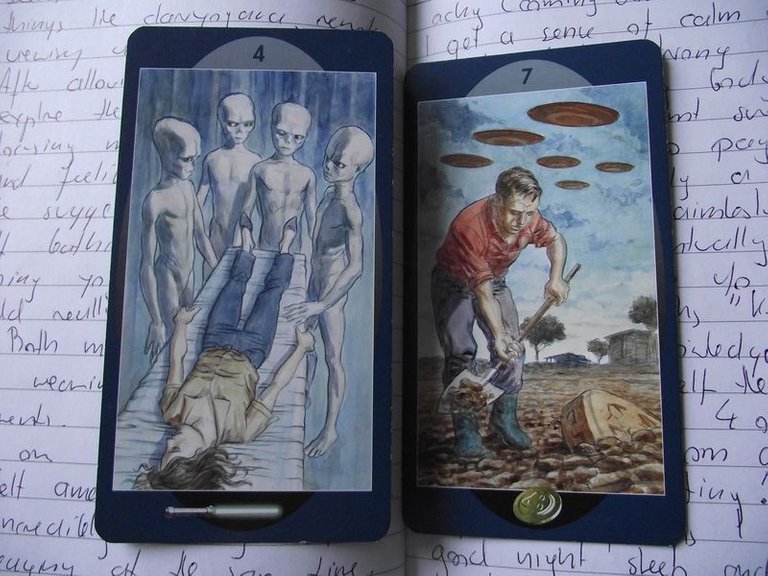 Know Thyself
Even though most of my meditations with Ino were silent and calm I did feel her presence and vibe during the whole week very strongly. It seemed synchronistic and important that during my time with her I found out about Misophonia. I always recognised that my relationship to sound is different. Misophonia means 'hatred of sound' and it's characterised by a mild to powerful flight or fight response to certain seemingly innocent sounds like typing on a keyboard or the crunching of popcorn. I experienced fits of absolute rage at my mum crunching apples when I was growing up. I could never understand why the sound was setting me off so badly. Everyone can get annoyed at noisy eaters occasionally but this was way beyond annoyed. I felt like I wanted to crush her skull with my naked hands.
All the writings about misophonia I came across focused on the negatives but I have a very rich and beautiful relationship to sound. I recorded an album with my indie band back in 2004 and I love doing sound recordings for my Glen Faramach project. The only time I managed to receive a first grade at university was when I was in charge of sound design for film or worked on an abstract documentary for radio.
I wonder if misophonia can have surprising side effects. Since I remember I always found the sound of pen on paper highly pleasurable and listening to small sounds can put me in deep trance very quickly. I indulged in this during my meditations especially when Anton went to do his automatic drawings. It was a very interesting self exploration for me.
Automatic drawing.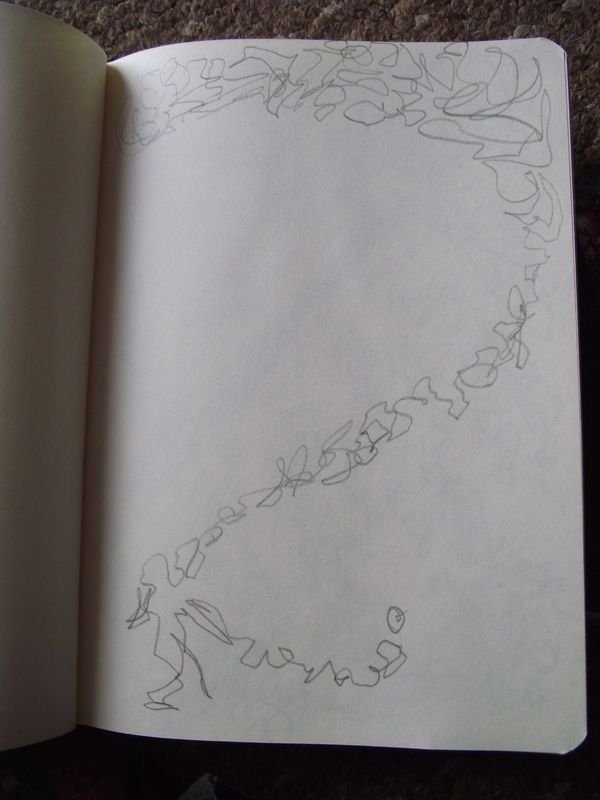 I find the use of empty space in both 663 and Ino drawings interesting. It's a great example how this technique can produce unique results.
After few days of silent meditation I did receive a very clear message. We decided to independently asked Ino for advice regarding our creative projects and how to get them to the point of being self-sustaining financially. I was surprised at what followed. It was a continuous, unbroken stream of automatic writing that filled 3 pages of my diary. The advice was comprehensive, detailed and very precise. It covered all the bases and gave me a very practical and down to earth run down of do's and don'ts both personal and interpersonal. I will definitely follow up on that.
Overall my week with Ino felt like a small peak through an ajar door. She is clearly multifaceted and has more to offer than one might initially suspect. There is something really tough about her. Something disconcerting and uneasy. She definitely represents a side of magick I have been neglecting for various reasons, one that I need to reconnect with.