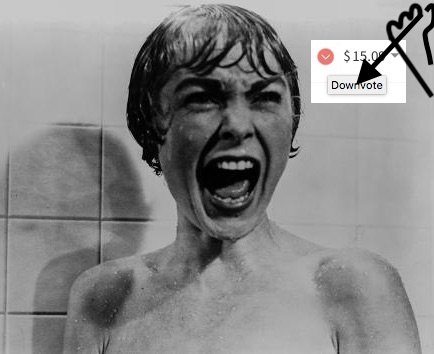 As a writer and creative for a few years now, I can say that getting downvoted because of purchasing bid bots seemed unnecessarily anger inducing and insanely ridiculous to say the least. Since I am in no way as tech savvy as more than half of the Steemit community (or so it seems), I had to decode what was meant by the gesture so that my layman brain could understand.
First, the way I see bid bots and I don't think I'm alone here, are as advertising for my post, which is like my baby. You pay for upvotes and thereby gain more exposure to the community, hopefully gain more followers, and show off your baby to more Steemians, which means more STEEM or SP. I fully agree with downvotes being part of the system but failed to see why these we're forcibly used en masse to basically say, bots bad, curators good.
The why, as I understand it, seems to boil down to sustainability. Before you all start throwing tech jargon that makes no sense to us creative-types, just know that anything that can be explained simply is more effective than long drawn out answers to make yourselves sound S-M-R-T...I mean, S-M-A-R-T. This platform NEEDS to remain sustainable in order to grow and unfortunately, it didn't have the most effective origins in order to do so.
My natural blinding-rage reaction to what I believed to be an "unfair" attack made me (under calmer settings outside of Steemit, as in out in the real world) open my mind and contemplate the why. If we, here on this platform are truly trying to change what has already been done elsewhere (centralized platforms: FB, Twitter, Myspace, AOL, BBS, etc.) shouldn't we at least try to not let $ influence our decision? Steemit is the first of its kind and considering the future of privacy, where our information is bought and sold to the highest darknet bidder, perhaps working together to make it a better place isn't such a bad idea.
Bid bots obviously hurt the platform but more importantly, they make what we do as creatives less valuable. The more we pay for upvotes, the less sustainable Steemit will become and the less our work will be worth. Because you know you won't be able to make a dime off your FB or Insta post anonymously. This platform values our privacy and is ok with paying us for good, original content. It doesn't send us a W4 or email our info to the IRS or any other government entity designed to illegally take what we earn.
IMPORTANT: I had a change of heart because it makes sense as a creative and I value what this platform offers to my w̶o̶r̶k̶ baby. Being the rebel that I am, I said some nasty things to a few downvoters but in all fairness, I felt like I was blindsided without any warning. I would've very much appreciated a comment warning saying that bid bot use would be downvoted. I also have no clue on what percentage of my payout should be given to @null or @steem.dao in order not to be downvoted should I decide to advertise a low performing post. It seems odd not to have any promotion options other than waiting for curators to find you in the sea of posts and fear downvotes if the payout rewards given aren't up to par with the whale downvoters. Am I crazy to want a clear explanation on this? If so, I apologize but not much of this seems to have been explained in a way that us creatives can understand. Any clarification is much appreciated.
Thanks for reading and don't forget to cook!
My contribution to the revolutionist movement will be to turn the recipes I post on this blog into The Revolutionist Cookbook and eventually open a restaurant where only cryptocurrency is accepted. Where tipping won't be necessary as everyone will be paid full salaries and where simple and healthy ingredients will meet delicious cuisine. Like open source code, all of my recipes will be available to the public in full detail and any improvements offered will be embraced and possibly added to the menu in their perfected form. Any donations to the cause are much appreciated either by up-vote or wallet of choice below.
BTC:
1FFKXs4nDU4K5RJED7J4hKZb52Ku5nuFQV
LTC:
LgmcEdMJ1k6e7jY4DbwdTK5nsza9Y3FPHQ
XMR:
49SSmcAqEdECbze28knCJXU6DBzxF2raohnMuVvCQeJ1gqU4eXSXJKBiiZCF8kpy6VKjdUaiCH6CPY3FpP4sHzfgT1ga9us
Image above edited by revolutionstcafe and is used under the Fair Use Interpretation of Copyright Law; meant to be promotional under the parody category.