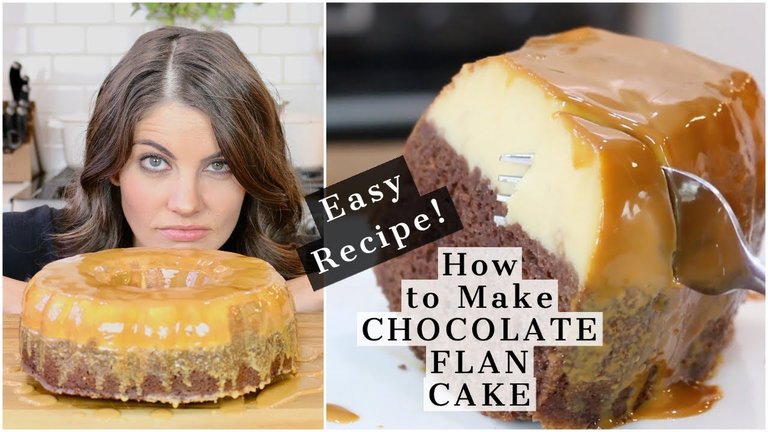 ---
Have you ever had Chocoflan or Chocolate Flan Cake? This is basically a half chocolate and half flan cake that has caramel sauce dripping from the top (you can also add extra caramel once it is inverted). It may sound a bit more complicated than it really is, we will be using boxed cake mix for the chocolate part and for the flan part we will be using sweetened condensed milk, eggs and evaporated milk (but we will get into that once we are at that step) but what I am trying to say is that this cake isn't all that hard to make, just follow my steps and tips and you should have the perfect Chocoflan or Chocolate Flan Cake.
Cake Pop Recipe:
Flan Recipe:
Crustless Custard Pie Recipe:
Chocolate Fudge Recipe:
Flourless Chocolate Cake Recipe:
Chocolate Lava Cake Recipe:
My Social Media Accounts
Instagram: https://www.instagram.com/lydia_april7/
Instructables: https://www.instructables.com/member/...
Some tools I've used for this recipe:
Hamilton Beach Hand Mixer: https://amzn.to/2C8VYQr
Cuisinart Oven Mitts: https://amzn.to/2NHTkU1
Ninja Blender: https://amzn.to/2UDiybq
Coconut Oil Cooking Spray: https://amzn.to/2PQs9Lz
Chocolate Flan Cake
For the Chocolate Cake
Cooking Spray
1/2 cup caramel sauce
1 (15.25 oz) box of Betty Crocker Super Moist Milk Chocolate Cake Mix
1 1/4 cup water
1/3 cup Vegetable Oil
3 Eggs
For the Flan
4 oz cream cheese, softened
4 eggs, at room temperature
1 (14 ounce) can Sweetened Condensed Milk
1 (12 ounce) can Evaporated Milk
1 teaspoon of vanilla
Heat oven to 350 degrees F. Coat 12-cup bundt pan with non-stick cooking spray. Add caramel sauce to the bottom of bundt pan and evenly spread it out.
Prepare cake mix according to package directions using the water, oil and eggs. Pour evenly over caramel topping.
Combine cream cheese, eggs, sweetened condensed milk, evaporated milk and vanilla in blender. Blend mixture until blended. Pour slowly over cake batter.
Coat piece of foil with non-stick cooking spray. Cover pan, coated side down, tightly with foil. Place pan in large roasting pan. Pour hot water into roasting pan to a depth of 2 inches.
Bake 1 and a half hours or until toothpick in center still has a few moist crumbs. Pull out of oven and allow flan to stay in water for 15 minutes after 15 minutes remove foil and allow to completely cool. Once cake is cooled completely, invert onto serving plate. Enjoy!
Matthew 7:7
Ask, and it will be given to you; seek, and you will find; knock, and it will be opened to you.
#chocoflan
#chocolateflancake
#flan
#cake
---
▶️ DTube
▶️ YouTube