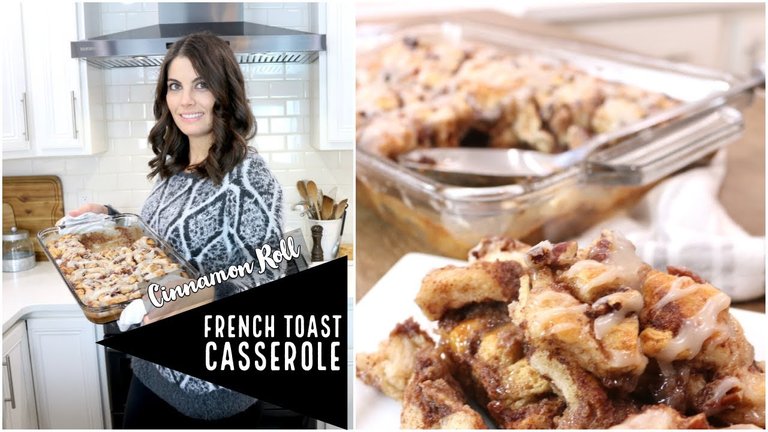 ---
HAPPY NEW YEAR!!!! Thank you so much for making 2019 such an awesome year, truly felt the love. Hope that 2020 will be a blessed year to you and you loved ones. This Cinnamon Roll French Toast Casserole is perfect if you are hosting loved ones this time of year (or anytime the the year) and feel a bit stuck because you don't know what to sever them for breakfast. I know I get nervous thinking what can I make that taste great and comes together fast and isn't much hassle (just so I can get as much time with my loved ones without having to spend hours in the kitchen). This casserole is perfect for hosting or a late brunch or anytime you want something delicious.
Cake Pop Recipe:
Cinnamon Roll Recipe:
Instagram: https://www.instagram.com/foodbylyds/
Instructables: https://www.instructables.com/member/...
Twitter: https://twitter.com/FoodbyLyds
Some things I used for this recipe:
All Clad 6 QT. Sauté Pan: https://amzn.to/2zXvpfX
9x13 Baking Dish: https://amzn.to/2O1pteg
Coconut Oil Cooking Spray: https://amzn.to/2PQs9Lz
Cinnamon Roll French Toast Casserole
2 cans Cinnamon rolls (store bought)
1/2 cup butter
1/3 cup sugar
2 eggs
3/4 cup heavy whipping cream
3 teaspoon cinnamon
1/4 teaspoon nutmeg
2 teaspoon vanilla extract
1/2 cup chopped pecans
Icing from cinnamon roll packages
Preheat over 350 degrees F. Grease a 9x13 casserole dish. In a saucepan, melt butter with sugar, once melted add the butter and sugar mixture to a large bowl. Add in eggs, cream, cinnamon, nutmeg and vanilla to the large bowl and beat until everything is combined. Open canned cinnamon rolls and slice each cinnamon roll into fourths. Place cinnamon roll pieces into the bowl of egg mixture and toss to thoroughly coat. Then pour the mixture into a greased casserole dish and spread out evenly. Sprinkle with pecans and then bake for 35-40 minutes (rotate halfway thought baking). Remove casserole from oven. Drizzle icing from the cinnamon rolls evenly on top casserole. Enjoy!
Psalm 8:3-4 English Standard Version
When I look at your heavens, the work of your fingers, the moon and the stars, which you have set in place,
what is man that you are mindful of him, and the son of man that you care for him?
#cinnamonroll
#frenchtoastcasserole
#casserole
---
▶️ DTube
▶️ YouTube