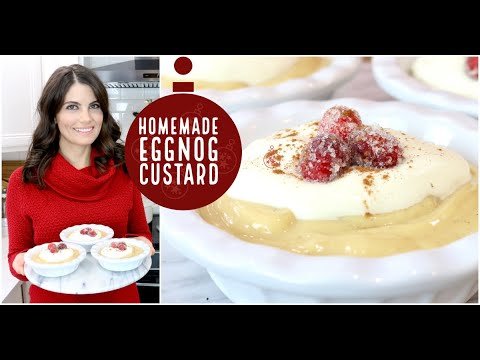 ---
It is Eggnog Season! Stores bring eggnog out pretty early every year (starting in the early fall) and I have gotten really good about not buying it right away. So I waited until now so I could make Eggnog Custard. If you love eggnog and you love custard, then you are in for a special treat! This custard is rich and creamy, smooth and delightful and you actually taste the eggnog! This custard has 6 pretty basic ingredients and doesn't take long to prepare, the waiting for it to set up is the hard part. You can also add whipped cream and cranberries coated in sugar on top with a dash of cinnamon to make this dessert look all the more festive and special.
Check out my Custard Pie Recipe:
Check out my Tapioca Pudding Recipe:
Instagram: https://www.instagram.com/foodbylyds/
Instructables: https://www.instructables.com/member/...
Twitter: https://twitter.com/FoodbyLyds
All Clad Stainless-Steel Set: https://amzn.to/2yvvPrZ
Homemade Eggnog Custard
1/3 cup granulated sugar
2 tablespoons cornstarch
pinch salt
1/4 teaspoon ground cinnamon
2 1/4 cup eggnog
3 egg yolks
Place sugar, cornstarch, salt, and cinnamon in a medium-sized pot and stir to combine. Add in the eggnog and egg yolks and whisk until combined.
Set heat to medium and whisk constantly until custard is thickened and it coats the back of a spoon, about 5-8 minutes. Strain custard through a fine mesh sieve into a bowl, and place plastic wrap on top, touching the top of the pudding. Place in the fridge to set, 3 hours or overnight.
Once custard is cooled, add to serving dishes, top with whipping cream, a few cranberries and a sprinkle of cinnamon. Enjoy!
Exodus 15:2
The Lord is my strength and my song, and he has become my salvation; this is my God, and I will praise him, my father's God, and I will exalt him.
#eggnogcustard
#eggnog
#custard
#holidayrecipe
---
▶️ DTube
▶️ YouTube