Here's my first rough take on Moondog's Bird's Lament song. Experimenting with other music styles and not my regular boom boom with ambience. Not anywhere near close to being as good as the original, but my best first shot. Don't think he would approve of the tight 4/4 timing. He said the human race was going to die in 4/4 time and he composed in what he called Snake time (stuttering 5/4 time) . Dude also made many of his own instruments by hand. He also wasn't a fan of electronic or electric instruments. None of his tunes are anywhere like his other tunes. Check him out.
Used Logic Pro, Alchmey for the Horn and Orchestral sounds. Some Sylenth sounds for the saw wave synthy sounds. Might try doing some more with it later and refine it a bit more and try the snake time dealio. Someone should create a Snake Time DAW plugin... Hmm...
Moondog was a genius humble eccentric musician and composer from Kansas. He didn't care too much for money or success and music was his life.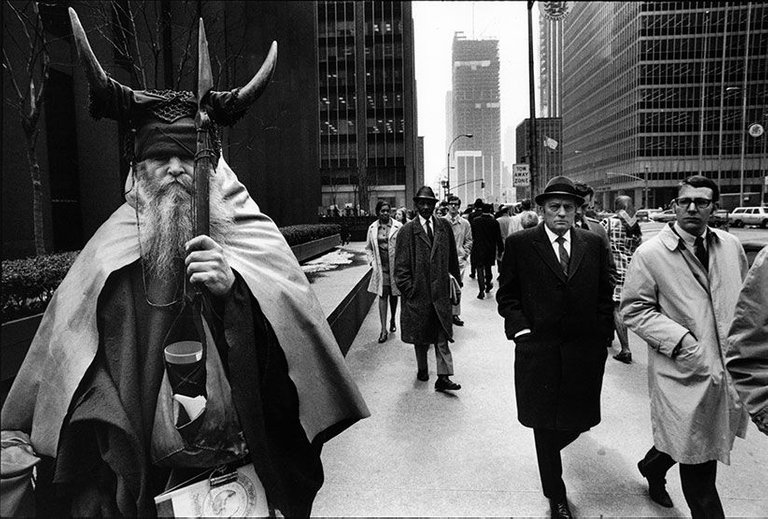 Moondog was blinded at the age of 16 after finding a dynamite blasting cap that exploded in his hands. He lived in NYC between the late 1940's up until 1972 where he hung out dressed in a Viking Helmet pushing his music. Dude eventually ended up performing for Royalty and with the Philharmonic Orchestra. He moved to Germany after a young German student named Ilona Sommer took interest in his talent. She took him in and helped monetize his music. He died in 1999 in Germany and the Ilona family owns the rights to his music now I believe. Lots of details and a documentary about him around the Web.
Here's the original song: