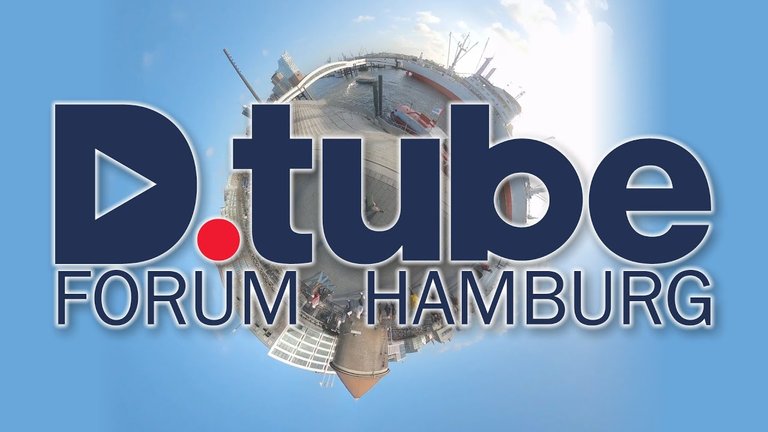 ---
Moin und herzlich willkommen auf dem Kanal von @DTube.forum!
Ihr findet mich auf steem unter @tibfox aber das tut hier nichts zu Sache denn ich erzähl euch heute etwas von dem kommenden DTube Forum 2020 in meiner Heimatstadt Hamburg!
Das DTube Forum ist ein Event von DTubern für ALLE Steemians und wird am 15 - 17. MAI 2020 hier im wunderschönen HAMBURG stattfinden.
Es ist kein gewöhnliches Meetup, denn wir laden dApps, Communities und Initiativen ein, um über ihre Projekte zu sprechen, uns die neuesten Entwicklungen vorzustellen und um mit den Usern ins Gespräch zu kommen!
Im letzten Jahr hatten wir eine super Zeit beim ersten DTube Forum im schönen Barcelona gehostet von @hauptmann, von dem auch die Idee des DTube Forum kommt. Unter anderem hat uns 2019 @heimindanger als erstes das neue DTube gezeigt und wir konnten mit ihm über unsere Wünsche und Anregungen sprechen.
Außerdem wird auch dieses Jahr wieder @cleanplanet aus Frankreich dabei sein und ich werde sicher auch ein bisschen über das ein oder andere Projekt sprechen. Auch Communities werden wieder über ihre Visionen sprechen - also wird für alle etwas dabei sein.
Falls ihr dApp Entwickler seid oder eine Initiative leitet, lasst es uns wissen und wir laden euch zu einer Präsentation ein!
Am Freitag werden wir uns und die Stadt erstmal bei einer Tour durch Hamburg und der einen oder anderen Challenge kennen lernen und zum Abendessen in ein Restaurant einkehren und den ersten Tag ausklingen lassen.
Der offizielle Vortragstag ist für Samstag der 16.5. angedacht. Es geht 10:00 los und endet gegen 17:00 mit einem einstündigen Konzert von Steemians aus Italien und der Ukraine, die exklusiv für das DTube Forum zusammen auftreten.
Am Abend werden wir gemensam bzw. wer Lust hat, die Stadt unsicher machen und alles fein für die Blockchain dokumentieren.
Auch für Sonntag haben wir uns schon coole Dinge ausgedacht, die zwar größtenteils vom Budget abhängen aber auch mit kleinem Budget werden wir eine super Sause machen!
Falls ihr mehr über das Event erfahren möchtet oder euch das Ticket gleich jetzt für nur 20$ kaufen möchtet, schaut doch auch unserer Fundition Kampagne vorbei: https://fundition.io/#!/@dtube.forum/52945tn85
Um immer die aktuellsten News zu bekommen, empfehle ich euch natürlich diesen Kanal zu abonieren und würde mich riesig freuen, dich - JA GENAU DICH - in Hamburg begrüßen zu dürfen! Du wärst nicht der/die erste Deutsche auf der Liste (siehe unten) :P
Danke für deine Aufmerksamkeit und für all euren Support! Bis bald in Hamburg!
Save the date: 2020/05/15 - 2020/05/17
What you can expect of the upcoming DTube Forum 2020?
We are going to rent a venue for Friday or Saturday where everyone got an open stage to promote their project, platform or community. Additionally, to this, we will make live video calls with people from all around the world who are going to talk about their services and dApps so you will learn a lot of things about steem, DTube, and the whole crypto world.
On the other days, we will arrange a bunch of exciting activities, create content together, onboard new users around the city and probably will do a big cleanplanet walk together.
How you can help us to create that event?
We 100% rely on your donations, the author rewards of our posts and the help of our big sponsors to make the upcoming event possible. On our OFFICIAL FUNDITION CAMPAIGN you can find and purchase our backer rewards.
Yes, ticket price is 20 $ so do not hesitate to buy yours right now or give us a little donation!
We are sure that the event will be awesome again and since we have learned a lot by executing the last one, the event will be with fewer hiccups and more cool stuff.
We plan to stream that event live and let you all be attendee over the internet. If you support us with a little donation we will be able to deliver fresh news directly to your couch, working places, and mobile devices!
We are looking forward to meeting you in Hamburg next year! Until then you can get in contact with us in the comments or via our discord server
Greetings,
your organization team of the DTUBE FORUM 2020
A biiiiig shoutout to our sponsors:
steemit.com/@fundition
steemit.com/@reiseamateur
steemit.com/@tibfox
steemit.com/@artakush
Those awesome steemians already bought their ticket on https://fundition.io/#!/@dtube.forum/52945tn85:
https://steemit.com/@reiseamateur
https://steemit.com/@flaxz
https://steemit.com/@hauptmann
https://steemit.com/@tibfox
https://steemit.com/@artakush
https://steemit.com/@lorenzopistolesi
https://steemit.com/@gulia.peito
https://steemit.com/@manniman
---
▶️ DTube
▶️ YouTube