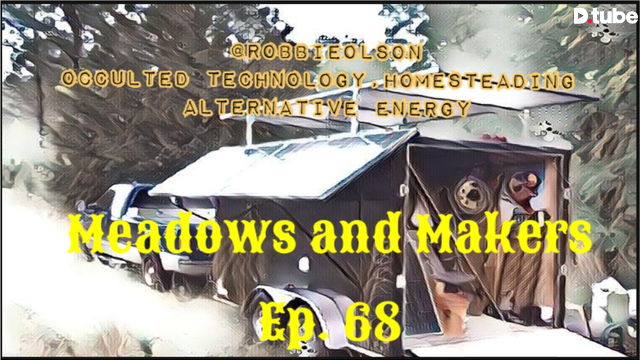 ---
Hello my Steem Fam!
Happy New Year In 2020!
I am maneuvering my podcast over to my personal blog. I love sharing this information and am dedicating myself to re-vamp my blog. I stepped away from posting for a while as I have taken on part-time employment at a Prosthetics and Orthodics shop to gain some personal capital for my homestead. This has left me completely wiped out most days and I've only been keeping up with my weekly podcast. Anyway.....be on the lookout for more content for my blog and personal journey to build my homestead. Enjoy today's episode of the podcast and let me know what you think!

In the beginning of this episode, I talk about some of the animals a friend of mine has started to raise in the city with some really nice coop's, and hutches he built to raise some chickens, rabbits, and quail.
Suggested reading from the show today:
"You Can Farm, The Entrepreneurs' Guide to Start and Succeed in a Farming Enterprise"- Joel Salatin
"Energy From The Vacuum: Concepts & Principles" - Thomas E. Bearden
"Healing is Voltage: The Handbook 3rd Edition" - Jerry Tennant
"Lost Science"- Gerry Vassilatos
Later in the show @robbieolson and myself go over some resources for exploring the ideas behind some alternative energy technologies. We discuss solutions on how this technology can be opened to the public through blockchain and open source engineering. We also gave our take about some of the recent news, and some not too well known history.

Check out Robbie's Blog here: https://steemit.com/@robbieolson
Other resources mentioned:
https://understandingourslavery.com/p...
https://practicalpreppers.com/
https://www.rottentomatoes.com/m/the_...
https://careers.un.org/lbw/jobdetail....
https://ghostgunner.net/product/ghost...

http://www.whatonearthishappening.com/
Check out these videos and download them they have been unlisted.

If you're interested in this type of content check out more on my main blog here: https://steemit.com/@makinstuff
---
▶️ DTube
▶️ YouTube