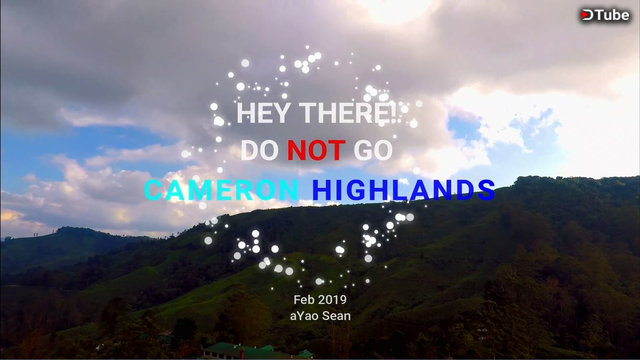 ---
Hey there!
Are you sure that you wanna go Cameron Highlands?
The Highlands is dangerous
Landslides can happen anytime
Flash floods are unpredictable
The air is circulated by the pungent smell of organic fertilizer!
Hey there!
Are you not convinced yet?
The Highlands is nothing but dull covered with greens
The weather is cold which should not have existed in this tropical country
The sky is gloomy that would affect your mood
The surrounding can be misty at time
And the Sun is hardly seen!
Hey there! I heard that you said the vege and fruits are fresh?
I was told that they apply a lot of fertilizers
The corns are injected with syrup
The farmers mutates the strawberries
The flowers are watered with colorants
And the vege price is a scam!
Hey there! Do you not care what I've said?
The hill towns are boring AF
The shopping mall has nothing but a ghost mall it is
The farms all look ordinarily the same
The plants are nothing special
And the forest trekking is plain tiring
Hey there! Are you having fun yet?
All I heard are the people who complain about the traffic
Rumor is that people stuck in the jam and never enjoyed enough
Rumor is that they get on the nerves and brag about it
Rumor is that their ideal holiday plan therefore often got ruined!
Hey there! You still don't get what I mean?
OK fine!
My last but not least piece of advice
I am being utterly serious -
Go Cameron Highlands at your own risk!
.
.
.
🎵Calum Scott - Dancing On My Own [DECKOs Instrumental Remix]🔊
.
.
.
#travelvideo #travel #videotravel #travelvid #travelista #travelfeed #travelicious #thetravelintern #inshot #steemit #dtube #busy #cryptocurrency #steem #outdoorbagstore
#cameronhighlands #cameronhighlandsmalaysia #cuticutimalaysia #iamcameronian #iamproudcameronian #myhometownmypride #cny2019 #oneplus6 #oneplus6shooting #gopro #gopro5heroblack
---
▶️ DTube
▶️ IPFS