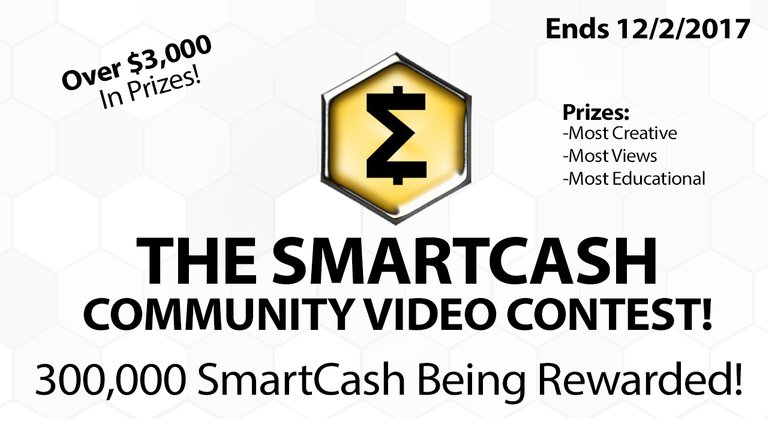 ---
Announcing The Epic SmartCash Youtube Contest
$3,000 Prize, aka 300,000 Coins - 3 winners
Most Views Video - 150,000 Coins (~$1,500)
Most Creative Video - 75,000 (~$750)
Most Educational Video - 75,000 (~$750)
Timeframe: 60 days
Requirements to qualify for prizes:
-Video is posted to YouTube, Vimeo or Dtube.
-Video is somehow related to, about or involving SmartCash, it doesn't have to be the MAIN focus but it should be a large part of the theme.
-Video has a link back to SmartCash in the description and mentions the contest in some format.
-Video MUST be unique.
Some notes:
Be creative, we don't care whether its a real life video, an animated short, an interview with 100 people about SmarCash or just a clever comedy video related to SmartCash, we want to encourage alot of out of the box thinking with this one so we kept the restrictions simple, we want the most creative, most hard working community members to have a chance to show their skills and be reimbursed for their creative work!
Also note; everyone Video with that qualifies and also includes a SmartCash address in either the video itself or the description will be getting a surprise participation fee, so even if you don't win it's worth the time it takes to make a fun video!
Join The Community:
https://forum.smartcash.cc/
https://smartcashinvite.herokuapp.com/
https://www.reddit.com/r/smartcash/
https://twitter.com/scashofficial
https://www.facebook.com/smartcashcrypto
https://www.instagram.com/smartcashcrypto
Get Your SmartCash Wallet:
https://smartcash.cc/get-smartcash/
---
► Watch on DTube
► Watch Source (IPFS)