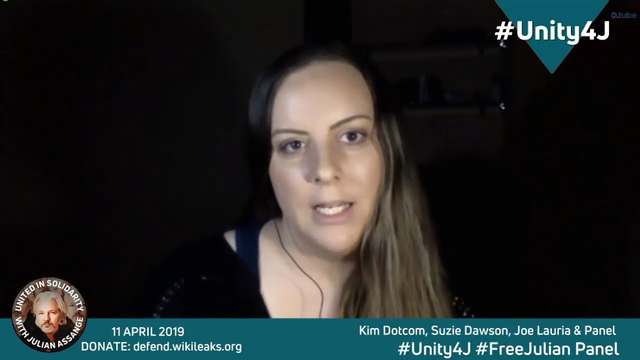 ---
Please donate to the Chelsea Manning defence fund -
Please donate to the Julian Assange /Wikileaks defence fund -
Or buy something from the Wikileaks shop
This vigil was held on the day Julian Assange had his Ecuadorian citizenship stripped from him by the Ecuadorian government, and then was dragged out of the Embassy by UK Police invited inside by Ecuadorian diplomatic officials. Suzie Dawson is a journalist, activist and head of the New Zealand Internet Party and was co-founder of the #Unity4J movement.
Joe Lauria, Journalist and Editor-in-Chief of https://Consortiumnews.com; author of "How I Lost By Hillary Clinton"; political commentator, former journalist at the Boston Globe, Wall Street Journal and UN correspondent. #### https://consortiumnews.com/
Kim Dotcom was the founder of file hosting service Megaupload (2005–2012). The company was financially successful, but in 2012 the United States Department of Justice seized his website and pressed charges against him. Kim Dotcom was residing in New Zealand at the time, and the New Zealand authorities arrested him and raided his home. Dotcom posted bail, and is currently going through lengthy legal proceedings and appeals to avoid being extradited to the United States. Kim Dotcom denies any wrong doing and has accused US authorities of pursuing a vendetta against him on behalf of politically influential Hollywood studios. On 5 July 2018, the New Zealand Court of Appeal upheld the lower court's ruling. His lawyer said that he would appeal the decision to the Supreme Court.[14] In 2013, Dotcom launched another cloud storage service called Mega, although he later severed all ties with the service in 2015. He also started and funded the Internet Party.
Christine Assange, the mother of Julian, has fought tirelessly for years, for justice for her son and her directive to anyone not sure of how to help Julian, go to:
#Unity4J online Pinterest library (3,000+ entries so far): speeches, articles, videos, quotes and more #### Pinterest library:
Pinterest guide (PDF):
Pinterest video: