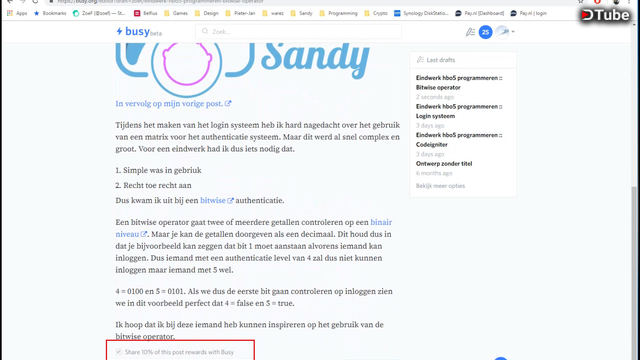 ---
When i deselect the 10% sharing with busy it automaticly gets selected again. Busy support asked me to make a video of this. Well here it is.
UPDATE:
According to busy officials on discord. It is only a visual bug. When you hover over the reward it should show that busy is not a beneficiary.
Yet one of my post still shows 10% to busy. When i confronted them the message became hostile. And i got painted as beeing a selfish person. With quotes like "10% is not much for a free system", "Busy is losing money yet it is still giving out upvotes", "You should focus on writing quality posts", ... .
If you ask 10% it no longer is free is it?
I am writing quality posts, i can not help it they don't understand dutch.
It costs them nothing to upvote as misterdelegation is delegating 500k+
I feel someone is stealing a 10% income from me. And they don't seem to care.
This is a prime example of abuse of power. They lure in people with the goal of getting a upvote from them. They have a checkbox that is checked on by default for donating 10%. In normal situations a donation is out of sympathy of a user and should be turned off by default. Then if you decide to uncheck it the system itself turns it back on?
When you complain they say we can not help you at all.
---
▶️ DTube
▶️ IPFS