Dear Hivean friend,
It is a great pleasure to share with you my recent work progress.
Welcome to the Net Society.
Translating Ecency feels really awesome.
Every time I'm doing it, I try to imagine the future. And by doing it, I end up creating it…
The imagination energy intro reality allows CREATION.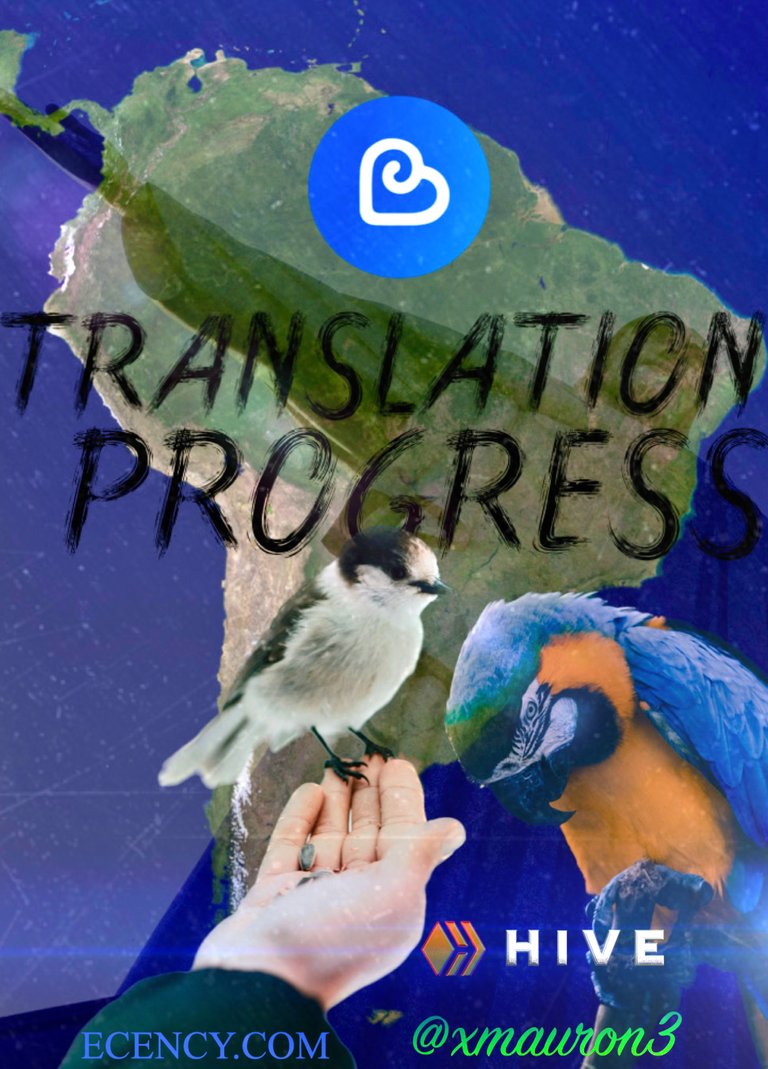 Let's all build this new reality together.
Thinking about the moment someone will be reading the FAQ for the first time is something that inspires me. I get insights on how the future should be.
Let me explain…
Explaining Blockchain Technology for Future Generations
The idea is to sound as simple as possible. If there's one thing I'm starting to notice is how easily the young generation adapts to new technologies. Hive is a new technology, no doubt, and is here to stay. So is Ecency, the first HIVE front-end in the world that became available in Portuguese.
Be PART OF IT.
That's what I call an achievement in life.
Explore, Learn, Share, Build, Play, Stake, Save, Trade, Secure, Lend… The amount of things we are able to do with the HIVE Network is astounding.
This is a journey, and we are stronger than the other crypto projects. Brighter minds, faster brains and wiser eyes, all these skills are found here on our network.
I try to keep it interesting while I am doing my best to explain as clear as possible how to use Hive to all Portuguese speakers worldwide.
Simplicity > Complexity
3 seconds transactions, for free? Simpler addresses ? Yes… We are using it since 2016, actually 2018 in my case. I started using my HIVE account it's been 4 years now, and I can easily affirm this network is a beta test of how society will work in the future. At least part of it.
The Total Decentralization of the Future
Because future is decentralized, life became more broad when it comes to lifestyle, art expression, education…..markets, and SPECIALLY MONEY. Crypto is here to prove it.
Ecency Vision

Since my last post from 2 months ago, 1960 words have been translated to the Portuguese language, making a total of 8136 words translated !!!
That's A LOT!!
Can't wait to see all translations I've made approved and available on the website & apps.
It's almost done guys! BUT we'll be forever working… We never stop.
Ecency Mobile

At last, but not least, Ecency mobile had 79 words translated to Portuguese since my last post. Every single letter counts!
As is becoming usual, Portuguese is ahead of most the other languages.

Only Spanish had a faster translation progress.
I am always doing my best to make sure Portuguese has 100% of it's words translated.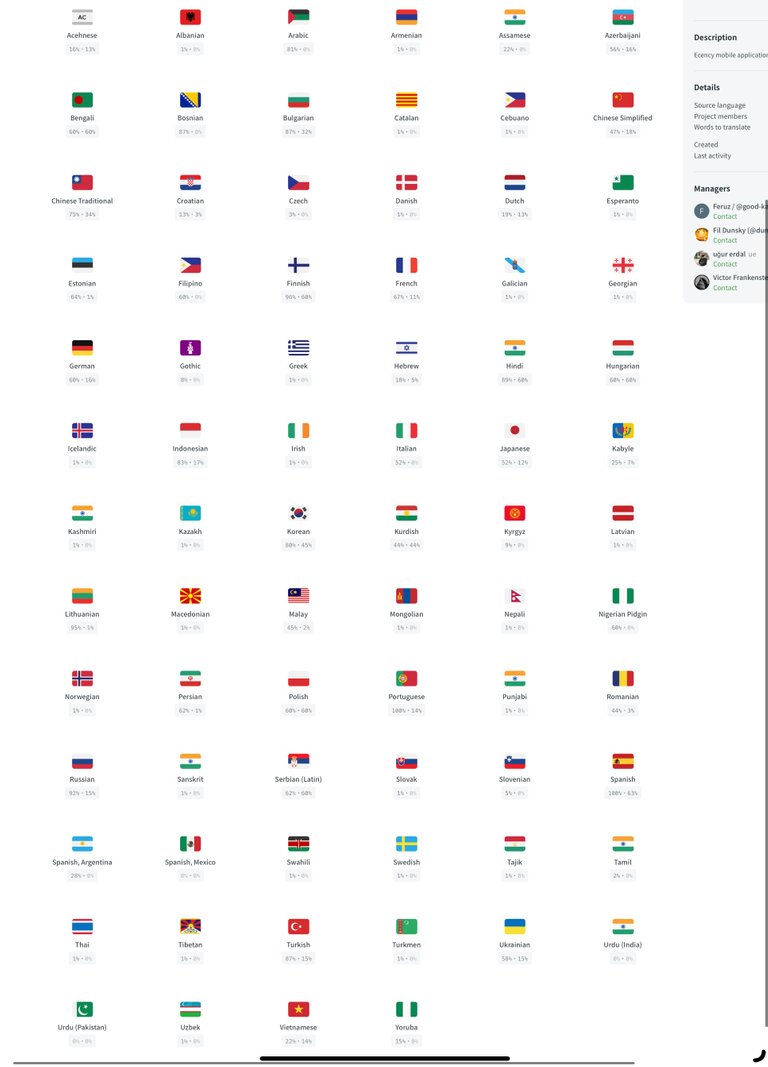 Soon I hope to find some extra time to make a marketing strategy for HIVE, aiming Portuguese speakers worldwide.
See you next time dear hivean.
May the force be with you, pathfinder. 🌛
Best Regards,
@xmauron3
The future is awesome.
WE ARE LIVING IT ALREADY 🔥
✌️
---
Português 🇵🇹 Portuguese 🇧🇷
Caros amigos,
É um grande prazer compartilhar com vocês meu progresso recente no trabalho.
Bem-vindo à Sociedade de Redes.
Traduzir a Ecency é realmente incrível.
Toda vez que estou fazendo isso, tento imaginar o futuro. E ao fazê-lo, acabo por criá-lo…
A energia da imaginação adentrando na realidade permite a chamada CRIAÇÃO.
Vamos todos construir essa nova realidade juntos.
Pensar no momento em que alguém vai ler o FAQ pela primeira vez é algo que me inspira. Eu recebo insights sobre como o futuro deve ser.
Deixe-me explicar…
Explicando a tecnologia Blockchain para as gerações futuras
A ideia é soar o mais simples possível. Se há uma coisa que estou começando a notar é a facilidade com que a geração jovem se adapta às novas tecnologias. O Hive é uma nova tecnologia, sem dúvida, e veio para ficar. Assim é o Ecency, o primeiro front-end HIVE do mundo que ficou disponível em português.
FAÇA PARTE DELA.
Isso é o que eu chamo de conquista na vida.
Explorar, aprender, compartilhar, construir, jogar, apostar, salvar, negociar, proteger, emprestar… A quantidade de coisas que podemos fazer com a rede HIVE é impressionante.
Esta é uma jornada e somos mais fortes que os outros projetos de criptomoedas. Mentes mais brilhantes, cérebros mais rápidos e olhos mais sábios, todas essas habilidades são encontradas aqui em nossa rede.
Eu tento manter a explicação interessante enquanto estou faço o possível para explicar com clareza como usar a Hive para todos os falantes da língua portuguesa em todo o planeta.
Simplicidade > Complexidade
3 segundos de espera para transações, e ainda de graça? Endereços mais simples?
Sim… Estamos usando desde 2016, na verdade 2018 no meu caso. Comecei a usar minha conta HIVE há 4 anos, e posso afirmar facilmente que esta rede é um teste beta de como a sociedade funcionará no futuro. Pelo menos parte dela.
A Descentralização Total do Futuro
Porque o futuro é descentralizado, a vida se tornou mais ampla quando se trata de estilo de vida, expressão artística, educação…..mercados e ESPECIALMENTE DINHEIRO. Crypto está aqui para provar isso.
Ecency Vision
Desde meu último post de 2 meses atrás, 1960 palavras foram traduzidas para o idioma português, tornando um total de 8136 palavras traduzidas !!!
Isso é muito!!
Mal posso esperar para ver todas as traduções que fiz aprovadas e disponíveis no site e nos aplicativos.
Está quase pronto galera! MAS estaremos sempre trabalhando... Nunca paramos.
Ecency Mobile
Por fim, mas não menos importante, a Ecency mobile teve 79 palavras traduzidas para o português desde meu último post. Cada letra conta!
Como está a tornar-se habitual, o português está à frente da maioria das outras línguas. Apenas o espanhol teve um progresso de tradução mais rápido.
Estou sempre fazendo o meu melhor para garantir que o português tenha 100% de suas palavras traduzidas.
Em breve terei tempo extra para fazer uma estratégia de marketing para HIVE, visando falantes de português em todo o mundo.
Que a força esteja com você, desbravador. 🌛
Até a próxima prezado hivean.
Cumprimentos,
@xmauron3
O futuro é incrível.
JÁ VIVEMOS LÁ