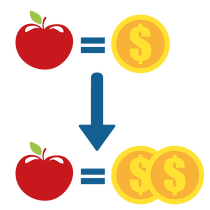 Libertarians and Austrian economists are often critical of inflationary monetary policies. Inflation is perceived as a redistribution of wealth from the masses to those who receive money from nothing. When it comes to economics perception often matters more than reality because all value is perceived value. Whether the libertarians and Austrians want to admit it or not, the mainstream economists also have some very solid arguments in favor of monetary inflation.
Life is usually not as black and white as those on either side of this debate would like us to think. Today I would like to present a new monetary policy that I believe is superior to deflationary solutions such as Gold or Bitcoin as well as the inflationary solutions such as the Federal Reserve System, debt-based money, or unchecked government money printing.
Please suspend any preconceived notions you might have about inflation and/or deflation. Our own cognitive biases can hinder our ability to see things in a new way. What I am about to present should be philosophically consistent and acceptable to most.
Fixed Money Supply
An economy built around a fixed money supply is advocated on the basis of property rights and the principle that no one should get something for nothing. Prices will naturally fall as the supply of goods and services on the market increases relative to the supply of money.
A fixed money supply may not have any monetary inflation or deflation, but it will still experience price inflation or deflation as the economy contracts or grows. Falling prices is desirable from the perspective of everyone but those in debt or those who hold inventory of unsold products.
The natural rate of inflation or deflation in an economy with a fixed supply currency acts as an implicit (and invisible) interest rate (positive or negative) on all economic activities. There are two sides on every interest rate: savers and consumers. The savers prefer high interest rates, while the consumers want low (or negative) interest rates.
A fixed money supply will implicitly set the interest rate to balance the supply and demand of savings vs consumption in the economy. Any attempt to artificially manipulate the interest rate will result in either:
Over consumption at the expense of future production and standard of living
Under consumption at the expense of present standard of living
Problems with Price Deflation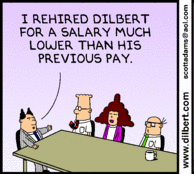 There are several very real problems with falling prices. Anyone in possession of goods and services earns less nominal income over time. People have a hard time perceiving that earning $0.90 today is better than earning $1.00 last year even if $0.90 buys more today than $1.00 did last year. Any attempt to cut wages is perceived as a loss. A lack of a pay raise is perceived as an insult and a lack of progress.
The same psychology that makes people perceive they are losing ground on their personal income will cause investors to perceive their company as failing due to declining nominal revenues.
It does not matter if everyone ends up with the exact same percentage of the economic pie, people will still feel like they have less and are losing ground. Since all value is perceived value, you could say that people would value seeing their income double in nominal terms even if their purchasing power declined slightly more than seeing their nominal income halve and their purchasing power increase slightly. Ironically this perception bias defines economic reality more than mathematical equations.
Neutral Inflation Policy
A trivial alternative to a fixed supply currency is to pay everyone a fixed interest rate on all money. This is economically equivalent to a gradual stock split. This interest rate would effectively replace the invisible / implicit interest rate with a new visible / explicit interest rate. Rather than the money under your mattress gaining purchasing power, it would grow in quantity by an equal percentage.
The exact interest rate does not matter, because regardless of where it is set there will still be an invisible / implicit interest rate (positive or negative) added to it by market forces. The only thing that will change is people's perception.
All of a sudden people can quantitatively measure their rate of return on saving. It would make no sense to lend money to anyone at less than this interest rate. This in turn would place a minimum expected rate of return for all speculative investments. The economy in general will concentrate its limited resources into businesses that have the potential to do better than the natural interest rate after discounting for risk!
Now that the opportunity cost of consumption is made visible and explicit businesses will be less likely to invest today's limited resources in suboptimal businesses.
Pensions
Pension funds all operate under an expected rate of return compounded over decades. Individuals put money in pension funds today so that they can take money out in the future. Regardless of how you manipulate the accounting, everything boils down to people voluntarily choosing not to consume today so that they can consume decades in the future.
It only makes sense to under consume today if you can consume at least an equal amount in the future. If there was an explicit interest rate, then there would be no need to fund pensions. Everyone would know exactly how much to save to generate a future income stream.
Importance of Maturity Length
The maturity mismatch in bonds creates a source of economic instability anytime the market's demand for short term capital changes relative to long-term capital. Paying instantaneous interest on all cash would be like paying interest on bonds of 0 days maturity. At any time this cash could exit "savings" and flood the market resulting in rapid price changes and economic dislocations.
Many economic investments depend upon delaying consumption for years or decades before a true return on investment can be realized. If the implicit interest rate in the economy changes rapidly due to market forces (cash flowing out of savings pushing up prices) then it could make long term investments fail.
Monetary Annuity
An annuity is a fixed sum of money paid to someone each year, typically for the rest of their life. An annuity can be viewed as a savings account that only allows you to withdraw interest payments, never the principle. From a borrower's perspective, it means you can borrow the money forever so long as you can make interest payments.
A monetary policy could be structured such that interest (printed via inflation) is only paid on money paid into an annuity. Under this model the economic effect would be closer to a fixed currency supply while while making long-term investments explicit.
Yield Curve
At all times there is an implicit yield curve in the economy. A blockchain that distributes inflation along a yield curve from 1 month to 100 years with increasing interest rates for longer time horizons would make the implicit yield curve explicit and guide investors accordingly.
The free market would still create an invisible offset from the implicit curve and all other prices and markets would adjust accordingly. The goal of making the minimum yield curve visible and explicit to provide a baseline rate of monetary inflation that converts an increase in the purchasing power of money into an increase in the quantity of money without redistributing wealth.
Any bias in the explicit yield curve will result in a transfer of wealth from those on the lower end to those on the higher end. In other words, those who save for 10 years from now will profit over those who save for 1 year from now. It only makes sense to add an explicit bias in interest rates if that bias is almost certain to be less than the natural bias.
Minimum Interest Rates
Under this monetary policy it is better to error on the side of lower interest rates than setting interest rates too high. If explicit interest rates are too high then not only will their be price inflation, but investors will wrongly perceive the rate of return on savings to be higher than the rate of return on legitimate investment. In this case people will under consume today and face an opportunity cost of less than optimal increase in future consumption. Namely, they will still see a rate of return in the future, it will just be less than what it could have been.
Recommended Monetary Policy
Based on this analysis I believe that the ideal monetary policy would be a strictly controlled currency (using a blockchain) that inflated to pay a small amount of interest on term deposits of increasing length. I would aim for 5% return on infinite maturity deposits and a 1% return on 1 year deposits.
Under this model an economy growing between 1% and 5% per year should see relative price stability with a small bias toward price deflation on productive years and toward price inflation on less productive years. It would largely mitigate the negative impacts of price deflation during productive years.