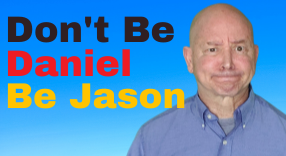 https://www.youtube.com/watch?v=Rsw0iKjChiw
Don't you just hate it when you're on LinkedIn and you have a new contact and they immediately start trying to sell you a bunch of crap?
That happens way too much not only on LinkedIn but elsewhere.
People don't understand the importance of building a relationship before you start trying to sell somebody something. It's like they have no grace and no sensitivity at all.
In this fun video you'll enjoy how I talk about Daniel (yes that is his real name) tried to sell me a bunch of his stuff immediately after connecting on LinkedIn.
Being the positive person that I am I like to focus on good when we find it.
Fortunately there are people like Jason.
Jason (yes that is his real name as well) is one who does it right.
Jason is a good entrepreneur.
Jason is also a good Agorapreneur.
An Agorapreneur Is a person who is an entrepreneur and embraces the Agora lifestyle. The Agora lifestyle is based on voluntary interaction. It is done peacefully between parties and avoids the initiation of force or coercion..
You were going to enjoy this video as you learn about the differences between Daniel and Jason.
Here's wishing you to encounter more Jasons in your world as an entrepreneur.
Thank you for being with me today and I look forward to hearing from you.

Terry
Terry L. Brock, MBA, CSP, CPAE 
Member, Professional Speaker Hall of Fame
Certified Speaking Professional
Council of Peers Award of Excellence
2018 Recipient of the National Speakers Association's Highest Award, The Cavett 
2019 Inductee as a Speaking Legend with Veteran Speakers Network
Master of Ceremonies 
Professional Video Coach
Get Help With Your Virtual, Remote Presentations
In today's world this skill is needed more than ever when people are working from home, making presentations with tools like Zoom, Skype, and others. I can help you and your organization just as I have done for Skype, AT&T, ACE Hardware, and thousands of people. Contact me for a free consultation on what opportunities are available for you in remote presentations. Discover what you can do with today's video conferencing and presentation abilities.
Get 3 Videos to boost your marketing, discover a Ninja Google Doc voice recording trick, and, tap into the (free) power of Canva:
http://terrybrock.com/freetools
See some wonderful (!) videos on my YouTube Channel! (I think you'll like 'em!) 
Agorapreneurs With Terry Brock
My most recent TEDx presentation on how you can move from "No way!" to "Not yet!" 
https://www.youtube.com/watch?v=WJ0z7JzWWJU&t=3s
Previous Editor-in-Chief for AT&T's Networking Exchange Blog (Helped team get over $3 Billion in Revenue)
Previous Chief Enterprise Blogger for Skype (Introducing business-use of Skype)
Previous Chief Retail Advisor - Ace Hardware Global Solutions Academy (Training for all Ace Hardware Dealers out of US)
www.TerryBrock.com, [email protected]
+1-407-363-0505
@TerryBrock - Twitter 
www.facebook.com/SpeakerTerryBrock
http://www.linkedin.com/in/marketerterrybrock