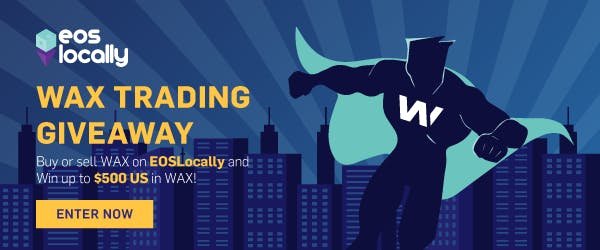 Image Source
EOSLocally is a relatively new P2P trading venue where it offers EOS-related trading services around the world. What interests me most about the website is the variety by which traders can send and receive payments. Users don't even have to undergo KYC procedures to be able to use the website. It reminds me of the older version of LocalBitcoins where there are high standards for privacy.
The site currently supports all the major sister-chains of EOS such as WAX, BOS, TELOS and perhaps more in the future. Transactions in EOSLocally are fast and cheap owing to the fee-less transaction in EOS and of its sister chains. This was evident when I was doing multiple trades on the WAX chain. It took only seconds to send and confirm transactions, you can't do this using ETH or Bitcoin which are super slow but expensive too!
EOSLocally was easy to use and most important of all safe. There are safety mechanisms in place to ensure the security of all participants in the platform both for buyer and seller and if there are any disputes you can always contact their support line to ask for assistance.
As part of their marketing campaign, EOSLocally had a trading competition where active traders got the chance to win in a lucky draw. The total amount that was up for grabs was around 500 USD. Luckily I was randomly picked for the TOP prize. Maybe there will be more promotional campaigns in the future. If you want to be kept informed of such events you might want to register an account with them. Please do consider registering under my referral link here (referral code: 1JPTi).
Let's Connect!!!