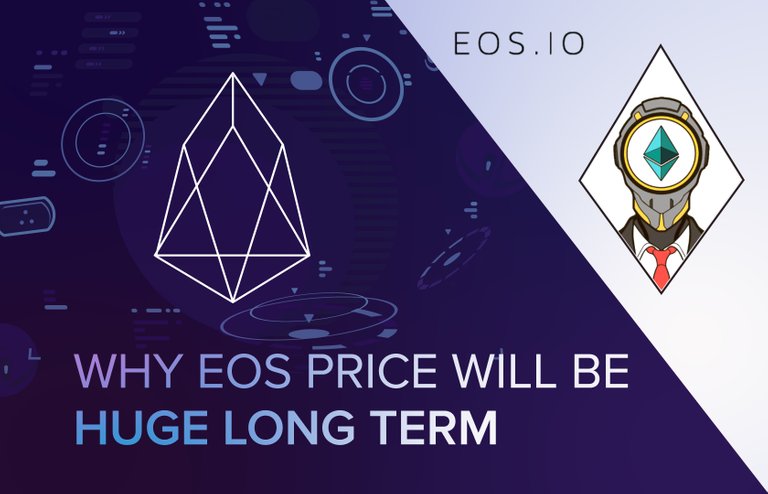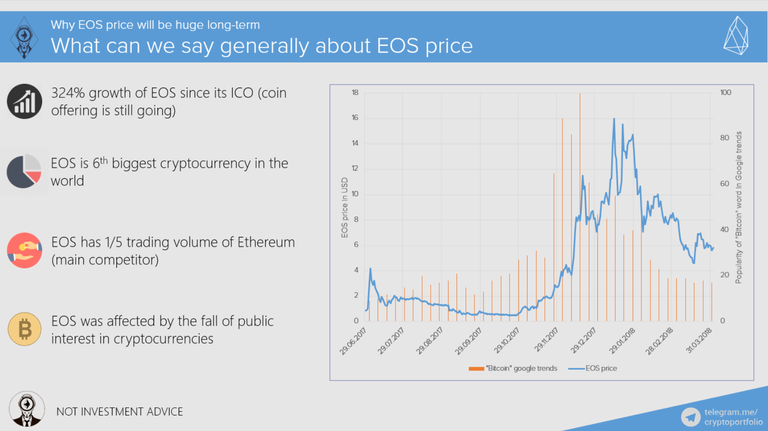 Before we start, I just want to recommend you to watch my in-depth analysis of EOS project if you still haven't. I have spent a lot of time collecting only the most interesting facts about EOS project and I have done everything for you. Thanks
On the right part of the slide, there is a graph which shows the price change of EOS since its ICO (which is still going) and popularity of "bitcoin" in internet search. Why did I bring it up? I simply think it is crucial for us to analyze the recent performance of EOS on digital exchanges. Also, we can compare EOS with other cryptocurrencies.
• EOS has grown 324% since its initial coin offering. The growth is not as substantial as Ethereum's but I think we need to give this cryptocurrency more time. Also, we shouldn't forget that EOS appeared just before the recent TOTHEMOON move of all cryptocurrencies (when we almost reached $1trln in cryptocurrency market capitalization). So, the comparison between ETH and EOS in terms of growth since ICO is not fair
• EOS is currently the 6th biggest cryptocurrency in the coinmarketcap rating. The main problem I see here is that EOS blockchain is still not operational (only testnet). From the other hand, EOS is maybe the most promising blockchain project, so it deserves this 6th position after all
• EOS already has trading volume which equals to 1/5 of Ethereum. On the next slide we will look into the very details of EOS trading. A lot of valuable information
• Finally, just want to mention google trends as one of the best tools to measure public interest in anything. Yes, you can also find out the hype cycle of cryptocurrency market. November 2017 was the peak month of public interest in cryptocurrencies. Currently, we are at ~20% popularity from the peak. Well, as you may know, all cryptocurrencies went down quite dramatically after public interest dried up, EOS was no exception. We fell from $16 to $6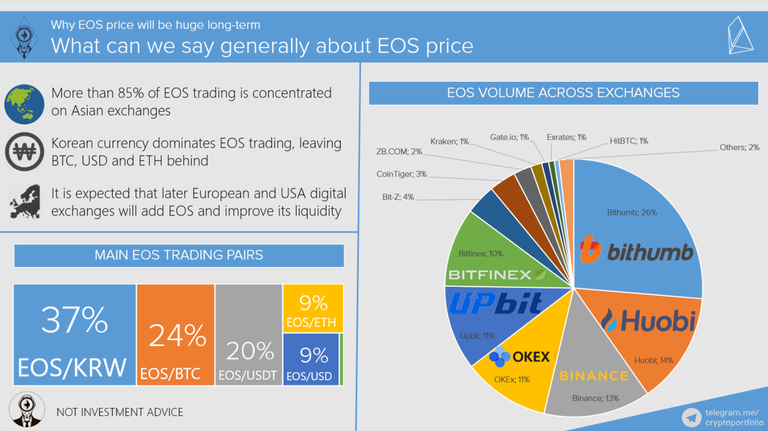 To be honest, for some reason I am very proud of this slide.
As you can see from the pie chart on the right, more than 85% of all trading of EOS is generated through Asian digital exchanges. Bithumb takes the first place with 26%, Huobi takes 14%, Binance controls 13% of EOS trading, OKEX 11%, UPbit 11%, Bitfinex 10%. USA exchange Kraken occupies only 1% which is extremely low. Do you know the reason why the Asian digital exchanges are in such dominating position? I think that regulation environment in the Asian countries is much more welcoming and less taxing.
From the trading pairs perspective, Korean WON is absolute leader in EOS trading volume. Korean currency occupies 37% of all trading, BTC takes the second place with 24%, USDT 20%, ETH 9%, and 9% USD. I am seriously surprised with how Koreans are interested in EOS, they must be the biggest supporters of EOS!
I think when EOS goes live in June 2018, there will be more exchanges from Western countries supporting EOS trading. More digital exchanges means more liquidity. More liquidity means more money into EOS. More money means bigger price.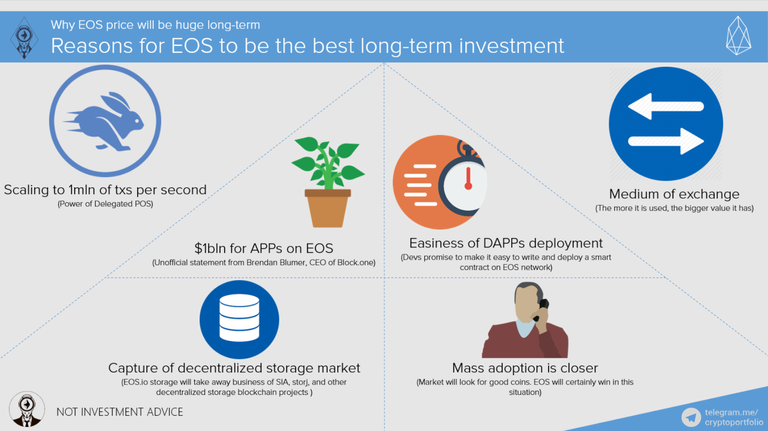 Why will EOS be the best long-term investment?
• In the long run, the developers promise to scale EOS to millions of transactions per second. It means that everybody on planet Earth can use the network and not having any difficulties in doing that. Any entity could use the network without having to wait more than three seconds for transactions to confirm
• Recently, EOS announced the creation of $50mln fund that will concentrate on investing into EOS space. The fevelopers made a decision not to stop on it, so they unofficially announced the creation of $1bln fund. All money will be used to stimulate the creation of environment that will be extremely lucrative for DAPPs developers and comfortable for companies
• There is a lot of criticism when it comes to developing applications on Ethereum network. Many participants argue that they spend too much time finding bugs and they are extremely limited due to Solidity programming language limitations. Dan Larimer and other EOS developers promised to make EOS.io the most easy-to-use and bugless blockchain. To make the creation of smart contracts as easy as possible, programmers will be offered to use well-known C++ programming language
• Another big thing is the usage of EOS tokens as medium of exchange. If platform gets its popularity and is used, there will be a lot of times when users exchange EOS tokens as means of payment. It will certainly accelerate the price in the long-term
• There is something else interesting. Block.one is also developing EOS.io storage, which is basically blockchain-based storage service. It will certainly be in competition with Sia, storj and other blockchain-based storage solutions. This way, if everything else goes according to plan, EOS will absorb the valuation of blockchain-based storage projects. If you want to know more about EOS.io storage, then certainly check out my video about it on YouTube
• I think that boom and busts cycle are becoming shorter in the cryptocurrency world. The next boom cycle will bring a lot of coins to the top. It seems to me that this next time will probably give EOS a chance at becoming the most valued cryptocurrency ever. If it happens, a lot of EOS holders will become as wealthy as ETH holders, who bought ETH in 2016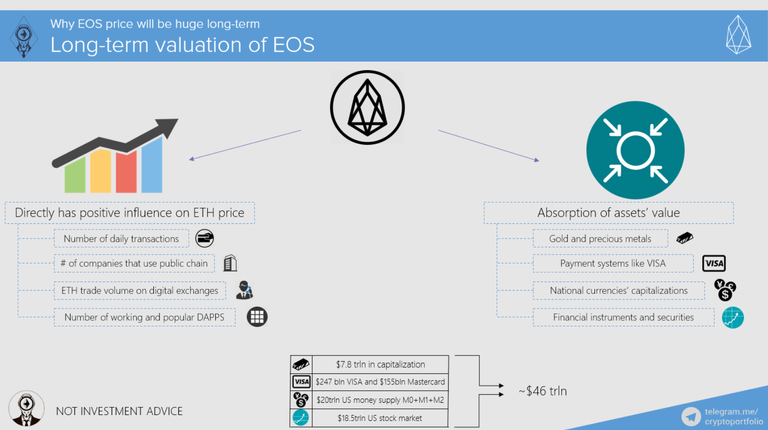 I will not touch this slide too much because if you watched the video on "Why Ethereum price will be huge long-term" you already saw that. The point is that a lot of Eth characteristics are similar to EOS. There are factors that will increase EOS price and there are assets that could be absorbed by EOS. If everything goes great, EOS will become very lucrative investment. Just remember to consult with your lawyers and financial consultants before making any substantial financial decisions. =)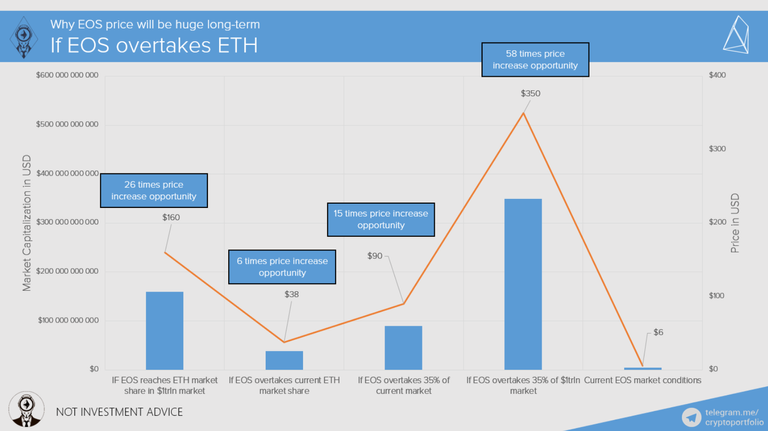 On this slide I tried to show different scenarios for EOS. Due to the fact that our topic today is "Why EOS price will be huge long-term", I calculated only positive scenarios. Bad scenarios are left for other bloggers (Or you can try to ask me persistently enough)
• First scenario is if EOS overtakes current ETH market share in current market conditions. If it happens, EOS market capitalization will grow to $38bln. Price for 1 EOS will be $38
• Second scenario. EOS overtakes 35% of current market. Market cap goes to $90bln, price for 1 EOS is $90
• Third. EOS reaches market capitalization of ETH when cryptocurrency market goes to $1 trillion. Yes, it will certainly happen ($1trillion). I think that the next boom cycle will take us even over $1 trillion actually. In this scenario, EOS will reach $160bln, price for 1 EOS will be $160
• Finally, what if EOS is an enormous success? 35% of $1trln. market is $350bln and price for 1 EOS is $350. 58 times bigger than current price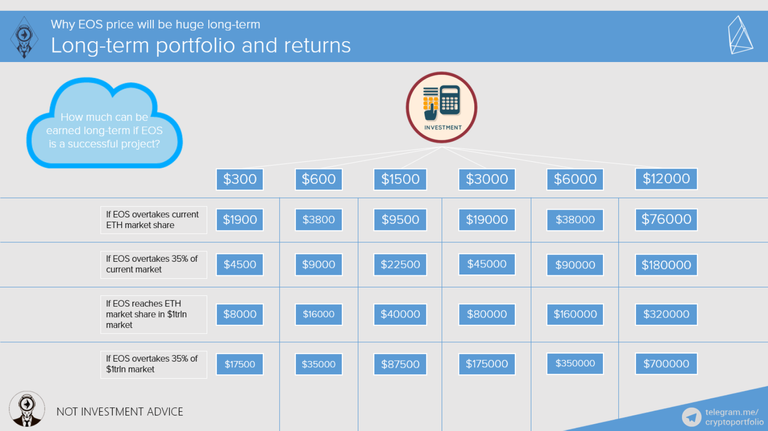 Here I would like to show you all those scenarios affecting portfolios with different amount of EOS tokens. How much can be earned long-term if EOS is a successful project? On the top of the slide there are different USD investments in EOS (bought at $6 apiece). $300 EOS portfolio, $600 and so on.
• If EOS overtakes current ETH market share then the smallest EOS portfolio ($300) will turn into $1900, the largest portfolio ($1200) will turn into $76000
• If EOS overtakes 35% of current market. The smallest turns into $4500, the largest into $180000
• If EOS reaches ETH market share in $1trln market. Small portfolio gives us $8000 and the large one 320000
• If EOS overtakes 35% of $1trln market. The smallest portfolio becomes $17500 and the largest one returns $700000
As I mentioned numerous times, never perform any financial transactions based on my presentations, always consult with your lawyers and financial advisors. My presentations are educational and my try to analyze the future of cryptocurrency. If you want to learn more about EOS, then do not forget to check my video called "Deep dive into EOS".