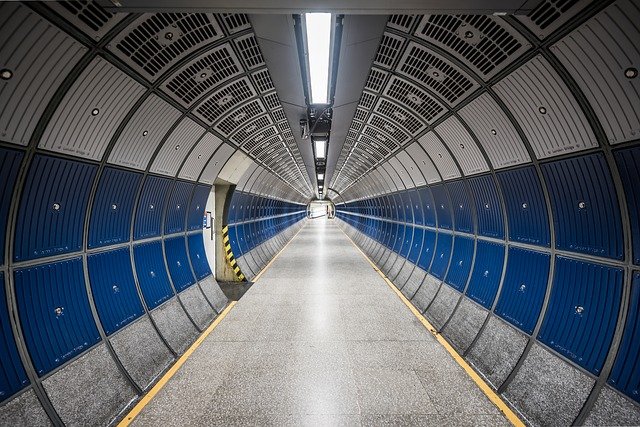 Source

The Only Journey of Elpis
Richard's Awakening
Richard opened his eyes to see a strange roof in front of him, he felt the body aching and weak. With difficulty he sat down, to realize that he was on what appeared to be a hospital bed. All he could see around him were two small tables on the sides of the bed and, at his feet, a sofa leaning against the wall. He felt a particular aroma in the air, it reminded him of his visits to the forest in winter, a smell of moisture mixed with that of pine resin.
He put aside the blanket that covered him to notice that he was only wearing a light, pale blue robe. He placed his bare feet on the floor, only to feel the cold stunned white tiles. With difficulty he stood up and shakily began to walk. His legs were hard to move, they were terribly heavy.
She approached the door and it opened, slithering as she sighed behind her. As he left, he found himself in the middle of a strange, endless corridor of concave walls, as if he were inside a tube. Several doors, like the one through which he had just come out, spaced about ten meters apart, adorned the walls of that duct. He walked for a moment as his vision finished clearing and he could feel the corridor curving in the distance.
After walking for a few minutes in a sepulchral silence, through that solitary and strange place, he could distinguish the distance, what seemed to be a window that broke the monotony of those endless curved walls. He moved faster and noticed that an intense orange glow seemed to enter through that window.
He stopped in front of what was in effect a rectangular window with rounded corners, a metre and a half wide and a half high. After his curved glass he could see with surprise and horror, that in front of him, one could only see the empty black of space, and in the middle, only the round disc of a star shining with a blinding red orange glow.
Original text of @amart29 Barcelona, Venezuela, July 2019

Other stories from the The Only Journey of Elpis series

This story was originally published on my Weku blog.
Thank you all for your attention, I am looking forward to your comments and observations until the next one.

---