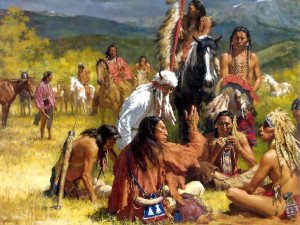 source
They lied to you when they told you that their name was "Red Indians." Hollywood lied to you when they portrayed you as monsters eating human flesh and minorities, raping children, slaughtering women and offering them as sacrifices.
They were not minorities.
They were a peaceful nation, living on hunting and livestock, and was never aggressive and aggressive despite the invasion and the wars that were never among them. They were not criminals; they were a great people and an ancient civilization. In the misery of any people of the earth; they lived in paradise away from wars, European rivalries, famines and away from filth, politics and everything ..
So came the Europeans ..
So, when you hear their music today, you feel it is melancholy and groaning; because they have been subjected to the most despicable genocide in history, an annihilation that no one has spoken of; you can imagine how a civilization of more than 100 million people disappeared and how more than a hundred different people disappeared in a blink of an eye, ; They are torn by the ignorant man by killing them .. and the more educated man is torn by them when he lied to history and without the story in the opposite direction ...
The greatest massacres in the history of humanity!
They were mercilessly killed and did not distinguish between the small and the big and the baby. It was a war of total annihilation aimed at uprooting a whole nation from the roots of history. We fools who imagine the American Indians as barbaric, chaotic people, and we do not know what they are. The victim was portrayed as a victim and the victim a criminal. The result was the killing of hundreds of millions of people without hearing them,
When they fled to the tops of the mountains and held their hands for mercy from the fires of the Europeans and their guns and their guns and asked to be treated with a little humanity, the Europeans have reconciled with them and sent them blankets and mattresses and medicines in a gesture of reconciliation accepted by the American Indians with a welcome because they are primitive people simple Aba simplicity ... They know that these blankets were loaded with germs and deadly diseases, and they were destroyed by plague, disease and epidemics, and they were exterminated, so that the air of the American continent rotted from the smell of corpses !!
It was a war of total human annihilation ... and the uprooting of a full civilization and its melting into the memory of history. By this step, America built its case!