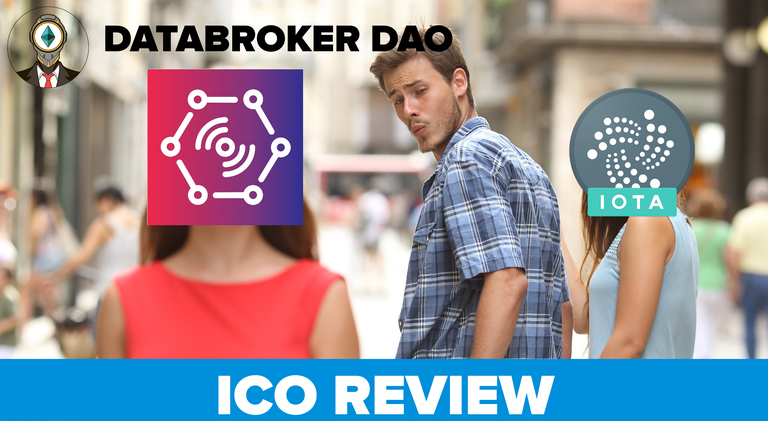 Good day everyone!
Many investors who got interested in DataBroker DAO project, expressed their concerns about similarities between DataBroker with IOTA. For some reason, they thought that the former is trying to compete with the latter. Well, the short answer is definite NO, they are not competitors (IOTA should be more concerned with Hdac project).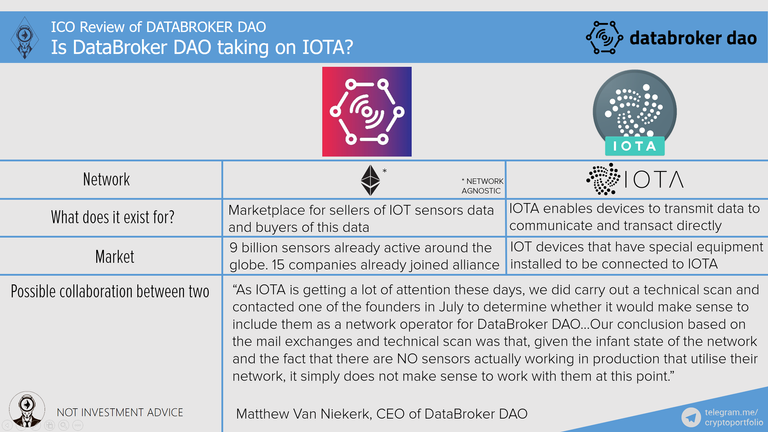 The long answer is following:
• DataBroker DAO is network agnostic, it can use any network, which supports smart contracts while IOTA is one of the networks ( and is not a blockchain, but a tangle ledger ) that enables interoperability between IOT devices
• If DataBroker DAO exists for creating marketplace for sellers of IOT sensors data and buyers of this data, IOTA enables devices to transmit data to communicate and transact directly
• There are 9 billion sensors worldwide that can be currently connected to DataBroker DAO network, while IOTA-supported devices need installation of special equipment to communicate with IOTA network
• So, the question appears. Can DataBroker DAO collaborate with IOTA to use the sensors data from this network to sell on its marketplace? Here is the excerpt from the CEO of DataBroker's article
"As IOTA is getting a lot of attention these days, we did carry out a technical scan and contacted one of the founders in July to determine whether it would make sense to include them as a network operator for DataBroker DAO…Our conclusion based on the mail exchanges and technical scan was that, given the infant state of the network and the fact that there are NO sensors actually working in production that utilize their network, it simply does not make sense to work with them at this point."
https://medium.com/databrokerdao/is-databroker-dao-taking-on-iota-342dc1481812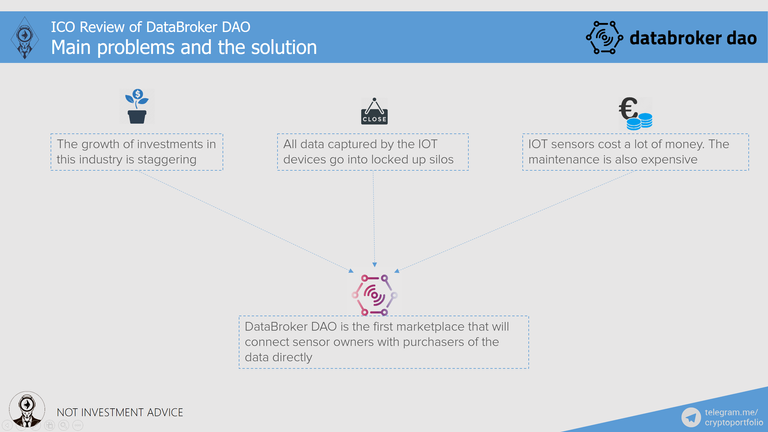 The main problems of the industry are:
• The growth of investments in this industry is staggering while the marketplace infrastructure is lacking
• All data captured by the IOT devices go into locked up silos. It means in the majority of cases, the data is not monetized
• IOT sensors cost a lot of money. The maintenance is also expensive. There must be a way to earn some money by providing information to interested parties
DataBroker DAO is the first marketplace that will connect sensor owners with purchasers of the data directly.
Of course, we shouldn't forget about the competitors. We talked about IOTA, but forgot STREAMR. STREAMR is concentrated on replacing IoT stack, from top to bottom, with the Streamr solution. Basically, they need to replace the industry with 30 billion sensors.
What about OceanProtocol? Their focus is a new kind of BigchainDB-based network specifically for buying and selling AI datasets. The roadmap specifies several years before their solution will be ready, while DataBroker DAO will have white labeled platform at the end of 2018.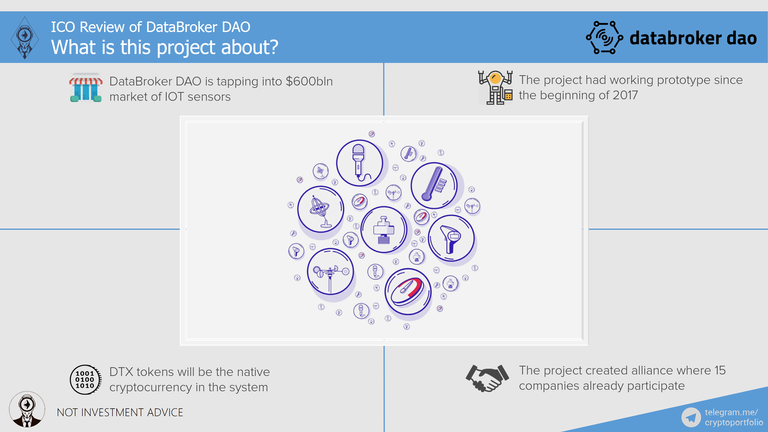 A little bit about this project in general:
• DataBroker DAO is tapping into $600bln market of IOT sensors. We will take a closer at this info look on the business model slide
• The project already had working prototype since the beginning of 2017 (I will be checking out their prototype at the end of the video)
• DTX tokens will be the native cryptocurrency in the system. We will see how they are used on the business model slide
• The project created alliance where 15 companies already participate. All of them will be either consuming the sensor data or selling it to the interested parties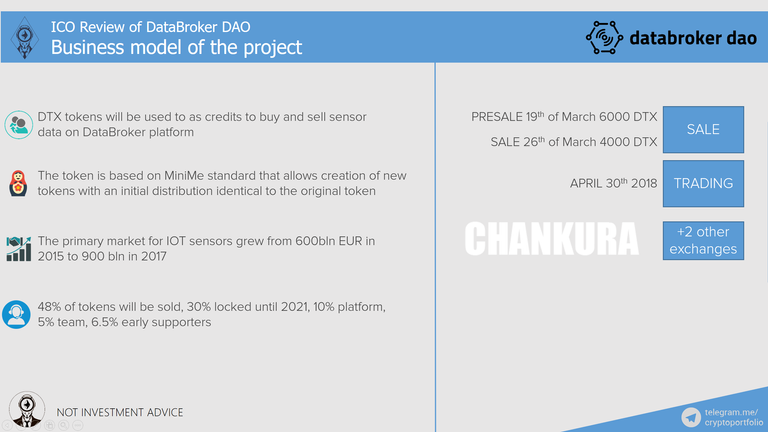 • DTX tokens will be used to as credits to buy and sell sensor data on DataBroker platform
• The token is based on MiniMe standard that allows creation of new tokens with an initial distribution identical to the original token
• The primary market for IOT sensors grew from 600bln EUR in 2015 to 900 bln in 2017
• 48% of tokens will be sold, 30% locked until 2021, 10% platform, 5% team, 6.5% early supporters
SALE DATA:
• PRESALE 19th of March 6000 DTX
• SALE 26th of March 4000 DTX
• Trading will commence on APRIL 30th 2018
• Currently, the developers made an agreement with Chanukra exchange. 2 other exchanges are in process
You can check out DataBroker DAO on this sire (referral link) : https://databrokerdao.com/?referrer=AwYwqO
For more info, check out my video :