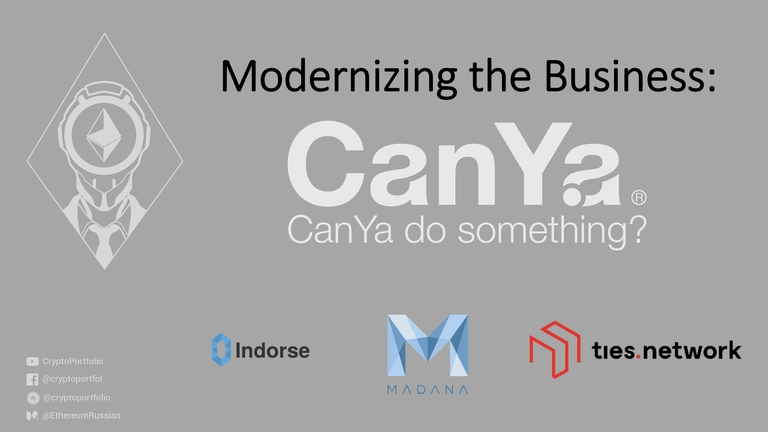 Today's presentation will be about an interesting coming ICO project called Canya.io which gives us an alternative new way of finding a job in labor market in comparison with one of our previously reviewed ICOs – Indorse.io. What are the main differences between two platforms? The main difference is that CanYa has already operating application on mobile devices, where real people use the services of each other. They launched their platform in a small Australian city in December 2016 and then launched in a major Australian city. It is important to add that their application is listed in app stores on both main mobile operational systems, iOS and Android. On their site they mention that they have at least 7600 members and 3500 providers (the ones who provide their skills for the users of this application). This is also one of the reasons I like CanYa more than Indorse, CanYa's product is already in use by average person.
I hope that this presentation will be interesting and you will be able to make up your mind about what is better, Indorse or Canya.
By the way, it is strange but Canya is partnered with Indorse. Two competitors will advise each other, such an interesting situation. Also, they are partnered with MADANA, blockchain market for data analysis, and Ties.DB, decentralized database.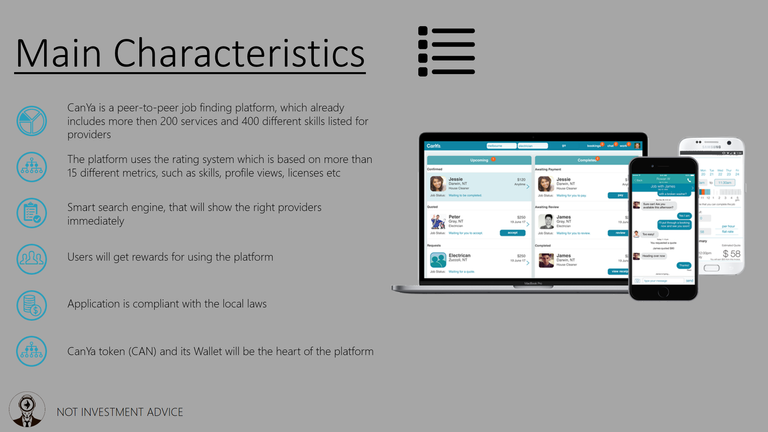 To start with, I'll show the overall characteristics of the platform, so:
a. CanYa is a peer-to-peer job finding platform, which already includes more than 200 services and 400 different skills listed for providers.
b. The platform uses the rating system which is based on more than 15 different metrics, such as skills, profile views, licenses etc.
c. Smart search engine, that will show the right providers immediately.
d. Users will get rewards for using the platform. I will expand on this point later on the slide "Profit generation".
e. Application is compliant with the local laws where it is used. That's why currently invoices in the app are automatically collated to produce a BAS tax statement in Australia.
f. CanYa token (CAN) and its Wallet will be the heart of the platform.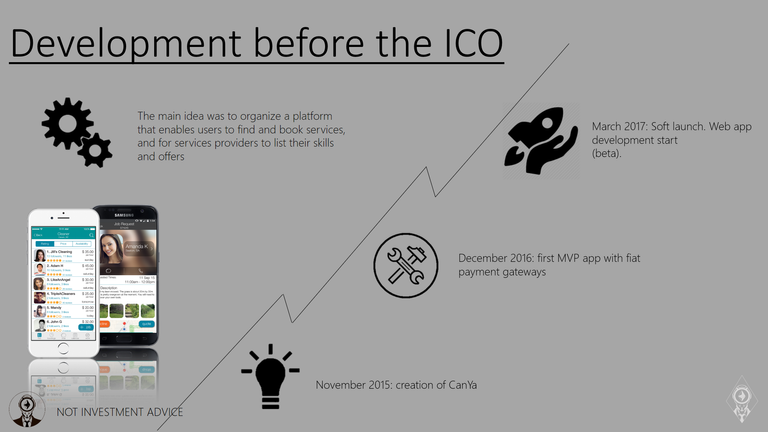 In fact, Canya is a modernization of existing labor force platforms by the decentralization and usage of the blockchain technology. Initially, the main idea was to organize a platform that enables users to find and book services, and for service providers to list their skills and offers.
CanYa team appeared in far 2015 and made their first Minimum Viable Product mobile app in 2016. As I mentioned before, their applications on Google Play and Apple Store have at least 7600 users.
This year they have launched their application in several Australian cities and have developed web application, which is on the stage of beta testing right now.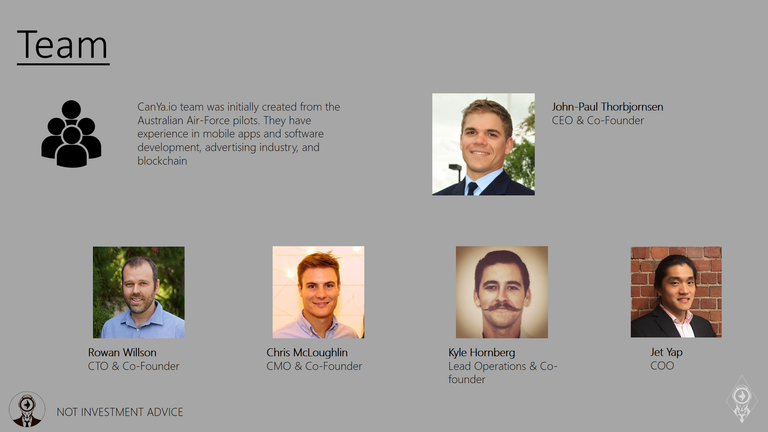 CanYa team was initially created by the Australian Air-Force pilots. They have experience in mobile apps and software development, advertising industry, and blockchain. Now there is a large team which you can get to know better on the CanYa.io.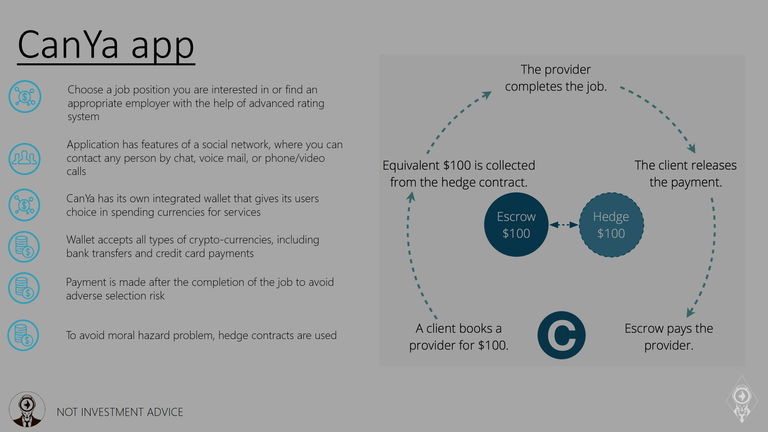 Canya app gives you an opportunity to:
• Choose a job position you are interested in or find an appropriate employer with the help of advanced rating system.
• Application has features of a social network, where you can contact any person by chat, voice mail, or phone/video calls.
• CanYa has its own integrated wallet that gives its users choice in spending currencies for services.
• Wallet accepts all types of crypto-currencies, including bank transfers and credit card payments.
• Payment is made after the completion of the job to avoid adverse selection risk.
• To avoid moral hazard problem, hedge contracts are used in the CanYa. It prevents malicious deals on the platform.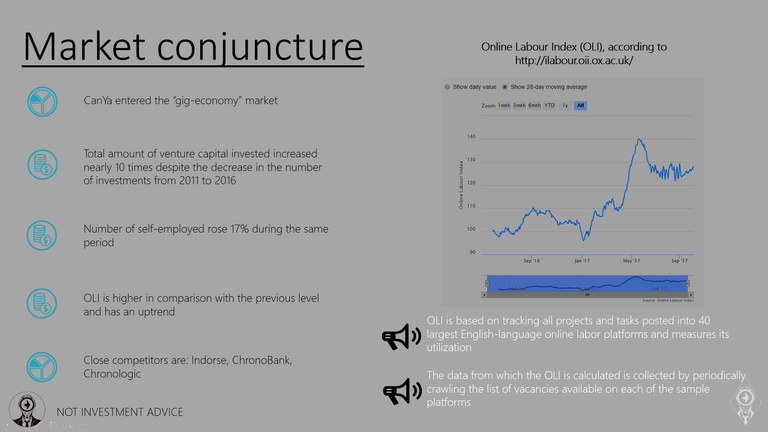 As already was mentioned, CanYa entered the "gig-economy" market, which includes freelancers, tradespeople, home service providers, digital service providers and self-employed professionals.
It can be seen that for the last 6 years total amount of venture capital invested increased nearly 10 times despite the decrease in the number of investments in projects
Number of self-employed rose 17% during the same period
In 2016, new ratio of the gig-economy market, called online labour Index or OLI, was made in the United Kingdom.
OLI is based on tracking all projects and tasks posted into 40 largest English-language online labor platforms and measures its utilization. The data from which the OLI is calculated is collected by periodically crawling the list of vacancies available on each of the sample platforms. As can be seen it has an upward trend
Also, it should be mentioned here, that the closest competitors are: Indorse, ChronoBank and Chronologic. I expect a fierce competition between Indorse and CanYa, even though, they are partners.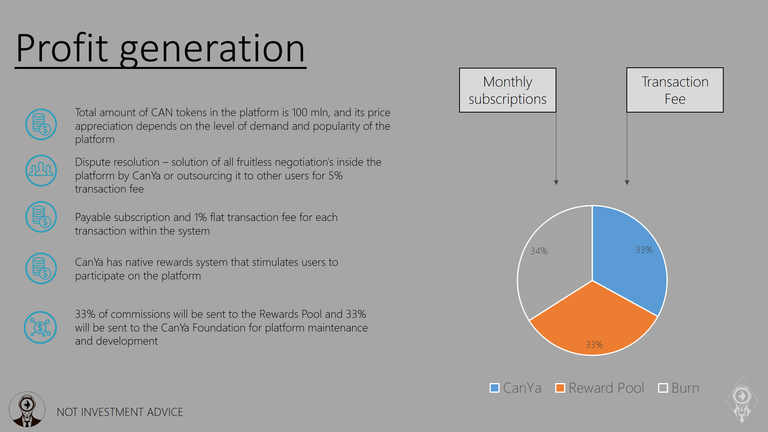 Total amount of CAN tokebns in the platform is 100 mln, and its appreciation depends on the level of demand and popularity of the platform
Despite the automatization of processes there always can be controversial issues. So the platform has the opportunity for Dispute resolution – solution of all fruitless negotiation's by CanYa or outsourcing it to other users for 5% transaction fee
1% flat transaction fee will be transferred to Asset contract for each transaction within the system
CanYa has native rewards system that stimulates users to participate on the platform. For example: rewards for registration, referring friends to the platform and rewards for new users
From all commission, CanYa will use 33% for the Rewards Pool and 33% will be sent to the CanYa Foundation for platform maintenance and development. 34% will be burnt which will positively impact the price of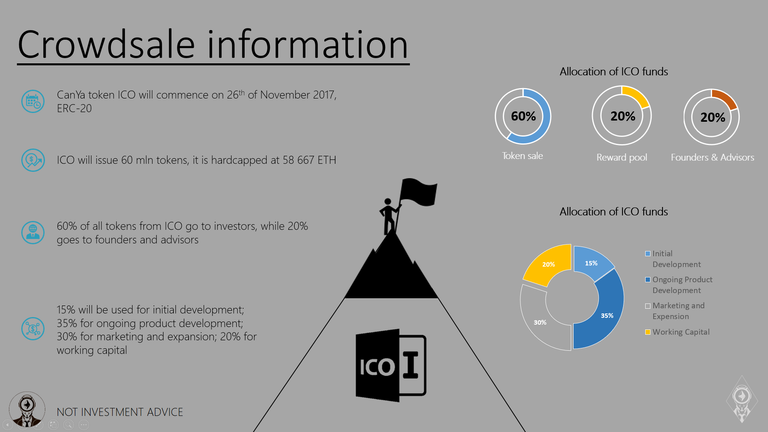 CanYa token sales will commence in October-November 2017, CANs are ERC-20 compliant Tokens
ICO will issue 60 mln tokens, it is hardcapped at 58 667 ETH
60% of all tokens from ICO go to investors, while 20% goes to founders and advisors
The allocation of the ICO funds will be as following: 15% will be used for initial development; 35% for ongoing product development; 30% for marketing and expansion; 20% for working capital.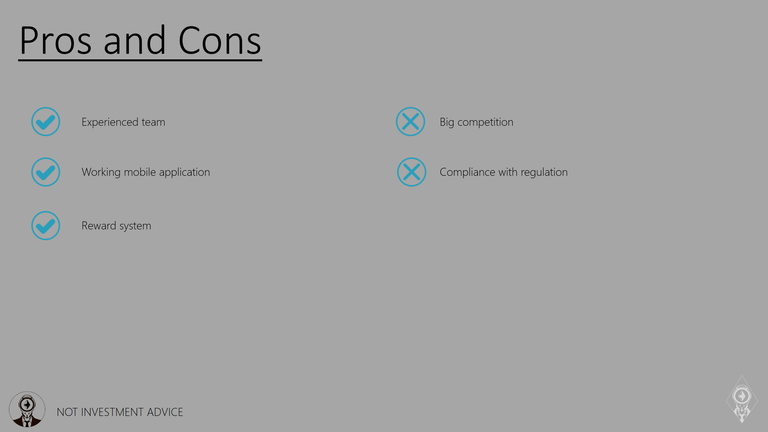 To sum up, there are next pros of the project that should be highlighted:
Experienced team; working mobile application with customer base, and their reward system.
Cons are fierce competition, especially in the blockchain sphere, and compliance with the regulation.