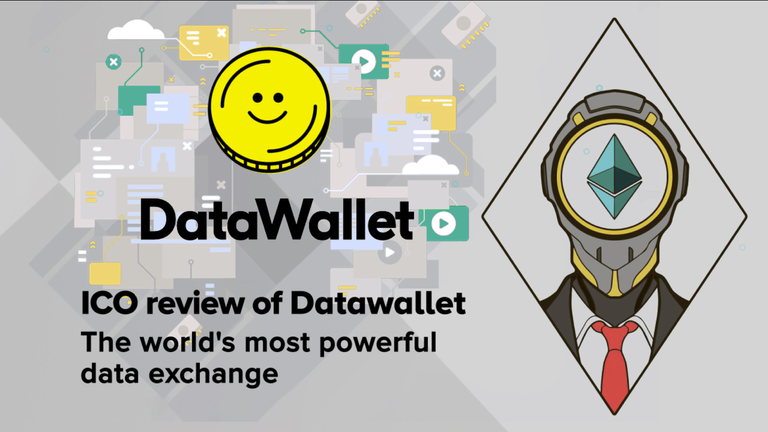 Every day you create data that is being collected by data brokers which sell your personal information to different organizations. This is how companies adjust their product lines and services according to public interests. So, do you live in Delray and like Reebok? What are the products you recently bought on Amazon? What are the most popular Instagram celebrities among population of Boca Raton? These are the kind of questions companies want answered. Data brokers can supply this data but:
Usually, this information is of poor quality

They collected this information unethically. Without internet users' consent
Datawallet is the project that will solve the ethical, economic and quality problems of data brokers industry. Datawallet was backed by Tim Draper, American venture capital investor and founder of Draper Fisher Jurvetson, in far 2015. Using this application, companies are able to get high-quality information and users can receive remuneration in form of tokens. Of course, sole participation of Draper money in this project shouldn't be the reason for your investment in this project. What matters here is the idea and execution. If you like both things, then you may consider investing.
Datawallet has a great whitepaper I advise everyone to read, but I feel that they put too much of technical details in it. It is better when companies have separate business and technical documents. Still, from what I have read about this project, I feel that this startup is one of the most high-quality ones out there in the current initial coin offering space.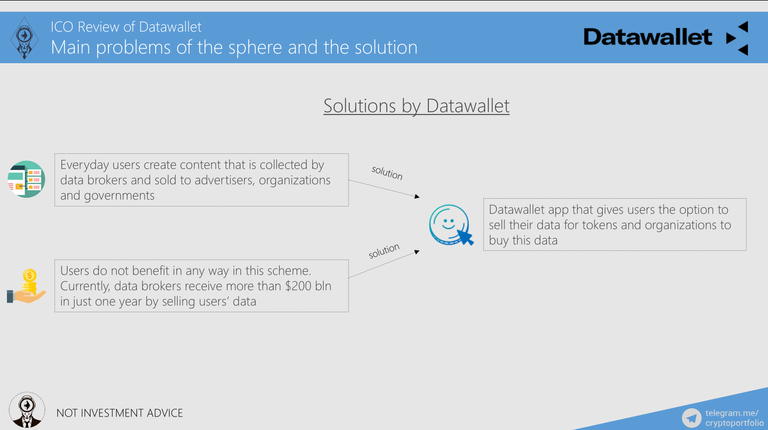 What about the main problems and solutions?
Problems:
• Everyday users create content that is collected by data brokers and sold to advertisers, organizations and governments. It is done completely without the knowledge or consent of social networks' users. Yes, it is done in unethical way that must be addressed. In 2014 Steve Kroft investigated the multibillion-dollar industry that collects, analyzes and sells the personal information of millions of Americans with virtually no oversight. He came to the conclusion that very sensitive information is being collected by data brokers. It is a great article I advise everybody to read here
• Users do not benefit in any way in this scheme. Currently, data brokers receive billions of dollars in just one year by collecting and selling users' data. So, they do not only show us ads on social networks, they also collect all the information about what we do and sell it. Users are like sheep to them. They do not only shave you, they will also kill and eat you in the end. Sad
Solution:
• Datawallet app that gives users the option to sell their data for tokens and organizations to buy this data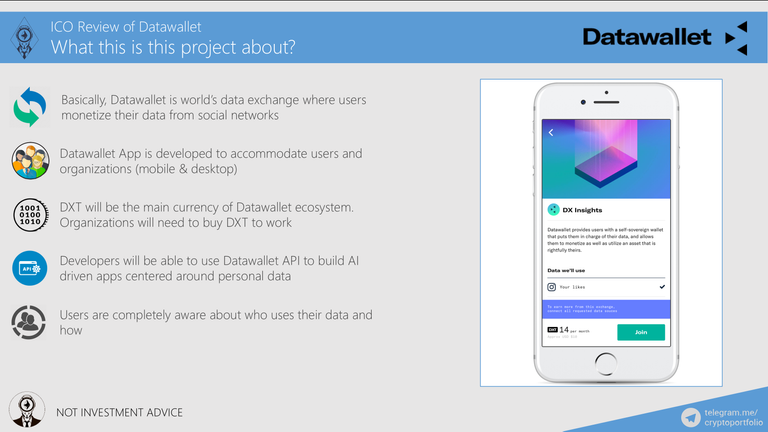 Generally about Datawallet:
• Basically, Datawallet is world's data exchange where users monetize their data from social networks. They simply link their social networks in this application and then choose which information to sell. Also, users are able to choose organization to sell information to
• Datawallet App is developed to accommodate users and organizations (mobile & desktop). Founders already had an application in 2016, but, as I understand, they wanted to completely redesign it and connect everything to smart contracts and blockchain, so now you cannot access their mobile app on Apple store. Also, they are in process of creating a desktop application
• DXT will be the main currency of Datawallet ecosystem. Organizations will need to buy DXT to work. So, secondary market, probably, will dynamically develop with more companies participating in the Datawallet economy
• Developers will be able to use Datawallet API to build AI driven apps centered around personal data. I will expand more on this topic later
• Users are completely aware about who uses their data and how. This is the ethical aspect of Datawallet. Now you know every company that uses your data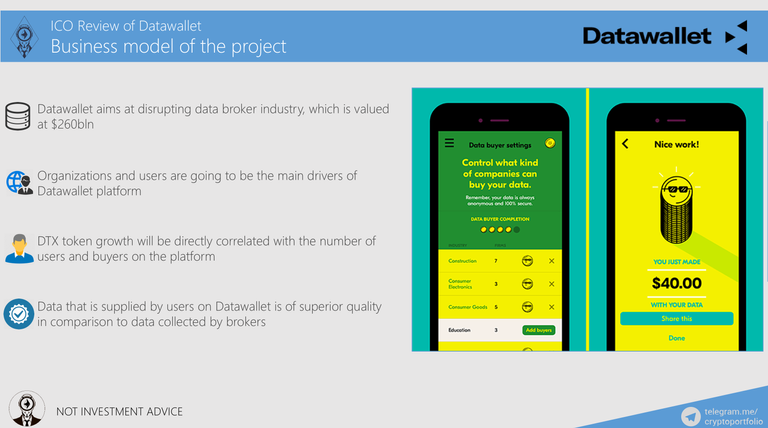 On the right of this slide you can see the old design of iOS application where you could connect all your social media accounts and sell your information to big guys.
So, Datawallet aims at disrupting information industry, which is valued at over $260bln. Information is now 4th most valuable product on planet Earth.
Organizations and users are going to be the main drivers of Datawallet platform. More information exchanged on the platform = bigger price.
DTX token growth will be directly correlated with the number of users and buyers on the platform.
Data that is supplied by users on Datawallet is of superior quality in comparison to data collected by brokers. This is another big business advantage of Datawallet project.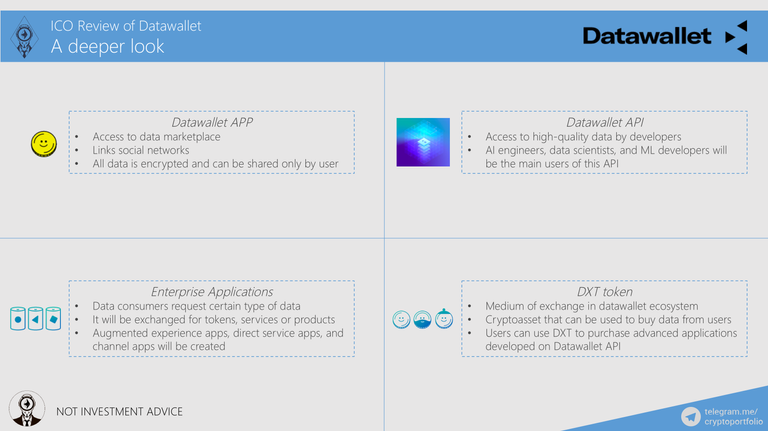 On this slide I would like to dig a little bit deeper. Let's explore the main components of Datawallet ecosystem to extensively understand the project.
Datawallet Application
¥ It gives access to data marketplace, where users are met with organizations
¥ This application links social networks to user profiles
¥ All data here is encrypted and can be shared only by user
Datawallet API
¥ It gives access to high-quality data by developers
¥ AI engineers, data scientists, and ML developers will be the main users of this API
¥ This way, developers will be able to create highly personalized and professional applications for users and organizations
Enterprise Applications
¥ Here data consumers request certain type of data
¥ This data will be exchanged for tokens, services or products on Datawallet platform
¥ Augmented experience apps, direct service apps, and channel apps will be created
DXT token
¥ Medium of exchange in datawallet ecosystem
¥ Cryptoasset that can be used to buy data from users
¥ Users can use DXT to purchase advanced applications developed on Datawallet API
¥ Users can exchange tokens for fiat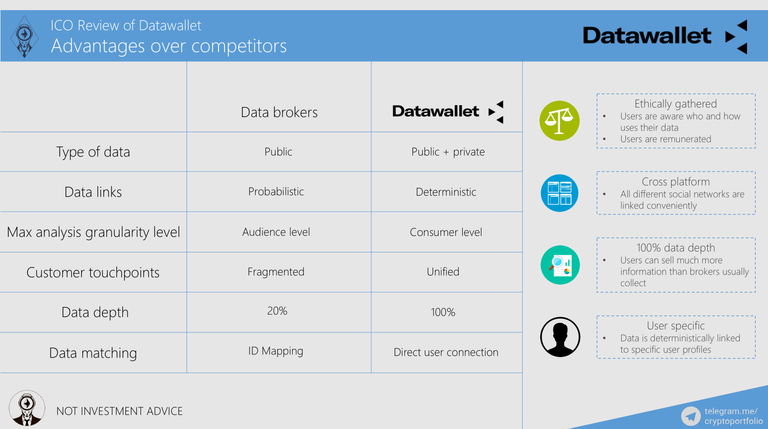 On the left side of the slide, you can see comparison of Datawallet to data brokers. What advantages of Datawallet can I point out here?
Organizations are able to get much more information about users in Datawallet ecosystem, while brokers can collect only incomplete information

Data depth is much better in Datawallet

Data matching is more precise when users directly link their social media profiles to Datawallet

And others
On the right part of the slide we have four main general advantages of Datawallet:
All the information is ethically gathered with users' consent

There are cross platform links that make it easier for companies to analyse user behaviour

Data depth

Data is deterministically linked to specific user profiles
By the way, Datawallet already has site for businesses that want to use project's platform. If you are a business, you can request access to the Datawallet through the menu this site.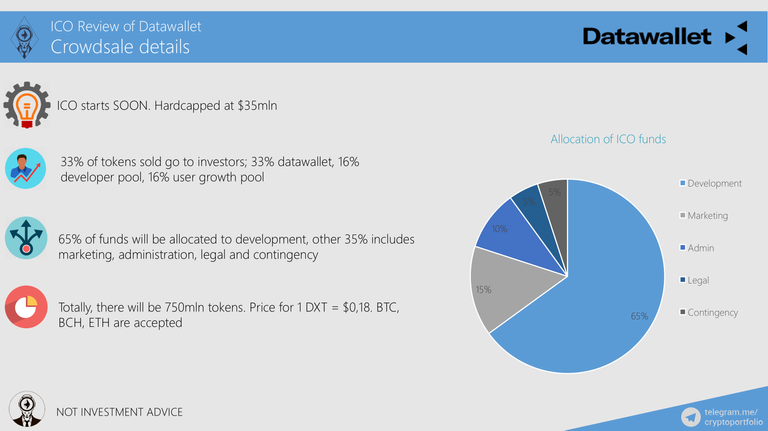 Crowdsale details:
• ICO starts SOON. Hardcapped at $35mln
• 33% of tokens sold go to investors; 33% datawallet, 16% developer pool, 16% user growth pool
• 65% of funds will be allocated to development, other 35% includes marketing, administration, legal and contingency
• Totally, there will be 750mln tokens. Price for 1 DXT = $0,18. BTC, BCH, ETH are accepted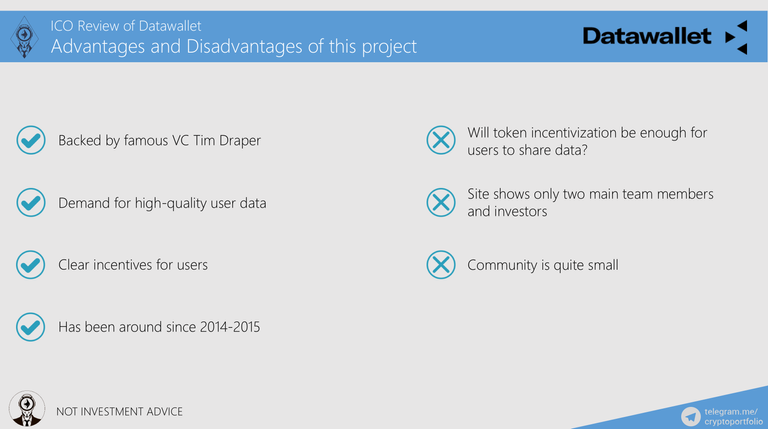 Advantages:
• Backed by famous VC Tim Draper
• There is demand for high-quality user data
• Clear incentives for users
• Datawallet has been around since 2014-2015
Disadvantages:
• Will token incentivization be enough for users to share data?
• Site shows only two main team members and investors
• Community is quite small