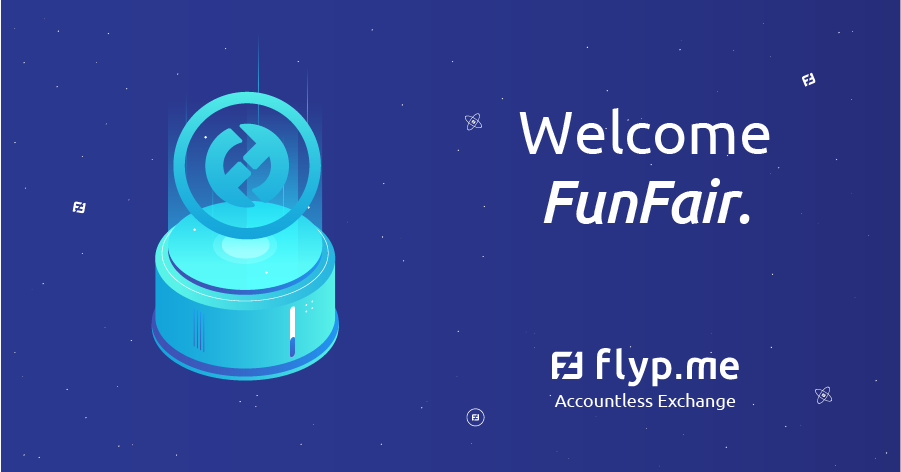 With all the focus on decentralized finance these days, you would think that all blockchain does is power cryptocurrency loans. Whatever happened to good ol' fashioned fun?
At Flyp.me, fun is alive and well — FUN token that is. FUN is the native token at FunFair, a revolutionary blockchain gaming ecosystem providing solutions to online casino games that are provably fair.
Starting now, you can swap FUN tokens at Flyp.me, the world's trusted instant crypto exchanger that doesn't require an account to use. Want to put some FUN in your wallet? Head over to Flyp.me and complete three easy steps to get the job done.
Select the cryptocurrency you will use to exchange. Then, enter your FUN wallet destination address, and the transaction amount.
Enter a refund address for the cryptocurrency wallet you are exchanging from (ie. if trading with ETH, enter an ETH wallet address).
Send selected cryptocurrency to the Flyp.me transfer wallet address.
Awesome, that was easy! Flyp.me will automatically send FUN to your destination wallet.
Undecided about whether you should get into FUN? Maybe you'll change your tune after hearing about the massive opportunity in the gaming world being pounced upon by FunFair.
FunFair Is Targeting a $60 Billion Gaming Industry
Gaming is an incredibly large industry that encompasses many different sectors. FunFair, however, has its sights firmly set on the online casino gaming industry, a sector raking billions of dollars every year.
The problem with online casino gaming as it stands today is it's incredibly centralized. When you place a bet using an online casino, there is no trustworthy record of your bet, making it nearly impossible to guarantee the fairness of your bet — and its results.
Centralized online casinos can easily be fixed in favor of the house, and since none of the casino's operations are transparent, who can say otherwise? That's where FunFair comes in.
FunFair offers white-label online casino solutions and blockchain games to casino operators. The upside is they get inexpensive to operate, scalable, and transparent online games, and users get trustworthy gambling experiences.
How the FunFair Token (FUN) Works
At the center of the FunFair ecosystem is FUN, an ERC-20 token used in all aspects of platform operations.
• Casino operators licensing FunFair's technologies need to pay in FUN
• Players betting on FunFair games use FUN
• Game developers need FUN to run their games on the network.
With three solid use cases for the token, FUN is a clear protocol-level token that grows in demand with each new deal inked by the FunFair team. Back in 2017, the team raised $20 million in its ICO, meaning they also have the financial runway for getting the job done.
Want to play a FunFair game or just invest in the platform's future? Buy FUN with Flyp.me — a simple, anonymous, and instant crypto exchange with no sign-up requirements.
About Flyp.me
Flyp.me is the professional tool for instant crypto trading. There is no registration necessary and no hidden analytics tracking you. Moreover, Flyp.me does not control users' funds, so your private keys are not at risk of being held on third-party services.
Flyp.me currently supports over 30 cryptocurrencies and is continuing to add more: Bitcoin, Ethereum, Zcash, Augur, Litecoin, Syscoin, Pivx, Blackcoin, Dash, Decred, Dogecoin, Flyp.me Token, Gamecredits, Peercoin, Aidcoin, 0x, Vertcoin, Basic Attention Token, BLOCKv, Groestlcoin, DAI, Power Ledger, Enjincoin, TrueUSD, Cardano, Storj, Monero, Maker, TetherUS, DigiByte, USD Coin, MANA, Enigma, Aragon, Chainlink, REN, Pax Dollar and now FunFair.