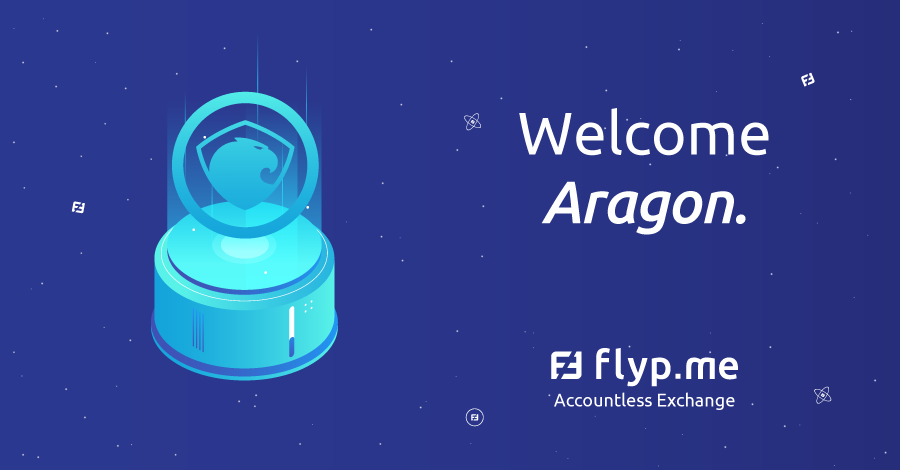 Governance. The blockchain world revolves around this word and how it is created, maintained, and distributed to maximize decentralization. Aragon (ANT) is the originator and innovator in the realm of blockchain governance, which is why Flyp.me has added ANT to its collection of tradable cryptocurrencies.
Flyp.me does not require an account to trade ANT token or any other cryptocurrency for that matter. Ready to add ANT to your portfolio of essential digital assets for the future? Head over to Flyp.me then cruise through just a few easy steps to get started.
Select the cryptocurrency you will use to exchange, then enter your ANT wallet destination address and the amount to be exchanged.
Enter a refund address for the cryptocurrency wallet you are exchanging from (ie. if trading with ETH, enter an ETH wallet address).
Send cryptocurrency to the Flyp.me transfer wallet address.
Done! Flyp.me will automatically send ANT to your destination wallet.
At no point do you enter your private keys, or give any information other than your public wallet address.
There are at least 99 reasons to buy and hold ANT, but here are the top three that you should consider.
Aragon Is the Future of Governance
Blockchains are decentralized ledgers used in any instance where trustworthy information, usually in the form of value, must be exchanged and recorded. While that is all well and good, establishing the shared values, rules, and and resources that create governance structures around blockchains is a complicated process.
That is where Aragon steps in. With Aragon, you can create and build a DAO (Decentralized Autonomous Organization) within minutes, giving your organization the immutable structure necessary for doing things like:
Decentralized fundraising
Track and ensure that organization funds are being allocated & spent properly
Empower group decision making that ensures no voice is left unheard
Any instance that requires people to come together and make decisions together can run on Aragon, including the courtrooms of the future.
Famed investor Tim Draper recently invested $1 million in Aragon in the hopes of helping establish the network as the ultimate tool for settling online disputes in a product called Aragon Courts.
To participate in Aragon Courts, you'll need to deposit a bit of ANT, the network's native token.
Aragon Network Token (ANT) Powers Governance
Aragon's mechanisms are put into play through the use of one simple and elegant solution — a token. In this case, the token is ANT, an ERC-20 digital asset that is the prerequisite for participating in the network.
Essentially, to cast votes or decisions in Aragon-based governance matters, you'll need to hold and deposit ANT token. If you don't hold ANT, then you are ineligible for participation.
Network-related services are bought and sold using ANT, so with more organizations climbing aboard, the demand for ANT will increase.
Ready to put a bit of ANT in your wallet to create a DAO or participate in one? Head over to Flyp.me, the most trusted cryptocurrency exchange that doesn't require an account to use!
About Flyp.me
Flyp.me is the professional tool for instant crypto trading. There is no registration necessary and no hidden analytics tracking you. Moreover, Flyp.me does not control users' funds, so your private keys are not at risk of being held on third-party services.
Flyp.me currently supports over 30 cryptocurrencies and is continuing to add more: Bitcoin, Ethereum, Zcash, Augur, Litecoin, Syscoin, Pivx, Blackcoin, Dash, Decred, Dogecoin, Flyp.me Token, Gamecredits, Peercoin, Aidcoin, 0x, Vertcoin, Basic Attention Token, BLOCKv, Groestlcoin, DAI, Power Ledger, Enjincoin, TrueUSD, Cardano, Storj, Monero, Maker, TetherUS, DigiByte, USD Coin, MANA, Enigma and and now Aragon Token.
Connect with the community on Telegram, Twitter and Facebook.