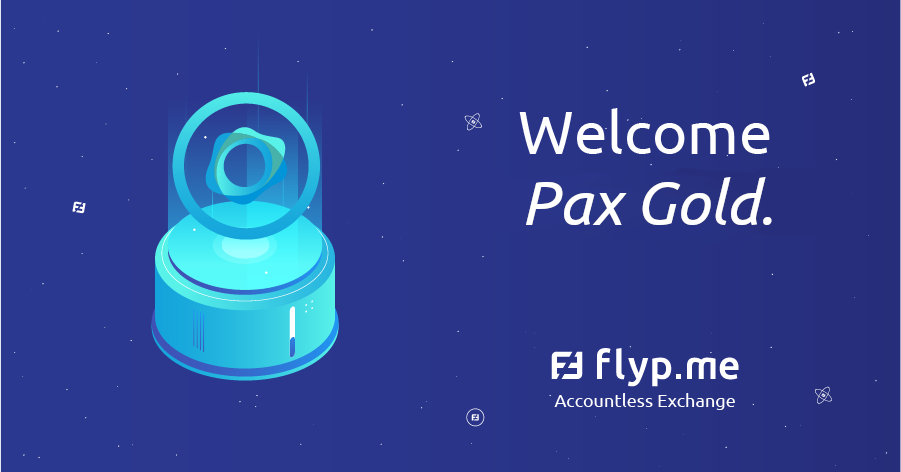 Bitcoin and gold have been going head to head as stores of value since BTC launched in 2009. Is Bitcoin better than gold, or is it the other way around? Now, with PAX Gold tokens, you don't have to choose between crypto and traditional assets.
Pax Gold, or PAXG for short, is a cryptocurrency asset-backed 1:1 with a troy ounce of gold held in reserve by Paxos, the same entity behind the PAXOS stablecoin.
You can now trade PAXG at Flyp.me, an instant and accountless crypto exchange that doesn't require an account to use. Flyp.me is instant exchange at its finest — no intermediaries, and nothing but direct wallet-to-wallet transfers.
Snag digital gold by jumping over to Flyp.me, then following these easy steps:
Go to Flyp.me — select the cryptocurrency you will use to exchange, then enter your PAXG wallet destination address and the amount to be exchanged.
Enter a refund address for the cryptocurrency wallet you are exchanging from (i.e., trading with BTC, enter a BTC wallet address).
Send cryptocurrency to the Flyp.me transfer wallet address.
Blam! Flyp.me will automatically & securely send PAXG to your destination wallet.
You can expect a seamless trading experience that ultimately maintains a valuable fixed exchange rate.
So, what's the big deal about PAXG? Let's get our shovels out and dig around for details.
There's digital gold in them hills!
Bitcoin is always getting compared with gold. After all, the similarities are pretty obvious since they're both scarce, precious, and used to store value.
But with all the bitcoin is digital gold talk, the Paxos Trust Company decided to make real digital gold by tokenizing gold reserves. Today, the Paxos Trust Company houses physical gold in reserve to back each PAXG token with a troy ounce of the shiny stuff.
What's the point of holding digital gold in the form of PAXG? Well, for one thing, it's much easier to transport, far more convenient to store, and is instantly exchangeable. Since Paxos Trust does keep the physical product held for you, there's far less security risk than, say, storing gold bars under your mattress.
Bitcoin vs. Paxos Gold
When traders and investors refer to Bitcoin as digital gold, what they're trying to do is draw an equivalence between the two. However, Bitcoin is not gold, nor is it even trying to be.
In the Bitcoin whitepaper, Satoshi Nakamoto described Bitcoin as an electronic peer to peer money system. So, Bitcoin is meant to be transacted, whereas gold is meant to be saved.
Paxos Gold (PAXG) is the perfect way to take advantage of both crypto and gold while keeping your Bitcoin holdings elsewhere. Because, after all, who needs to keep rehashing the old digital gold argument now that PAXG exists?
Beat the gold rush by picking up PAXG at Flyp.me, the #1 trusted crypto exchange that doesn't require an account to use!
About Flyp.me
Flyp.me is the professional tool for instant crypto trading. There is no registration necessary and no hidden analytics tracking you. Moreover, Flyp.me does not control users' funds, so your private keys are not at risk of being held on third-party services.
Flyp.me currently supports over 30 cryptocurrencies and is continuing to add more: Bitcoin, Ethereum, Zcash, Augur, Litecoin, Syscoin, Pivx, Blackcoin, Dash, Decred, Dogecoin, Flyp.me Token, Gamecredits, Peercoin, Aidcoin, 0x, Vertcoin, Basic Attention Token, BLOCKv, Groestlcoin, DAI, Power Ledger, Enjincoin, TrueUSD, Cardano, Storj, Monero, Maker, TetherUS, DigiByte, USD Coin, MANA, Enigma, Aragon, Chainlink, REN, Pax Dollar, FunFair, COMP and now Pax Gold.