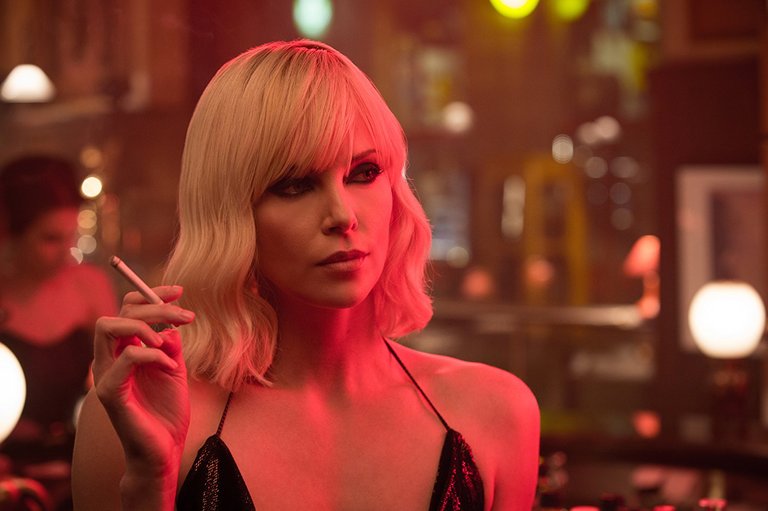 ---
Atomic Blonde would be a female version of John Wick. Naturally, considering the film was made by David Leitch as one of the film's director. The trailer featuring Charlize Theron's tough beat up enemies while accompanied by a combination of Blue Monday, Personal Jesus, and Black Skinhead songs provoked a similar impression. It is surprising when the product ends up in a cold war espionage where cool nuance, suspicious conversation, intercepting tapping activity, or hidden evidence investigation, dominates rather than fists. John Wick meets Tinker Tailor Soldier Spy ".

Set against the collapse of the Berlin Wall in 1989, Lorraine Broughton (Charlize Theron), an MI6 agent, was tasked with seizing the list of agents in the Soviet. The list was actually held by another MI6 agent, James Gascoigne (Sam Hargrave), but James was killed, and the list fell into the hands of KGB agents. It is said that there was the involvement of a double agent named Satchel who betrayed and has for years supplied information to the Soviets. As the German-German side's two-sided conflict, Lorraine, aided by his contacts in Berlin, David Percival (James McAvoy), should as soon as possible reveal Satchel's identity.
The choice of setting ahead of German reunification reinforces the impression that in the midst of historic events the thief of the spotlight of the world, in fact, happened also with urgency no less big decisive nan unnoticed by many parties. Even those involved did not understand the truth. Spies espionage is full of secrets. Not all can be trusted, potentially mutual stabs from behind. It was clear when Lorraine was interrogated (the plot moved back and forth between interrogation and Berlin missions) by his superiors, Eric Gray (Toby Jones) and CIA agent Emmett Kurzfeld (John Goodman). Who is honest, who is fully in action for the country, who carries other interests, all mysteries?
And stringing facts is not an easy thing, either for the characters or the audience. Like most cold war espionage, Kurt Johnstad through the script adaptation of graphic novel The Coldest City by Sam Hart is reluctant to explicitly explain the answer. What to look for is then acquired, the meaning of a discovery, to surprises, is spread out like a puzzle piece to the audience of its own assemblies. Complicated. Need carefulness. A little skipped, it was like being shown something that we did not feel was looking for. But it is also challenging. Atomic Blonde is like a tough exam that's getting more satisfying with being able to solve the problem.
The problem lies in David Leitch's ability to tell stories. The director gets lost in his own creasing thread. Various moments bring unnecessary complexity, flowing roughly due to more emphasis on the style of a compelling image ornate neon colours. Another case of action execution. Although not often, once present, the beauty of brutal martial choreography accompanied by the soundtrack of the era (mostly) 80an sounds impressive. Not as atomic as its trailer but still a hard-hitting action. The summit took a few minutes long when Lorraine bleedingly broke the opponent, either with bare hands, a gun or a tool. The ability of Leitch and cinematographer Jonathan Sela to organize the dynamic motion of the camera between the choreography of complex fights in the narrow space (staircase, car) deserves boisterous applause, Charlize Theron defines "badass action hero". Especially for the long take above, not only show off greatness acting self-defence, Theron makes the scene was convincing thanks to the accuracy of expression of fatigue and pain. Gradually we can see that Lorraine who initially fielded increasingly exhausted as the opponent increased also his body wounds. In addition to the dexterity of action, Theron is like a super-powerful magnet with a cold sentence narrative, a zero-naked glance of doubt, until cigarette puffs are full of confidence. When others are overshadowed by ignorance, Lorraine stands out, seems to understand everything, can do anything, as if the world is in his grasp. 
---
RATING (6,8/10)

---

Don't forget, give your feedback in the comment section

--- ---