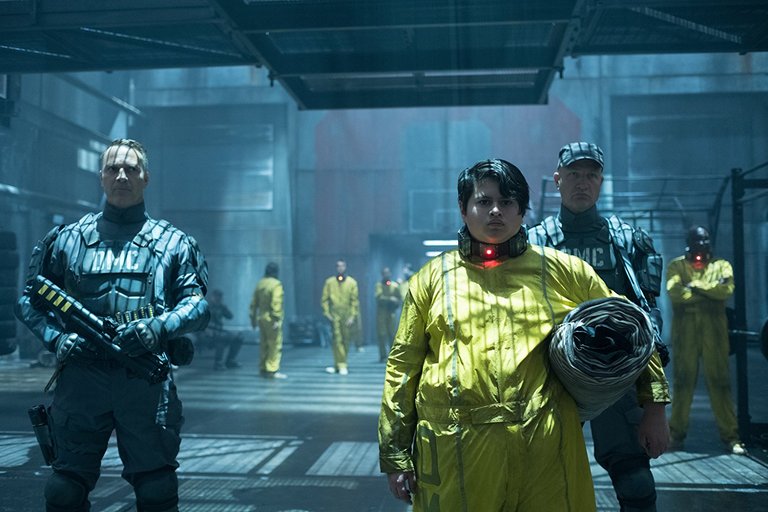 ---
Deadpool aka Wade Wilson (Ryan Reynolds) can not die, even when the explosion makes all parts of his body scattered as shown in the opening scene. He could without a doubt hit the Yakuza headquarters as well as any dangerous mafia. After the first film, it seemed as if everything was easy for Wade, who now works as a head killer for criminal heads all over the world. Apparently not that easy. He is immune and "untouchable", but not so with the people around him. Based on that idea, Deadpool 2 raises a story that is very representative of the sense of comic books. I can not reveal it, but if you are familiar with super hero comics, you know which aspects of their lives are the hardest, sometimes tragic, Behind all the jokes of his own as well as the banter against the dark shades of DC movies, Deadpool 2 actually carries a dark story. Not just for Mr. Pool, as well as Russell Collins (Julian Dennison), the young mutant with fire, and Cable (Josh Brolin), a former soldier who came from the future to kill Russell. Two opposite faces were also shown by the performance of Ryan Reynolds. Wearing the mask of Deadpol, he appears witty, like a performer who can do anything, make any gesture. Without a mask, as Wade Wilson, while still being absurd, Reynolds injects a tragic melancholic side in Wade.
Usually from here I will mengulik one by one element of the story of the movie, but Deadpool 2, with a level of surprises not less than Avengers: Infinity War makes it difficult. One thing you should know, that there are many surprises scattered, both in the form of plot points, appearance and death of characters (so many hilarious death scenes), as well as some cameo including the appearance of the blink of a famous star. Excluding four mid-credit scenes-with the last three scenes summarized so one-that proves the crazy creativity of Ryan Reynolds as scriptwriter with Rhett Reese and Paul Wernick.
Because it is difficult to review the flow, let's discuss the treat action. Having David Leitch in the directing seat, although his choreography is not as complex as Leitch's earlier work (John Wick, Atomic Blonde), several portions of the game, especially when exploiting the ferocity of Josh Brolin as Cable, often invite clicking awe. No less steal the attention of Zazie Beetz as Domino the mutant full of luck. Beetz is a rare talent. Have a physical attractive, charismatic and looks tough when melakoni action, but expertly joking. If one day there is an attempt to generate blaxploitation through the remake of classic titles like Foxy Brown and Coffy, Beetz should be the main choice, For Deadpool itself, Leitch takes advantage of the incapacity of the character to dampen lives in order to polish creative action. He could strangle the enemy with his own broken arm, cut his body in two, until it crumbled to pieces but still had time to reproach Wolverine. He can do all but shut up. And one thing the film can not do is stop the craze, stop throwing meta jokes. Deadpool 2 is reluctant to let any party escape insults, including Rob Liefeld, creator of Deadpool, Cable, and X-Force figures, who allegedly can not draw legs (please googling "Rob Liefeld's feet). Non-stop madness is the right decision, except for the first act, about 10-15 minutes early when the audience-at least I-still needs time to adjust.
From his solemn Enya Only Time, his Skrillex Bangarang makes Deadpool's fight against Cable cooler, to Celine Dion's Ashes as a James Bond intro, a testament to how the madness and shock power of Deadpool 2 is contagious over the music selection. Who would have thought also a mellow acoustic version of Take on Me can sound amazingly sweet? Or more precisely, who would have thought a movie like Deadpool 2 able to look sweet, romantic, touch, at least in the closing? i really sad. 
---
RATING (8/10)

---

Don't forget, give your feedback in the comment section

--- ---