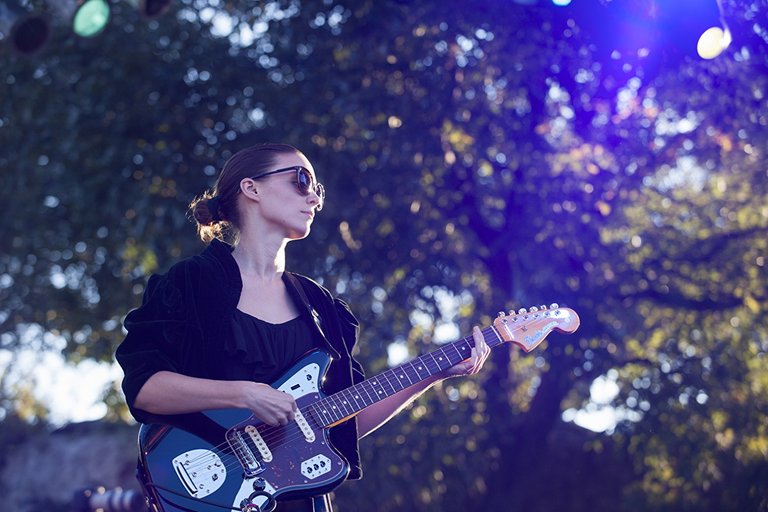 ---
Closing the unofficial contemporary trilogy of Terrence Malick, Song to Song brings together the To the Wonder love story blindingly blinding modern Knight of Cups life. Until this point the audience should know the director will give a spectacle like what. So while highlighting the music scene in Austin, Texas, telling romance, and starring Ryan Gosling as a passionate musician, do not expect "La La Land 2.0". Song to Song is a "Malickian movie" when character is a representation of ideas rather than complex humans living in a world where the sun is always shining and falling in love is expressed by rolling on the grass or intertwining behind the curtains, Early minutes filled with introductions to three main characters, BV (Ryan Gosling), Cook (Michael Fassbender), and Faye (Rooney Mara). The audience is only treated with a bit of characterization: BV wants to touch the taste of the people through his music, Armed with the principle of "any experience is better than no experience" Faye pursues life as freely as possible, while Cook is a player of the music industry that berkelimang luxury (typical "empty man" fond of Malick critics). The brief characterization above serves to explain (read: justify) character action, like a book that guides us if lost in the middle of wild motion film.
Space and time for Malick are abstract. The audience finds it difficult to be where and when the flow jumps from song to song, human to human, kiss to kiss, relationship to relationship. But now the flow is more coherent than the previous two films. At least it can be understood when BV, Faye, and Cook laugh together before the triangle romance bursts, then with each personal upheaval they take their way, meeting a row of other characters. Cook drags Rhonda (Natalie Portman) to her wild sex life, BV meets the wounded Amanda (Cate Blanchett), while Faye continues her "adventure" with a woman named Zoey (Berenice Marlohe), Chaotic progression exploring to the most random scenes though (could display the old Russian movie scene) fortunately assisted the presence of voice over. Speech whisper must exist in Malick's work, but if usually just to strengthen the mood, voice over Song's Song is like a guide who teaches the audience how to string the plot. Not entirely clear, so be sure to concentrate on each sentence. But if without voice over, Malick's visual storytelling here is more coherent, binding each other despite moving randomly back and forth. It is less substantial but forms a whole circle around contemporary empty life that ultimately pushes humans back toward simplicity, "bathing themselves" with nature with their love.
Not that the chaotic keliaran above is entirely comfortable listening. As more and more new characters are introduced as well as repetitive moments (meet-bertatapan-dating-foreplay) are always filling, Song to Song easily herded the audience toward the saturation point. As the repetitions lasted for 129 minutes, it is not impossible to feel tired and frustrated with the rows of characters.
After working on Malick's cinematography since The New World, moving the camera like a ghost flying silently trailing the characters seems to have become a reflex for Emmanuel Lubezki. Similarly, the "worship" routine of sunshine, either in the morning, broad daylight, or dusk. Stay beautiful, unsightly, but no longer groundbreaking. Similar to a predictable routine, we know when Faye will lean back and forth while smiling intimately on the wall, when BV looks at the sun's rage, or when her camera flips back and forth capturing the intimacy of a pair of lovers.

Playing in the movie Terrence Malick like a test how far an actor capable of acting without a script, raises natural improvisation. Moreover, his character is often demanded to express love and joy through the behavior of "childish" in the form of dumbness, dance, or expression that seems silly. Gosling and Fassbender passed the test thanks to the natural behavior of angler fisherman while maintaining an animate interaction while providing little dialogue. Both blow the dynamics, something that Ben Affleck (To the Wonder) or Christian Bale (Knight of Cups) failed to do. While among the overcrowded cameo musicians are strangely rarely shown playing music only Patti Smith with his emotional grief story that left an impression, Can not be denied as well, Malick has a variety of activities more interesting to do the characters. Of course the routine mentioned above, plus prolonged foreplay still dominates, but the scenery such as fad Gosling dabbling clothes so small that Mara dancing so enthusiastically bring up the fun. Song to Song is still not philosophical reflection with outward beauty in the kind of The Tree of Life, nor will it enlighten the hearts and minds of the audience about its settling down, but Terrence Malick's last experiment (for now) before returning to a structured narrative through Radegund undo tipped the void. 
---
RATING (6/10)

---

Don't forget, give your feedback in the comment section

--- ---