The last Weekend I finally enjoyed some good food in the Restaurant again. Because of the COVID-19 restrictions the restaurants were closed or only could offer take away food for a long time, and now finally they are open again. But still you need to provide a negative COVID-19 Test or the proof of vaccination before entering the restaurants. What makes travelling and eating in restaurants still a little difficult for me is that I have to reserve a timeframe for the COVID-19 tests after work, so I lose at least half an hour for the testing every weekend.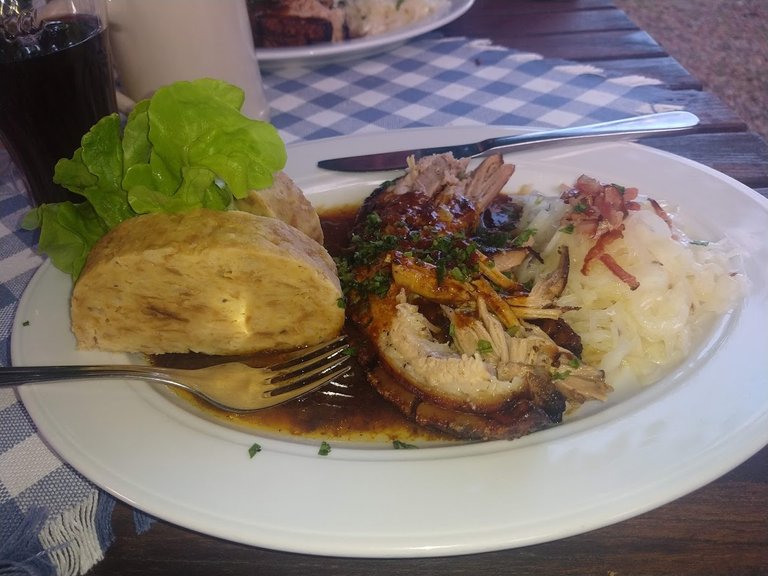 Finally, I could get some Roast pork again. Picture: Florian Glechner.
| Camera used | Motorola G6 Plus |
| --- | --- |
| Lens used | Motorola G6 Plus |
| Filter used | none |
| Exposure Time | 1/169 Seconds |
| Aperture used | F1.7 |
| Focal Length | 4 mm |
| Time | 10:41 am |
| ISO | 50 |
Next weekend I will visit Vienna, and I am already looking forward to visiting a "Heuriger" - Restaurant again for the first time after nearly one year. I can't wait for my grape juice and all the good food I can find there. It is something that I really missed this last half year. I know a lot of this food I could eat at home as well, but it is a big difference and if there is something that takes more time or effort to cook at home I am most of the time too lazy to cook it myself.