xDAC token is the platform currency used for dispute resolutions, payrolls, merchant payment processing, profit distribution and development incentives.
An xDAC Platform is focused on creating a comprehensive framework for entrepreneurs, teams, autonomous agents and investors in crypto space – all of whom benefit from a decentralized entity.
xDAC PLATFORM FEATURES
The focus of an xDAC Platform is based on company creation and token distribution. It also establishes standards for decentralized businesses. Whether it's taking full advantage of decentralized ledger technology, automated dispute resolution or security of stored information, the platform lets anyone create and manage any kind of company without the limitations of geography.
GOVERNANCE AND DISPUTES
The xDAC platform establishes digital jurisdiction over xDACs created and operated by business owners. Disputes with third parties are resolved expediently and objectively through a decentralized Dispute Representative Board (DRB).
PAYMENT PROCESSING
The most important part of each company is payment processing and the use of digital wallet technology. An xDAC platform will create a wallet with merchant tools for each xDAC upon the establishment of a company on the platform.
OWNERSHIP AND TOKEN ISSUANCE
Owners have option to issue a certain number of voting or non-voting tokens through a smart contract and distribute them between the owners or public via ICOs or a token sale.
LIABILITY FUND
An xDAC Liability Fund is coverage in case the xDAC's debts or liabilities exceed a certain debt-to-equity ratio. It is calculated as a percentage of received payments until certain threshold is reached. This protects investors in case of xDAC default.
PoW PERFORMANCE RATING
xDAC's PoW mechanism allows for an automated rating system to track the effectiveness of team members and companies and distribute the platform profit by way of participation.
PROJECT AND TEAM MANAGEMENT
Project and team management is a key feature of PoW Performance Rating. It helps xDAC keep up with tasks, scheduling, and distributing automated payments to team members.
ARCHITECTURE
An xDAC ecosystem can be viewed as several distinct technological layers strategically connected together.
EOSAmong the decentralized smart contract platforms, EOS is the most advanced feeless Blockchain platform. The public's smart contract layer provides an open-sourced implementation of key components creating the governance for decentralized applications (DApps) and Autonomous Agents to be built upon, The xDAC client is an innovative user interface that brings together all the DApps and Autonomous Agents in one place. The initial plan is to build website and desktop applications for easier interaction with the xDAC Platform.
Token Info


TOKEN DISTRIBUTION & USE OF FUNDS
A token sale will distribute 40% of tokens within investors and 20% of tokens will be used to incentivize early adopters of the platform. The remaining 40% will be retained with the project team. Proceeds from a token sale will primarily be used for R&D, operational expenses and marketing.
Roadmap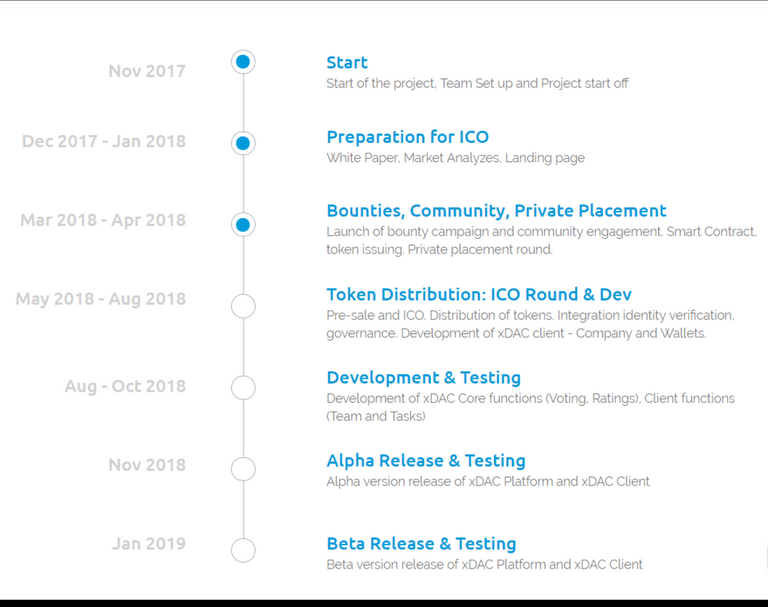 Airdrop Info
Go to the airdrop page. https://www.xdac.co/airdrop/
Choose the tasks you would like to complete on Twitter (+10XDAC), Reddit (+10 XDAC), Telegram (+10XDAC) and Facebook (+25 XDAC).
Earn up to 200 XDAC for writing reviews on social media channels.
To earn more tokens, you can complete bounty tasks (up to 6650 XDAC).
Submit the airdrop form with your ETH wallet address and other details.
For "Referral URL" you can use: @manosteel211