---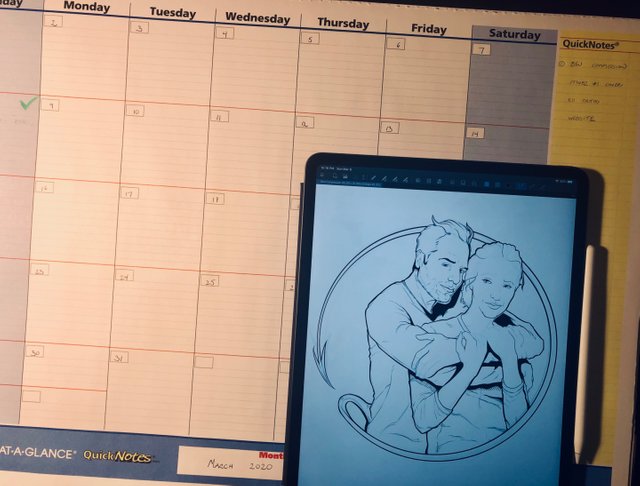 ---
One Green Checkmark. Feels good. Things have been exhausting lately. I have a very ill loved one, and the anxiety and stress is hitting my mental and physical well-being.
Of course we all know about the Coronavirus insanity, and I just happen to work at Costco which is practically an epicenter of frenzied panic shopping in the US. Chalk up more exhaustion there.
And to top it off we have the political turmoil currently raging on the Steem blockchain, which also hits me hard as this is a community and home I feel very passionate about.
---
So yeah, 2020 so far seems to be "the suck." I'm hoping for a turnaround and maybe I can start it off with a humble checkmark. I forced myself to sit down and draw for an hour this evening. Just one hour. That's still more than I've had the energy and motivation for recently.
I also busted out my "big ass" desk calendar and recorded this "milestone," along with planning out a few of the items I'd like to make progress on this month.
It's my intent to do at least an hour of work each day for the rest of March and see if I can build an unbroken string of green checkmarks.
With a few wins under my belt, and a sensation of forward progress and hint of control over life... perhaps I can draw my way outta this funk!
---
Thanks for getting to the end of my "Debbie Downer" freewrite! I hope you all are weathering life's various storms well. If you have any advice on how you cope... feel free to leave it in the comments! Lately I've mused that I really need to take up either meditation or drinking. Perhaps both. But I'm open to alternatives!
Bryan "the Imp" Imhoff
---
---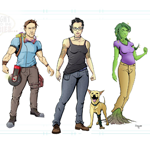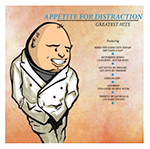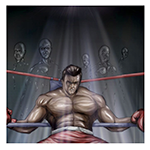 ---
@bryan-imhoff | @spottyproduction | @exploreunlimited
@steem-comic-con | @creatingcomics