ESPAÑOL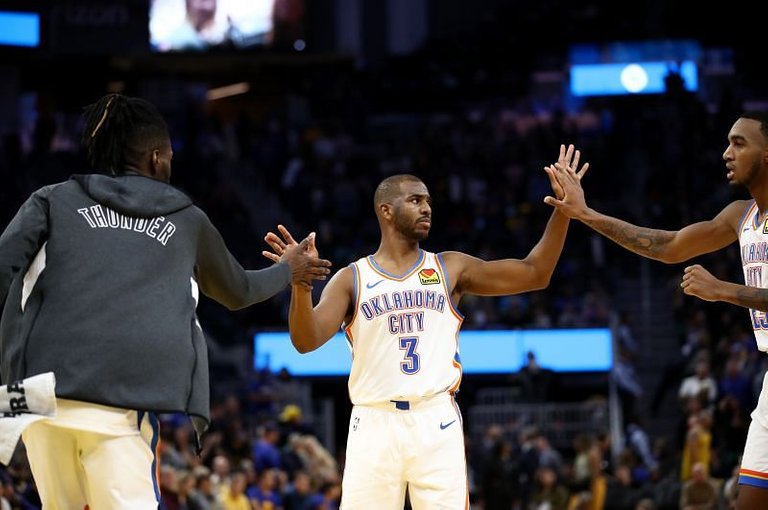 Saludos estimados! Cuando escribo estas letras, se ha iniciado el periodo de cambios y recién ha terminado el draft de la NBA (de lo cual hablare próximamente) en este sentido, el cambio que me ha llamado la atención es el de Chris Paul a los Phoenix Suns en el cual los OKC Thunder reciben a cambio a Kelly Oubre Jr., Ricky Rubio, Ty Jerome, Jalen Lecque, y una selección protegida de primera ronda para el draft del 2022
Desde el punto de vista de los equipos involucrados el cambio se ve excelente Oklahoma recibe jugadores jóvenes y puestos en los draft (de hecho ya cambiaron a Ricky Rubio) lo cual está en sus planes de reconstrucción manteniendo un equipo sorprendentemente competitivo, claro ahora sin Paul habrá que ver su desempeño.
Desde el Punto de vista de Phenix se habla de las maravillas que puede hacer Paul con unas jóvenes estrellas en ascenso como DeAndre Ayton y Booker, si metió a los playoff a OKC porque no hacer lo mismo a PHX?
También se habla de los equipos que querían a Paul como posibles perdedores del cambio, pero mi pregunta es, este Cambio seria el punto final de la búsqueda de un campeonato por parte de Chris Paul?

Fuente
Los primeros años de la carrera de Paul fueron desperdiciados en los New Orleans Hornets, llegando tres veces a la postemporada con una derrota en las semifinales de conferencia como lo más alto; luego los Clippers con Paul, Blake y Jordan fueron contendientes todos los años pero nunca pudieron pasar de semifinales de conferencia
Se creía que la unión con James Harden en Houston podía hacer llegar a la ansiada instancia de las finales de la NBA llegando a las finales de conferencia en el 2017, y con OKC el logro fue llegar y jugar bien en los playoffs, perdiendo en primera ronda.
Pero ya con 35 años a cuestas es posible que sean pocos los años que le queden como titular indiscutible en la NBA y esos los va a pasar ayudando al desarrollo del equipo de Ayton y Booker, Podrá el este equipo llegar a las finales en pocos años? o simplemente los tiempos de las estrellas no coinciden? espero equivocarme pero a menos que exista un cambio de equipo pronto, veremos a Paul retirarse hacia el salón de la fama sin un anillo de campeonato.
Chris Paul es 10 veces Allstar, 4 veces líder en asistencias, 6 veces líder en robos, 9 veces incluido en el equipo de mejores defensores y fue novato del año en la temporada 2005-06
ENGLISH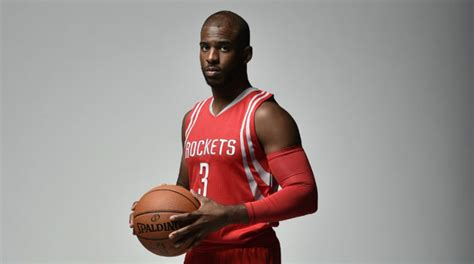 Fuente
Hello! It has been a really active offseason in the NBA, several trades has already taken place and the draft has just finished, from all of those transactions one that took my attention was the one of Chris Paul to the Phoenix Suns for Kelly Oubre Jr., Ricky Rubio, Ty Jerome, Jalen Lecque, and a protected 2022 first round selection. From each team involved point of view the trade looks as a win-win, OKC receive young players an draft picks (*they already traded Ricky Rubio*) in their reconstruction while maintaining competitive. Sure without Paul´s experience their performance must be hurt. In Phoenix I all about how Paul can make better their raising stars Ayton and Booker, is there is one player that can make this team into the playoff that is Paul. There are the loser of this trade, teams like the Knicks, Bucks an Others that wanted to have Chris Paul Next Year, but mi question is. Would this trade mean the end of championship opportunities for Paul? In his first 6 years in the league Chris Paul was stuck in the mediocre New Orleans Hornets, taking them to the playoffs 3 times getting into the conference semi-finals one year; them he formed a big three with Blake an Jordan with the Clippers, being contenders for the next 6 years but never made it past the conference semi-finals.

Fuente
It was thought that a duo with superstar James Harden in Houston could make the team go to the NBA finals, getting into the conference finals in 2017 but not further more. With OKC was a surprise that they went into the playoff and played really well.
But a now 35 years old Paul is possible that there are not many years of him as an all-star caliber point guard in a competitive team, and PHX is an up an raising team, Could this team be mature enough to make into the NBA finals? or we´re on from of another great to go into the Hal of fame and never have a NBA ring?
Chris Paul is an 10 times Allstar, 4 times assists leader, 6 times steals leader, 9 times all defensive team and 2005-06 rookie of the year.