Good day players.
As many of you know Thunkgaria V2 has been in closed Beta test for quite awhile. (all of 2021) to be exact.
As of today the code is now live to play at http://www.thunkgaria.world or you can use 54.225.172.223 to go directly
or you can use http://ec2-54-225-172-223.compute-1.amazonaws.com
What is new?
Player-to-Player Marketplace using in-game currency
Jewlery (rings & amulets) to power up your Heros
The archer is gone and replaced with the Rogue
Training Camp - currently train your Hero in different combat stances to help in battle
In-game Fiat purchase of in-game currency
New artwork for Heros
Gameplay is basically the same as on the website http://www.thunkgaria.com but there is some changes.
So I will be streaming later tonight a "How to play" stream. This will then be edited and posted.
So what is next? Where is the blockchain??
Great Question. As many of you know I have been working on the concept of Universal NFT's in games utilizing blockchains for over 2 years now.
While working on this and working with many developers and game companies there have been quite a few starts & stops, progress & dead-ends.
Also during this 2 years NFT's have hit the main stream and some in the game industry say this "Universal NFT" is a pipe-dream of has too many technical issues to work. Game designers say it will "throw out of whack" their game balance and economies.
I have thought about this long and hard. I feel there is a way to make this work.
I was personally working with a fellow developer on a Layer 1 solution, but after seeing all the Layer 1 work done over the past 2 years we have dropped this.
Then we started on a Layer 2 solution built on Hive. As we tried to onboard other games to test we ran into the issue of game balance and economies. So I stepped back and looked at the market again.
A solution formed.
This Live version of Thunkgaria is just the 1st step. So the short answer to the question above is Blockchain connections are coming. Just not right now.
Crystal Spider Games next steps
For those following along this saga, our games are produced under the banner of Crystal Spider Games. Now that Thunkgaria a web based game (PBBG) is now live we are hard focused on our Unity Development.
We are working on some Unity games that will be launched using blockchain logins and a DB structure we are calling Layer 4 (of the new internet of blockchains) that will allow for movement of in-game items from Thunkgaria to our next series of games.
What does this mean for me?? Can I do play-to-earn in Thunkgaria??
Yes & No.
No. we don't have in game tokenomics that will give you coins you can trade on a Dex.
Yes. We will be running events where you can win prizes. As Hive is our strongest community of players, we will be moving all of our Hive accounts over to upvoting content from our top players (a post with exact info will be coming).
So Yes you can earn through the social aspect of Hive, if you are a top player we will upvote your Hive content, if you are a new player and post about Thunkgaria we will upvote and give HE Tipping tokens to any Thunkgaria posts. (just tag @simplegame in your post anywhere to help me find them)
Also we are considering allowing some in-game currency to Hive exchanges but nothing is decided yet.
I only have Hive and want to get some in-game currency (relics) or I hate paypal and will not use it. Help me!!!
Ok we get this. We want to allow and automate payment for in-game currency in Hive but that will come along a little later.
So we have to do this old school and slow. If you send 1 HBD to @thunkgaria you will receive 5 Relics in-game.
I will have to process these manually right now so once you send it be patient.
I will create a channel in the discord server to help manage this.
(very similiar to the great breadcrumb buyback from the Holybread days)
Wow this is running long.
I am going to close up now, but ask any questions in the comments or in the discord.
Here is a screenshot of some of the new Heros drawn by the every amazing @sidekickmatt as always check out his blog and upvote his amazing work.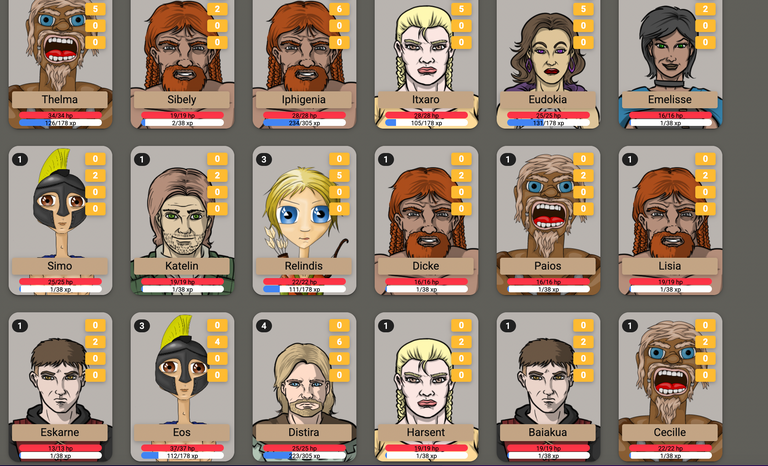 I left a few old Heros in the tavern for you to see the difference in artwork.