Hoy les quiero compartir algo nuevo, ya que nunca les había mostrado mi lado gamer jajaja, bueno, ahorita en cuarentena descubrí gracias a un amigo un juego llamado Free Fire, es muy divertido y sirve para distraerte en todo este tiempo que estas encerrado.
Today I want to share with you something new, since I had never shown you my gamer side hahaha, well, now in quarantine I discovered thanks to a friend a game called "Free Fire", it is very fun and serves to distract you in all this time that you are locked up.
---
Primera Skin / First Skin
Esta primer skin que conseguí, fue gracias a que cada vez que juego, existen regalos que dan los jugadores, y de vez en cuando salen diamantes, logré reunir 19 diamantes, le di a una ruleta que sale en el Luck Royale y me salio esta skin, de hecho, esta es por la temporada nueva que hay (la temporada playera).
This first skin I got, was because every time I play, there are gifts that give the players, and occasionally come out diamonds, I managed to collect 19 diamonds, I hit a roulette wheel that comes out in the "Luck Royale" and I got this skin, in fact, this is for the new season there (the beach season).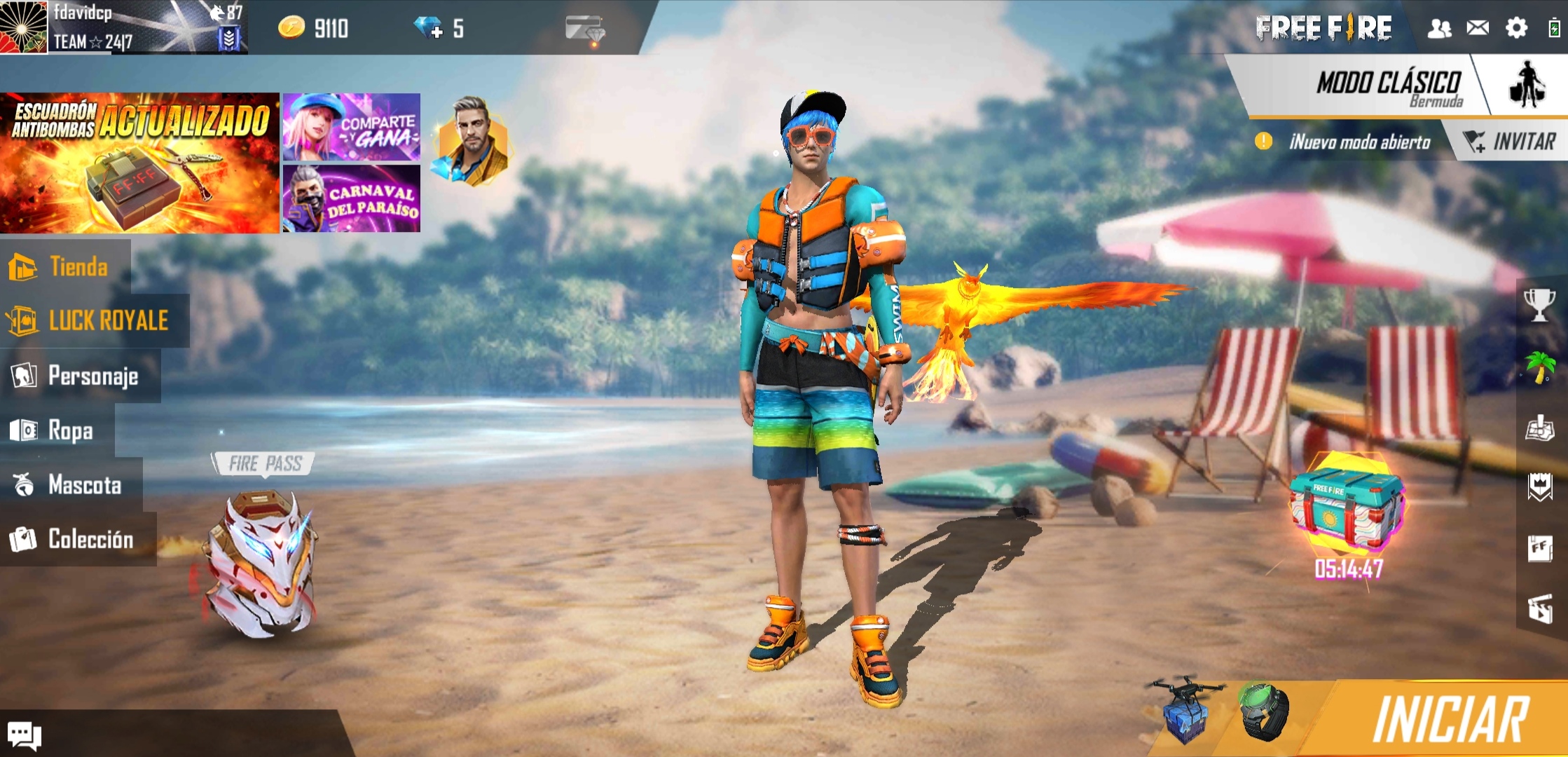 ---
Segunda Skin /Second Skin
Esta segunda skin la conseguí compartiendo un link que nos da el juego con mi perfil, a otros usuarios, tenia que compartirlo con 20 personas que me apoyaran y tuvieran cuenta, ¡y lo logre hacer!, esta también es de la temporada playera.
This second skin I got by sharing a link that gives the game with my profile, to other users, I had to share it with 20 people who supported me and had an account, and I managed to do it, this one is also from the beach season.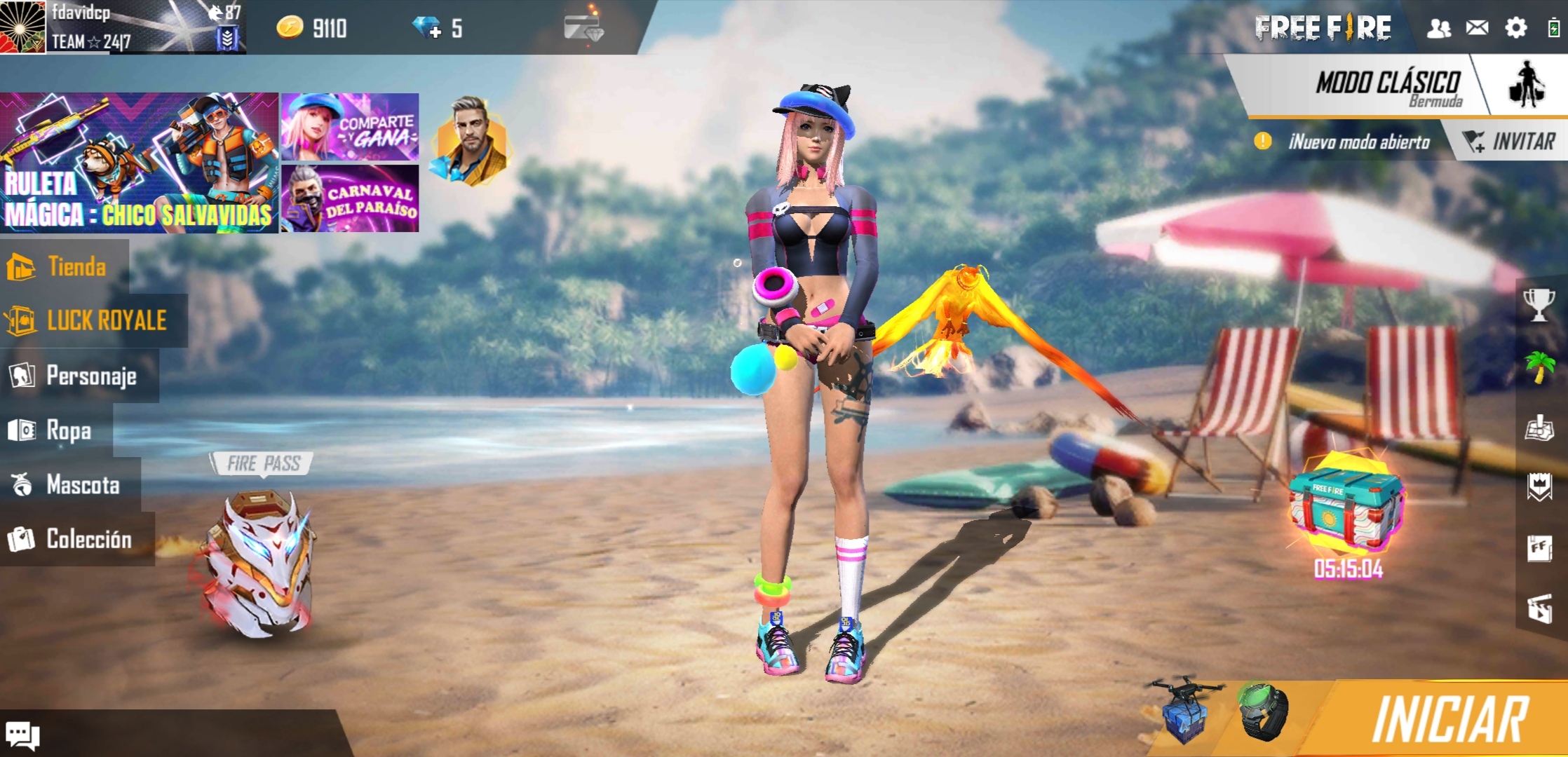 ---
Tercera y Cuarta Skin / Thrid and Fourth Skin
Estas dos skins las conseguí: el del hombre con los pases de oro que se usan en el Luck Royale y el de la mujer realizando todas las tareas diarias y ganando puntos.
I got these two skins: the one of the man with the golden passes used in the "Luck Royale" and the one of the woman performing all the daily tasks and earning points.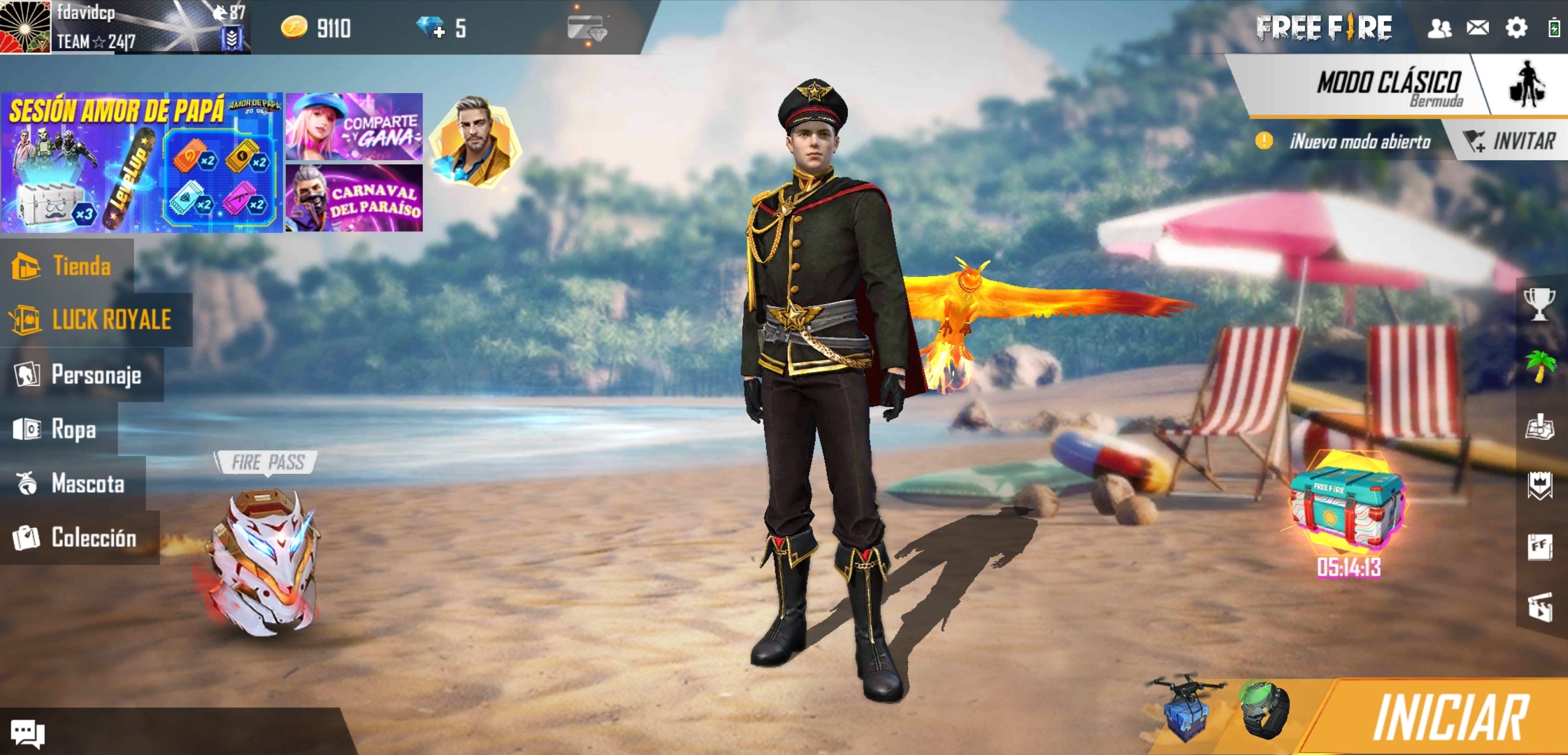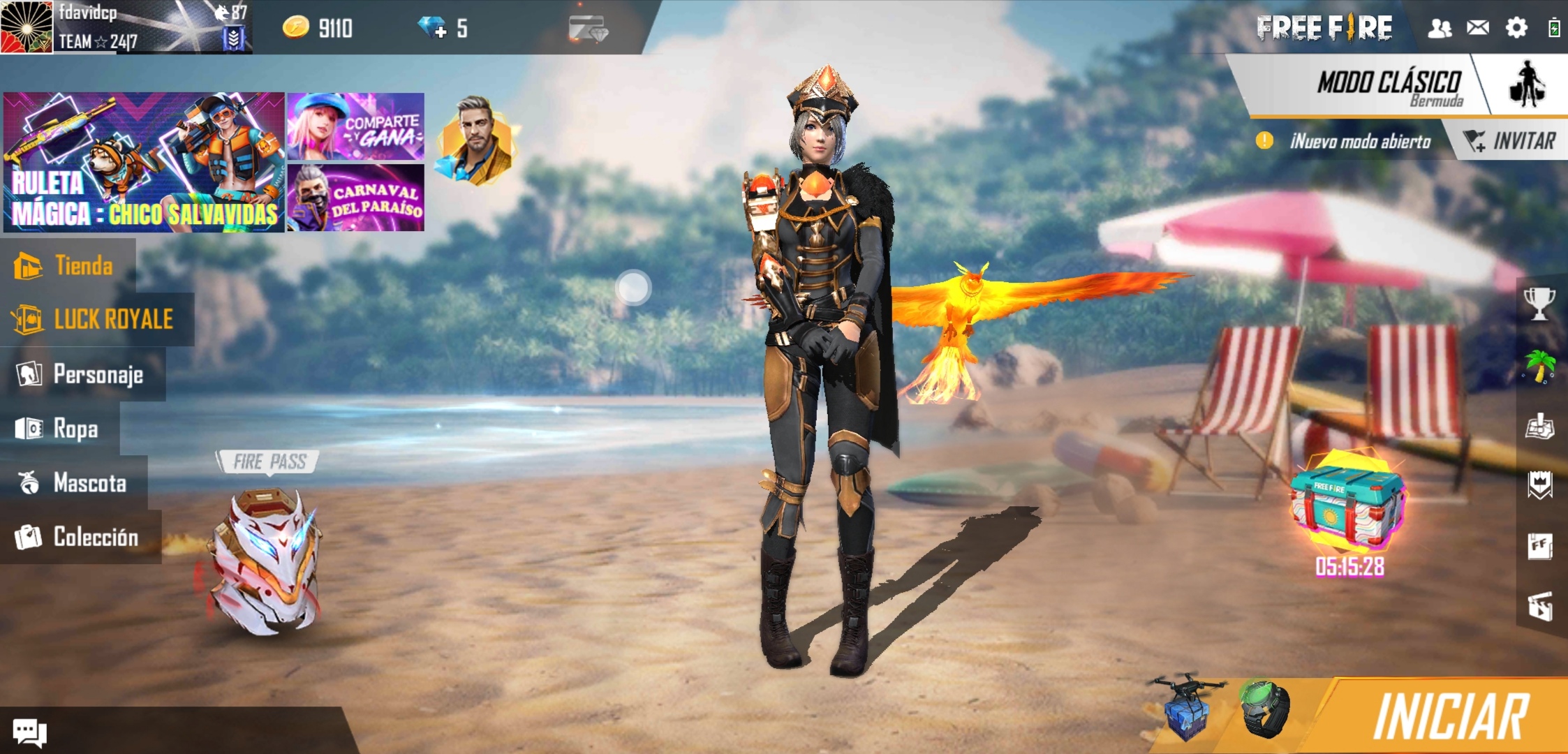 ---
Quinta Skin / Fifth Skin
Esta última skin la conseguí jugando en el modo clasico y buscando los tesoros escondidos en el mapa, pues antes de comenzar el juego, en el Free Pass nos sale un mini mapa que nos indica donde esta escondido el tesoro, yo los busque y logre reclamar esta skin.
I got this last skin by playing in the classic mode and looking for the hidden treasures on the map, because before starting the game, in the "Free Pass" we get a mini map that tells us where the treasure is hidden, I looked for them and managed to claim this skin.
---
Skin del Ave / Bird's Skin
Ya finalmente esta la skin del Ave, la mascota como tal la conseguí por iniciar sesión ayer 14 de junio, más la skin fue gracias a invitar a algún amigo que tuviera una cuenta inactiva por mas de 7 días, por ende el ave para ser un Ave Fénix, por cierto, mi usuario en el juego es @fdavidcp (por si me quieren agregar y quieren jugar).
Finally there is the skin of the Bird, the pet as such I got it by logging in yesterday June 14th, plus the skin was thanks to invite a friend who had an inactive account for more than 7 days, therefore the bird to be a Phoenix, by the way, my user in the game is @fdavidcp (in case you want to add me and want to play).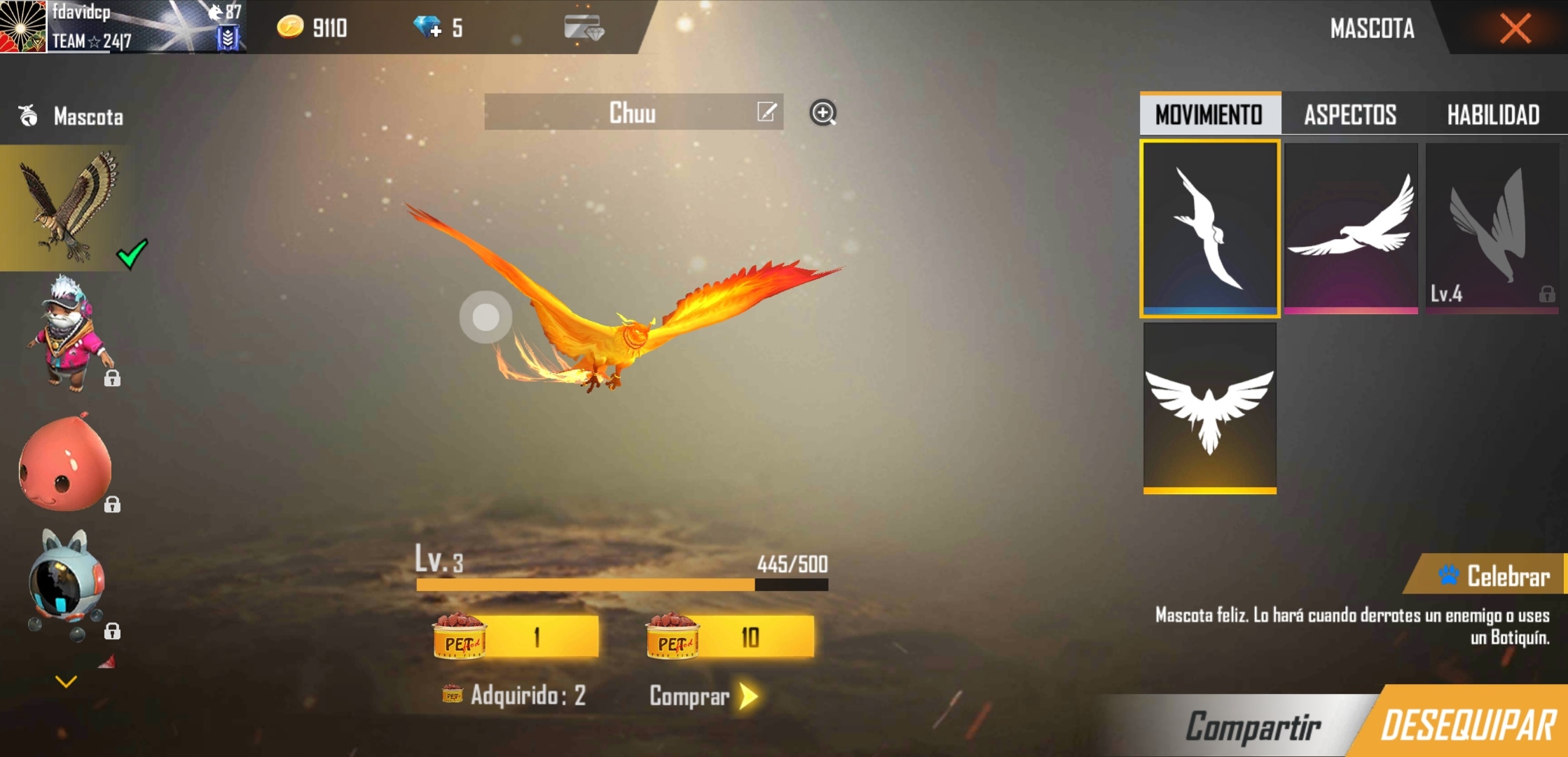 ---
Bueno, esta fue toda la publicación, espero que les haya gustado, y espero que me apoyen con un UPvote y un comentario, más adelante subiré nuevas capturas de este juego y otros que uso, para compartir un poco más y para que descubran distintos juegos que sirven para distraerse en estos tiempos de cuarentena.
Well, this was all the publication, I hope you liked it, and I hope you support me with an UPvote and a comment, later I will upload new captures of this game and others that I use, to share a little more and to discover different games that serve to distract you in these times of quarantine.