For those of us who are interested in blockchain gaming, there's something new-ish on the scene: Prospectors is a gold-mining-themed building game on EOS, and more importantly it's the first free-to-play blockchain game that has struck me as particularly appealing.
It's also the first free-to-play blockchain game where F2P players have value to an affiliate, so I'm going to give away some Splinterlands cards to people who sign up through my link. More details at the end of this post.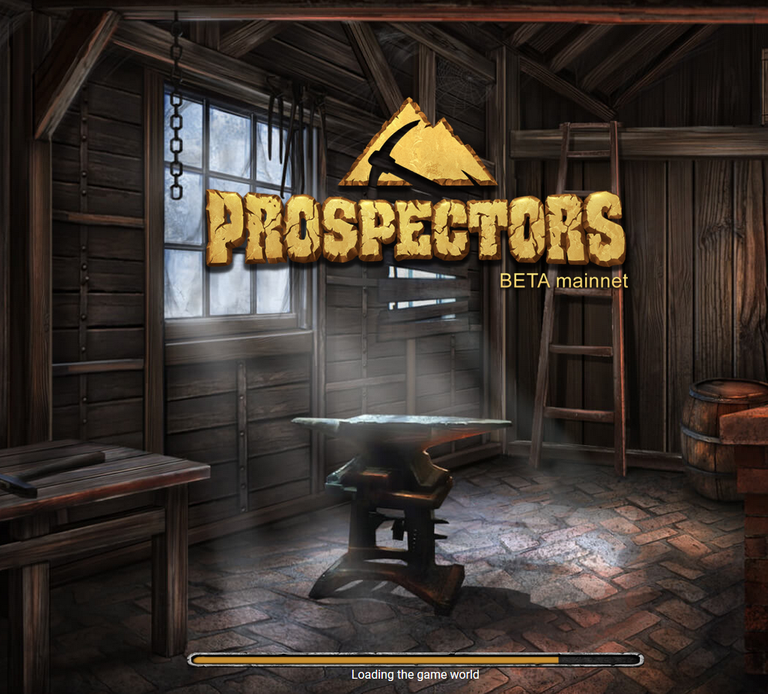 How to play:
You'll need an EOS account to play Prospectors, and either a wallet that supports web transactions or a willingness to sign into to the game with your active key. I've found Scatter logins to be unreliable, and I don't generally keep assets in the Otterworks account, so I've been signing in. It would be nice if they improved Scatter support, though. It ties Google or Facebook logins to your EOS account, so those who are hyper-aware of KYC issues may want to stay away.
If you have those accounts, you can just go to prospectors.io to sign up.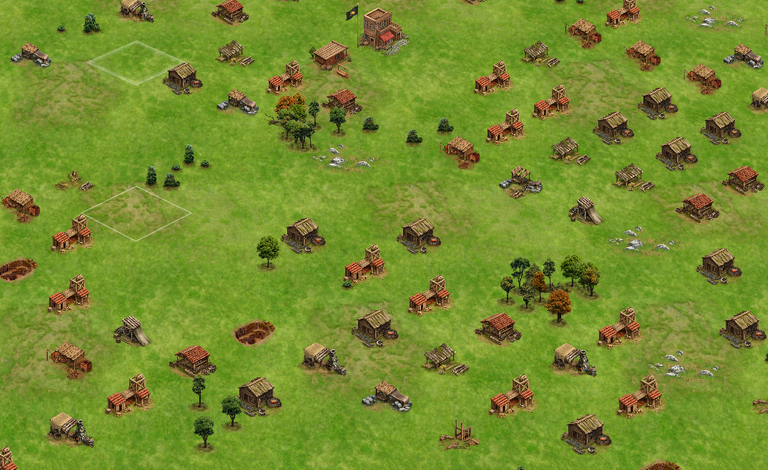 Starting out:
With your game account you get three minions who can be ordered to do tasks for you. At the beginning you have no tools or land, so you're limited to either harvesting materials by hand on unrented property or doing delivery jobs for more-established players. You can earn game gold either way, by being paid for jobs or by selling the resources you've gathered. You can then use that gold to buy tools, buy resources to make tools, rent land for your exclusive use to mine and build on, or just cash out into their token, which can be trade for EOS at NewDEX.
Transporting jobs are always available if kind of boring, but personally I like collecting coffee beans from public land. People are willing to buy them for quite a lot of gold.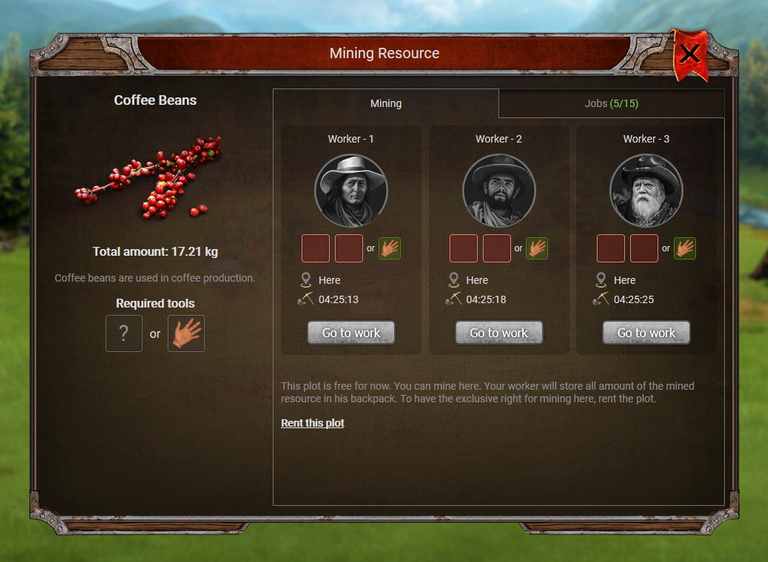 Time investment:
So far Prospectors is one of the idlest of idle games I've ever played. At the beginning your minions can work for an hour at a time, but you quickly get the option to buy an upgrade that allows them to work five hours on command. Setting them to do things takes only a minute or two each time, so once you have that upgrade the amount of attention needed is extremely minimal; I've found myself forgetting I have the game up periodically.
Just hand-harvesting coffee beans, one of those five-hour sessions for all three workers is currently worth about 1/20 EOS, which isn't too bad for a minute or two of work. It gives you plenty of time to look around and consider whether to continue further in the game. You won't get rich doing things this way, but it's definitely worth a shot on getting in at the beginning of a game that might develop into something. Prospectors' initial release isn't until this fall sometime.
OK but I want Monsters
Right, I'll get to the Monsters. Sign up through my link and I'll send you two Regular Rare Reward cards of your choice. Just leave a comment here with the name of the EOS account you signed up with and which cards you want. (While supplies last, though season rewards are coming in four days so I'll have a lot.) No spending is required, but please at least try out the game.
Pick two of Hobgoblin, Mushroom Seer, Flame Imp, Pirate Archer, Naga Fire Wizard, Skeletal Warrior, Crystal Werewolf, Javelin Thrower, or Prismatic Energy.