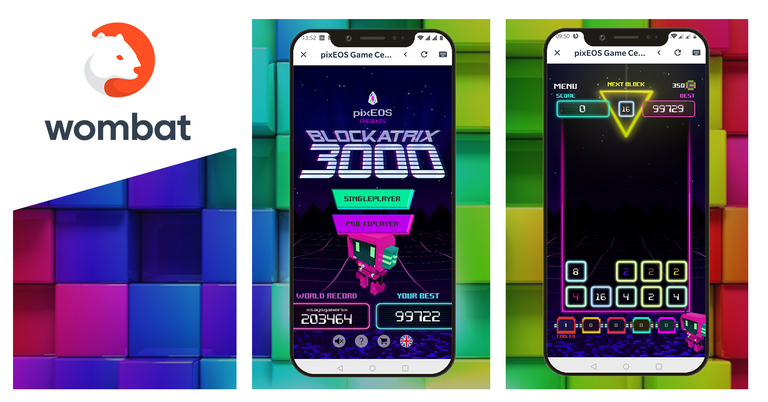 There are many new and great dApps available on Wombat and sometimes it is challenging to quickly understand what these dApps actually do and how you can use them effectively. This is why we will start a beginner's guide series to point out the most important aspects of each dApp that the Wombat team finds promising and to get you started with some tips and tricks.
I want to kickstart the beginner's guide series with the game Blockatrix 3000. This game is a puzzle strategy game and the goal is to line up the same numbered blocks next to each other. It's the perfect casual game to kill some minutes in the metro or in a traffic jam. What I like most about it is that it has a multiplayer mode, it's free to play and you can earn pixEOS tokens. The game is part of pixEOS' Game Center and can be accessed easily with Wombat and other compatible wallets.
Getting started with Blockatrix 3000
To find the game you simply need to select the pixEOS Game Center dApp in Wombat and swipe right until you see the game. Then, select the game and it will start loading. On mobile it might not be intuitive at first but don't worry, I know you'll find it at lightning speed. The game works really well on mobile (despite the "Best on desktop" banner). When you load the game you can ignore the warning message from Unity and just click ok. This is it. Now you are ready to play.
Before I go into details, I quickly want to explain how the game works. Inspired by Tetris and 2048, blocks with numbers typically between 2 and 16 get dropped from the top and slowly move down unless you dump them by tapping your screen. The goal is to line up the same numbered blocks next to each other. When you line up at least 2 blocks they merge and the value of the merged blocks doubles. If you do not manage to find blocks which can be merged, they pile up. Once you reach the top, you lose. To avoid that and to help you to become the Michael Jordan of Blockatrix 3000 I have prepared a list of tips and tricks for you:
Practice in single-player mode: Trust me, the more you practice, the better you get. Over time you'll get used to the gameplay, the quick thinking, and combinations required to earn many points. Use the single-player mode to test your strategies, like how to arrange the blocks to get more points per merge.
Build a T-formation: The more blocks you merge at once, the faster you reach higher number blocks. Try to not just merge 2, but 3 or even 4 blocks at the same time. One way to do so is to use a "T-formation" as outlined in the screenshot (the 4 blocks with a "2" in the bottom right) to quadruple your points with just one merge. With this tactic, you need fewer merges to reach high numbers more quickly.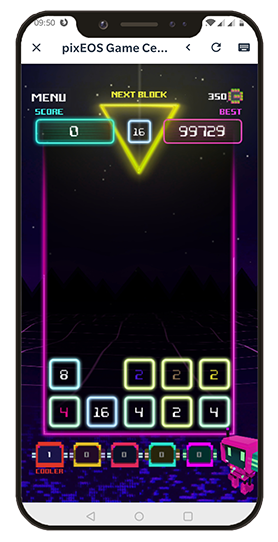 Build a double T-formation: This is where the magic happens. Instead of only building one T-formation, you can build two on top of each other. Start with a 16-block T-formation and before you merge those blocks, add a 2-block T-formation on top as outlined in the screenshot. The final 2-block will merge all blocks and you end up with a single 128-block. Beautiful, isn't it?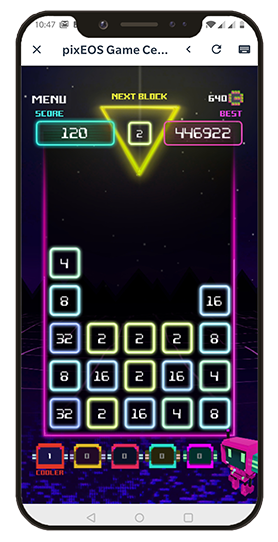 Stack consecutive blocks: Another option to get more points with fewer merges is to stack consecutive blocks above each other starting with a high numbered block in the bottom. For example, if you put a 32-block in the bottom, and stack a 16-, then an 8-, then a 4- and then a 2-block on top of each other, the next 2-block will merge all blocks resulting in a single 64-Block.
Earn extra pixEOS tokens: When you merge rainbow blocks (they are blinking) you can earn extra game points. Everyday pixEOS are distributed (currently 200,000 per day) to all players based on their individual share of the total game points. The pixEOS tokens can be spent on boosts which help a lot when you play more competitive in multiplayer mode. Rainbow blocks can also be found in single player mode.
Get daily rewards: pixEOS offers daily rewards which you get just for showing up in the game. For example, you can get a REPEATER for free which doubles all your blocks when activated, or a COOLER which slows down the time in multiplayer mode. To get the rewards just open the game and click on "daily reward" in the upper right corner.
Play against others and support your faction
The cool thing about the game is not just the simple gameplay and the artful design, but also that it has a true multiplayer mode. In multiplayer mode, you'll get an opponent assigned, which you have to beat in a 5-minute game. The winner won't only feel good about the victory, but also wins up to 10,000 pixEOS tokens (if the winner selected a 6,000 token wager before the game) based on the game tier selected and the corresponding token pool. The tokens can be used to purchase boosts (which are really helpful by the way) or can be traded with other tokens like EOS.
Every multiplayer victory also helps your faction. Each player can select a faction in the Game Center and choose from the cryptolegions Helius, Elders and Sensers. Since the Elders faction represents the wise and experienced players, obviously most of the Wombat team chose to be part of those (go Elders!). Depending on the number of victories of each faction in the multiplayer battles additional rewards are allocated to each player.
Download Wombat and play Blockatrix 3000
The easiest way to play the game is to download the EOS wallet Wombat. Just sign up with your email address and you are ready to go, including a free EOS account and staked resources. Open the app, go to the app explorer and select the pixEOS Game Center. Voilà, you are ready to play Blockatrix 3000 and climb the ranks.
---
Make sure to follow our twitter account for feature and partnership announcements. For any feedback and inquiries, our telegram community will be waiting for you!