Watch us try to survive in
the zombie apocolypse
wastelands...


You can hang out with us and chat while we play some games!
See if we manage to survive... or if we end up taken out by zombies / other players!





We will be giving our commentary and critiques / opinions of the games, as well as interacting with you, the live audience. Be sure tell let us know you are watching in one of the chats so that we can say hello to you!


You can chat with us live during the broadcast using the mixer chat on the stream page, via Discord Chat , or in the comment section below in this post.


Feel free to ask questions, or try to help is in game with your tips or tricks!


We can also chat about how your blockchain experience is going in 2019!





You can Chat with me right there on Mixer with a login,
or if you prefer Discord to chat,
Jump in my personal
Discord Server
Located here:
https://discord.gg/CYRyfX5
and let me know you are tuning in!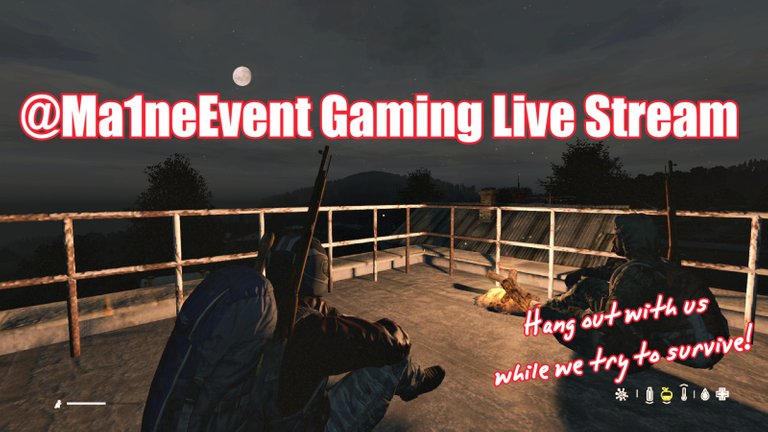 I will also check the comment section of this post during the stream.





If you missed the live stream,
be sure to follow my Mixer channel,
and this Steem blog for future live stream updates.

A Recording of the last broadcast will replay on the site as well


During the week, Monday to Friday We will be streaming nearly daily from around 3:30pm Eastern Time onward, with breaks in between. On weekends, the times will vary throughout Saturday and Sunday. Times for the streams may vary, so be sure to follow the channel or check Discord to see if we are live.


Are you a gamer on Steem?
Let's play!
If you play games on XB1, please let me know in the replies below what your gamertag is!
You can add me on XBL under the user name, "MA1NE EVENT".


Please bear with us if there are any technical difficulties!


Disclaimer: Everything on these live streams is strictly for entertainment purposes only, intended for use under "Fair User Guidelines" for comments and criticism. The statements made on the live streams are strictly our opinions only. Statements are not advice, and always do your own research.