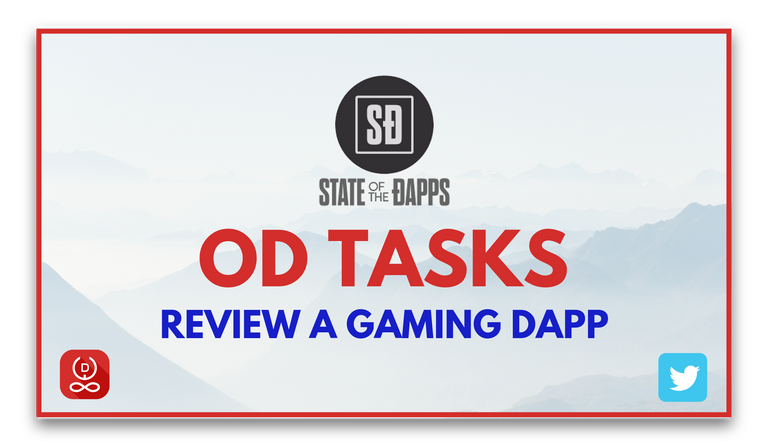 Hello Everyone, we are here with another task for Crypto Gaming Enthusiasts and this time in association with State of the Dapps. All future tasks will be posted and promoted from @oracle-d.tasks. Do not forget to follow the account for future tasks where anyone can earn for creating content. Please read the guidelines and instructions carefully before your participation. Tag your Steem friends who might be interested in doing this one.
REWARDS
Every blog that meets Oracle-D requirements will be rewarded with upvotes based at our own discretion.
Top 5 content pieces will get full OD upvotes.
Also, the liquid + SP rewards of this blog will be distributed among these top 5 folks.
TASK DURATION
Start date: 3 - Feb - 2019
End date: 10 - Feb - 2019
MANDATORY GUIDELINES
Share your STEEM blogs/vlogs on Twitter & Medium with hashtags mentioned in the task below, and drop the links in a single comment on this post by @oracle-d.tasks. Also, resteem this post now if you are planning to participate.
GOALS
Promote and review any top 50 non-steem, game DApps listed on https://www.stateofthedapps.com/rankings/category/games
Note: NO GAMBLING DAPPS.
PROJECT/CLIENT DETAILS – Background Research
State of the ÐApps is a curated directory of Decentralized Applications, also called ÐApps, on various blockchains. It was created to categorize and showcase developed projects built on the Ethereum Blockchain, more recently they have added support for POA, EOS and Steem.
TO DO
Note: A single person is allowed to do reviews of multiple gaming DApps from Top 50 list.
TWITTER AND SM HASHTAGS
#StateoftheDapps, #DApp, #GameReview. Tag @stateofthedapps in all your tweets. Create one more hashtag on the basis of the name of the DApps you choose to review. For ex: If you are reviewing My Crypto Heroes then the hashtag would be #MyCryptoHeroes.
KEYPHRASES, LONG TAIL KEY WORDS AND SUBJECTS TO FOCUS ON (use only those tags that are pertinent to your content)
State of the dapps, top crypto game dapps of 2019, Dapp review, Dapps, Blockchain and Cryptocurrency, Gaming, Crypto gaming, Gaming review, Crypto game review etc.
SOME COMMON GUIDELINES TO FOLLOW
Please follow these guidelines for best results and high upvotes:
Create only high-quality professional blogs, videos, images, graphics etc.
The article must be at least 600-1000 words in length.
Share your content on various social media websites and spread the word as much as you can without spamming.
Follow the instructions and task specific details.
Original content only. Plagiarism will get you banned.
Enjoy your task and upvotes.
---