There is a new game trending sweeping all websites from what I seen. From the bowles of 4chan to youtube and reddit its name is
VRchat
I am 90% sure that this game has been talked about on this website. The game became super viral and with a good reason why. Here is my take on the madness that is happening on screen. Think about any virtual character from any video game you could think of? You could be it. Even if it does not exist in the game there is a tutorial that you can learn to bring anything to VRchat. This game puts you in the action with a bunch of people playing as anime characters, cartoon characters, and anything and all between. It is a chat room for people with VR headsets.

IF you ever wanted to be windows 95 now is your chance.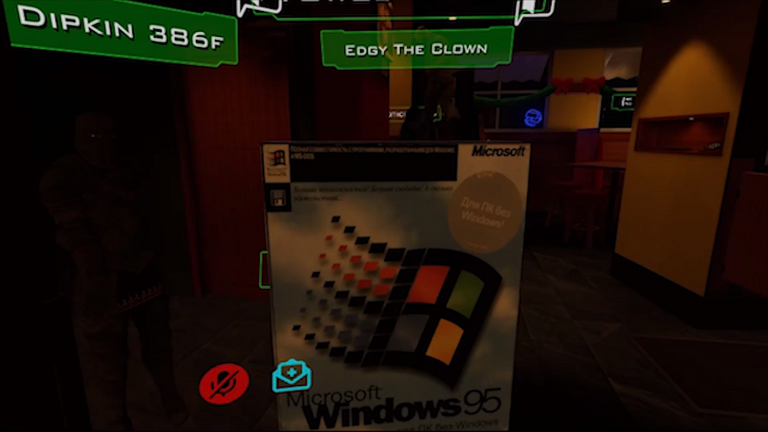 I could give em my monitor and I am sure someone has a tower and you could have nice little computer to walk around in.

Gone are the days of static characters stumbling through animations using text. Is text in this game? I would not know, but with text being gone what is there to focus on? Now you can interact with virtual characters just like you do with people.
Have your first virtual kiss.
JC denton from deus ex has his cake stolen as he is chasing Morty from Rick and Morty around.
go to 1:10 in the video.
Drag Racing
These are all very humanistic things that we do on a day to day basis. Not only can you interact by moving around just like you normally do and give people high fives and stuff. There is a plethora of different areas you can go to. Just like the character creation your world can be anything you want it to be.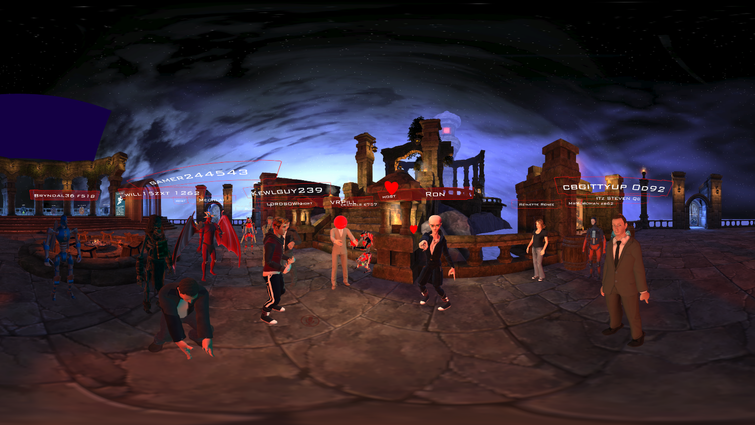 Not only that but there is activities like a FPS mini game, a Kart racing game that looks fun and you could even go to a talent show, dance off, or a recreation of a video game. This is totally like SECOND life reborn almost. I honestly think that this game is what is needed for VR to evolve. This is VRS super mario brothers. With every nes you got a super mario bros back in the day. Well VRchat is free right here.
https://www.vrchat.net/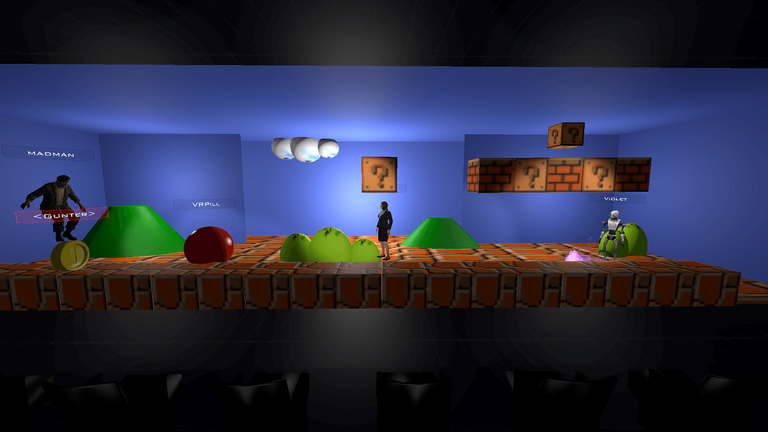 VR has a extremely bright future ahead of itself with games like this at the helms of it. I would not even be surprised if you make an avatar for a VR system that you have and it is what you will use in all games. People will get used to your character or whatever just like how they know your facebook and steemit posts. Thats what I think atleast. Id like to see a steemit group on VR who do weekly things with this game!
Credit goes to.
VR chat devs
and the youtubers and twitch people who played these games.
This article is shorter than many of my others. I am trying to get into the groove of things after reading some books. Give me some time as I need to get adjusted to the schedule of writing things again. I hope you enjoyed it if you did I am glad.
I got a couple more planned so for now that is all I will see you later @sinned!