I am all about drinking tea and eating veggies from the garden but, I also like to make art and magic with the harvest. Herbal bottles or bottle spells are a staple in the world of green magick, they are easy to make and very cute. In this article I am going to walk your through a simple floral bottle and some magical meanings of common flowers and herbs.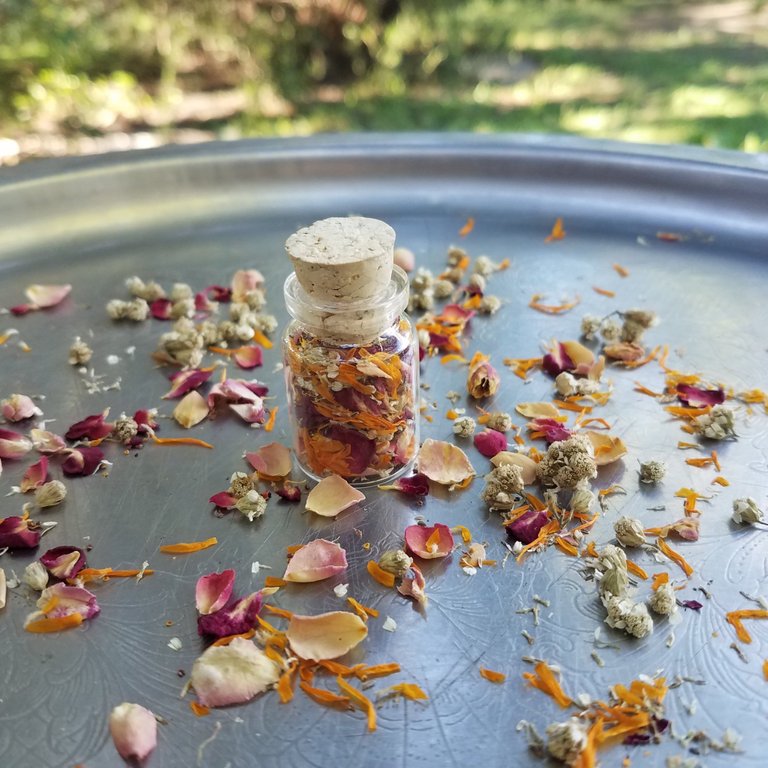 The first step is collecting and processing your herbs and flowers. These bottles are not for consumption so you can use any herb or flower that feels right to you. Depending on the goal of your bottle spell you will use different herb / flower combinations. In this example I used rose & calendula petals and whole yarrow flowers to attract self-love and friendship.
To determine the meaning of each flower I used the book "the Green Witch" by Arin Murphy-Hisock and inspiration from one of my favorite podcasts called Herb Oracle which goes in depth into the medicinal and emotional meanings of one herb each week- I highly recommend it!
As well as the classical magical meanings of each herb, I also incorporate my own intuition and associations with each herb or flower.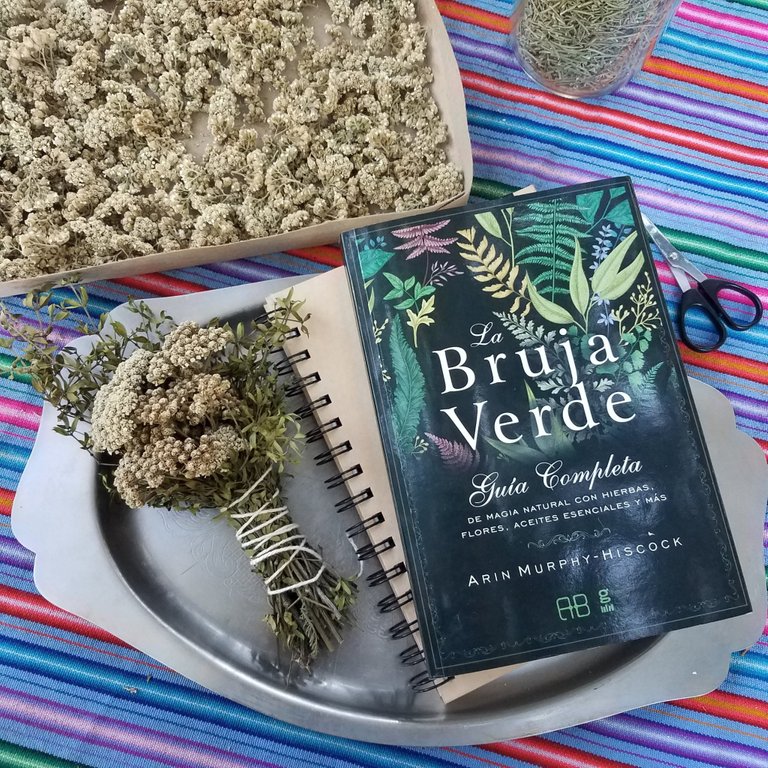 All of the flowers were grown in my garden or collected in the fields of the farm were I live. This place was once a perfumery so there are a lot of roses growing all around. I personally prefer to use herbs I grow or collect myself but, you can certainly use herbs or flowers you bought or collected from a special place. Just make sure the material is thoroughly dried before inserting into the bottle.
Spell bottle combinations:
Protection bottle : yarrow, vervain, rosemary, and cedar or pine.
Friendship bottle : calendula flowers pink or white roses, zinnia flowers, sunflower petals and orange peel.
Self love bottle : vervain, lavender, pink or red roses, yarrow, lemon or orange peel.
These are combinations I came up with based on the spiritual meanings for the plants. I also only included herbs that I have access to. Think of these as suggestions or guidelines and feel free to replace or alter the ingredients based on your intention and what herbs and flowers you have access too. For this craft I like to use a very small bottle or tiny jar, so not much herbal material is needed. It is more important the quality and care you put into collecting and processing the materials for this jar than having large quantities or diversity of herbs.
Making your bottle:
Now that you have all the materials and the herby contents are totally dry, we can discuss when you will construct this bottle spell. Depending on the goal of your spell you will want to choose a specific day to do the spell. For example, if your bottle is about love, beauty or self-love you should work on Friday – Venus or Aphrodite's day. A bottle for friendship or communication should be made on Wednesday – Mercury's day. But, you can be flexible and creative with this for example if you want to do a self-love spell to help connect with and accept your emotional self, Monday or Moon's day would be good too. If you want to make a bottle to encourage you to achieve your fullest protection, SunDay would also work.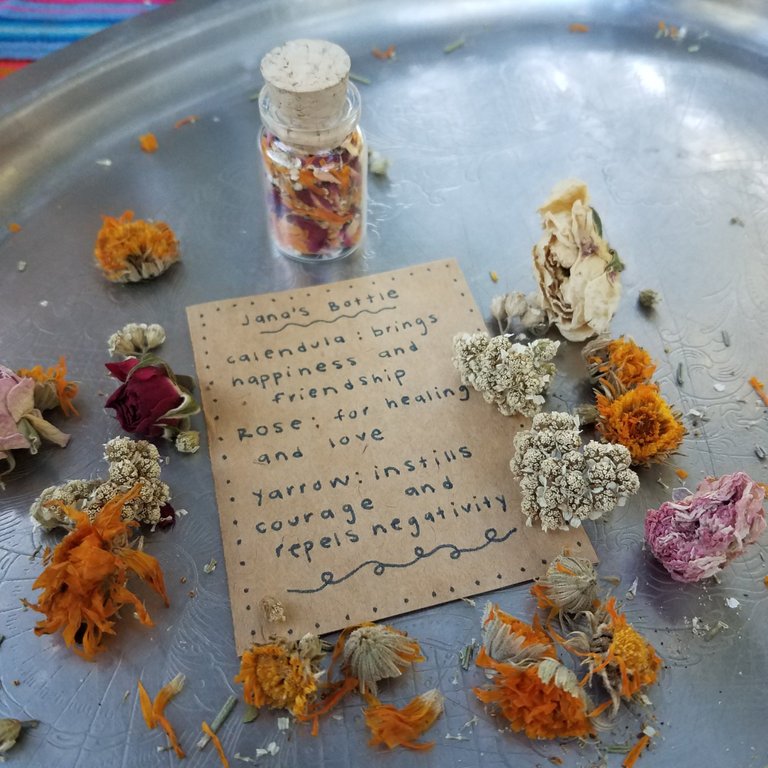 Next, write out the ingredients and/or your intentions on a beautiful piece of paper. In this example I made a spell bottle for my sister and only wrote the meaning of each ingredient, on the back she can write her personal intentions when she receives the bottle in a couple of weeks – she lives in California so I mailed her bottle from where I live in Argentina.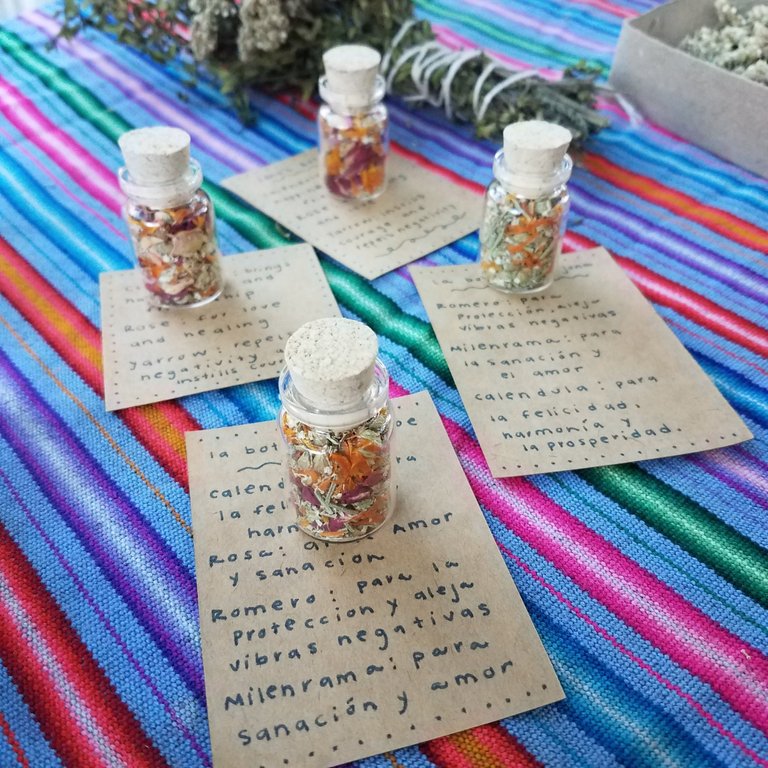 That day – last Friday – I made several bottles for my sister, a friend, my partner and myself so each person will do as they wish with their bottle and consecrate them in the manner of their choice. Even though I have no control over what day they will receive the bottle or how they are to use them. I made the bottles with love & care and that energy will surely aid whatever magic they are working in their lives