The winner of my legendary giveaway will be announced soon. You can check what the giveaway was here-
https://peakd.com/splinterlands/@blackheart1/goat-gang-legendary-giveaway
The announcement will be accompanied by another legendary giveaway. It will be the following card -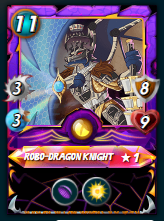 We are the greatest of all times (GOATs). And whatever we do, it's always the best and we call it "GOATNG".
So what are you waiting for? Come join the gathering of players who can easily be classified as GOATs - "Greatest Of All Times".
...

Thank you for going through my post. I hope players will benefit from my experience and make wise decisions while buying and selling cards.

Feel free to join Goat Gang where you can find me. Also there are many on-going giveaways too - https://discord.gg/pMRSQnF

Join the very helpful community of Splinterlands on discord here - https://discord.gg/ztBFFUz

Interested in daily giveaways and want to connect with more splinterlands players? join the official splinterlands telegram here- https://t.me/splinterlandsHQ

If you haven't joined the game yet then what are you waiting for? Come play Splinterlands, the best crypto game out there, where you play to earn : https://splinterlands.com?ref=blackheart1

Do check out my previous post on:
The various game modes of the splinterlands:
https://peakd.com/splinterlands/@blackheart1/game-modes-and-basic-strategies-2-0

What Neutrals to buy:
https://peakd.com/splinterlands/@blackheart1/what-to-buy-a-beginner-s-guide-neutrals



---