The Classic Siberian Husky Derp Face
For today's @photocontests, Golden Hour Photography contest, I decided to take a little photo shoot with Rex in a field near my house. The green groundcover just started growing and made a much nicer backdrop than the normal, brown dirt. Rex was having a blast kicking up dirt, and running around without his leash on. He was actually behaving really well, and was even sitting and laying without much complaints. What you see here is a happy, classic derp face you make when you are looking in the sun, and happy as a clam.

I took a bunch of photos and my plan was to share 3 in this post, but I realized when watching the @photocontests3 comments, that there are extra points awarded for posting a second photo in one day. This doesn't seem to work if I share multiple pictures in one post, so as a test, I will make a second post with the 3rd picture in the set.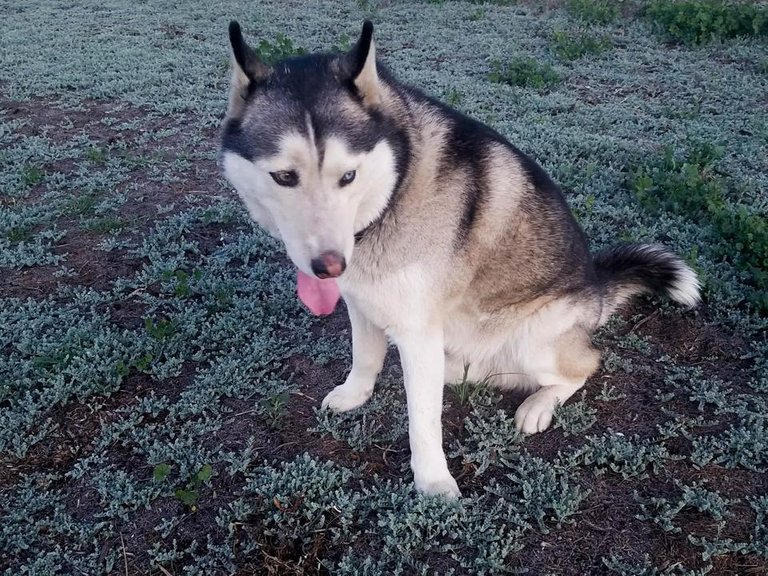 Photo Challenge 365 - Day 15
Continuing my Steemit journey, the 365 Day Photo challenge is supposed to be a way that I, and Cothers, can easily post something on Steemit without being intimidated or overwhelmed with writing a whole article, or what to write about, etc. If you are new on Steemit and want to gain followers, I would say the best thing you can do is to post regularly. I know that I haven't been perfect with daily posting, but I can tell you that ever since I started posting on a more regular schedule, and posting with a format, my following increased. This has been a really fun exercise, and it has only just started, but it has also been a very valuable exercise in learning how the Steemit platform works, and in how to build a fanbase. Please join me, and tag your posts #photochallenge365 - I would love to see your work!
My Most Recent Post Sarasota National Veterans Cemetery - 365 Day Photo Challenge - Day 14
If You Like My Channel and Support Quality Content on Steemit, Please Follow, Upvote, Comment, and Resteem
If you enjoy my content, or want to join the challenge, just post a photo, tag #photochallenge365, and leave a comment so I can follow you back. Also, please feel free to comment, upvote, follow and resteem. I really appreciate my community here and love to share the wealth back with my fans and people who post quality content.
Cryptocurrency Post-Post Announcement: *If you are new to crypto, and want to buy Bitcoin, Litecoin, or Ethereum you can help support this channel by using my Coinbase link to get $10 worth of Bitcoin for Free, when you spend $100. The best exchange for trading altcoins is Binance, and you can sign up with this link.*

Check Out My Other Recent Posts!!!