The Hat Man Made Me Think About ReggaeSteem Differently With This ONE
I have content for days that I love sharing will all of you. I could literally post every day, 3 times a day, for years and still have Jamaican related content to push out. This will always be the case. That's overburdening however and I would never do that. I try to keep it reasonable. Five to seven posts per week is realistic while also keeping the quality high. I prime myself on this aspect because that's what we here on ReggaeSteem are known for, right fam?
I've been mixing up the bag lately, bringing a new flavor of hotel and restaurant reviews, experiences from my times to Negril, while also never forgetting to shill JAHM and ReggaeSteem in the process. It's only right I am doing that with every post I pump onto the feed, so expect nothing less.
Now, in this post, I bring you the Jamaican hat man. Literally, look at all these hats.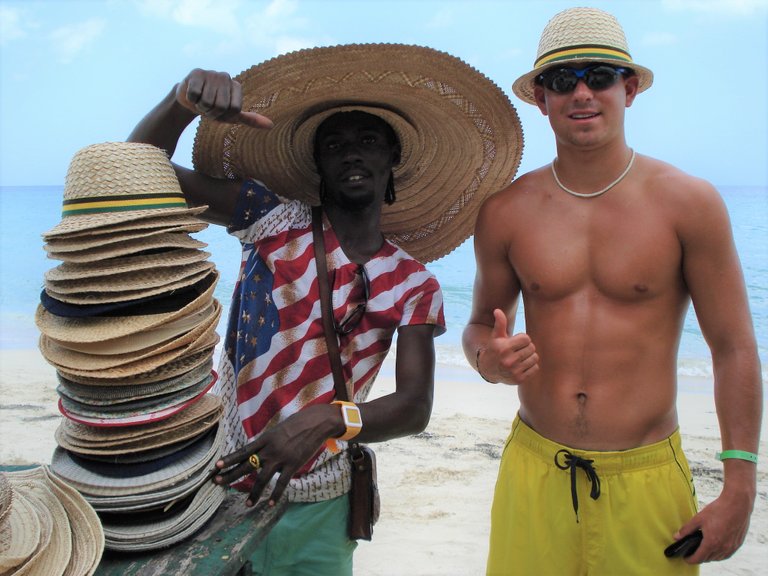 This picture was lightened for improved viewing purposes - check out the hat man!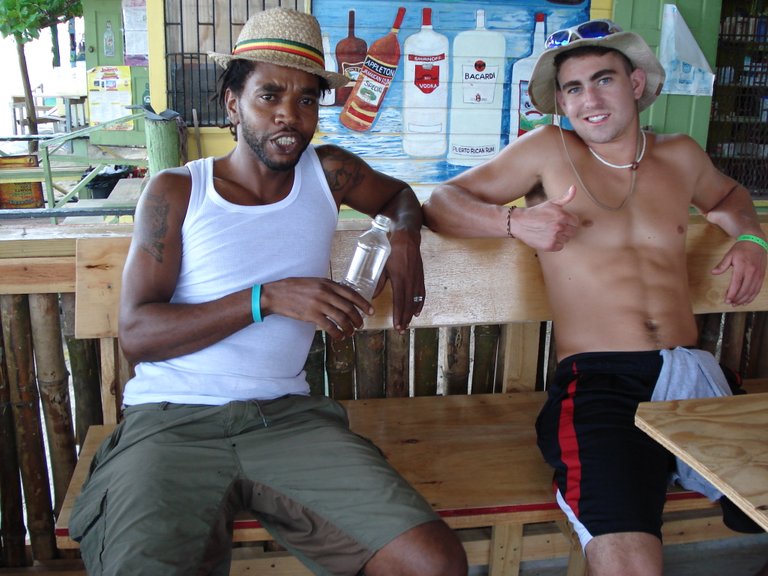 Check out Mitchigan'z hat! I wonder if he got it from the hat man, too?
He prowls the 7-mile carrying around this massive stack of hats, which are all handmade by the hat man himself. I actually bought the one I am wearing in this very photo. I still have it today and rock it sometimes when I feel them 7-mile beach vibes getting too distant. Usually it just makes me want to go back to Negril right then and there, but this trip - for me - is SOON COME.
Since finding ReggaeSteem, I have had a place to genuinely share content I love and I thoroughly enjoy sharing every single post in which I publish. Most everything ReggaeSteem feels like HOME and I can honestly say without ReggaeSteem my STEEM journey would be much less fun than it currently is. Most of my posts are tagged #jahm or #reggaesteem and some people may find a way to critique this because it's "always the same." Well not exactly, but we are all entitled to our own opinions, especially on a decentralized social networking platform.
I think that's far from the truth as all of my posts are uniquely different, but somehow or some way related to Jamaica and the Caribbean culture. I find a way to keep the content flowing because I am a natural content creator. I don't think about it beforehand, I simply sit down and just bust posts out on the fly. I hardly ever create a post, save as a draft, go back and edit, and then post at a later date. JAHMing has become a daily hobby of mine and it's simply built into my routine at this point.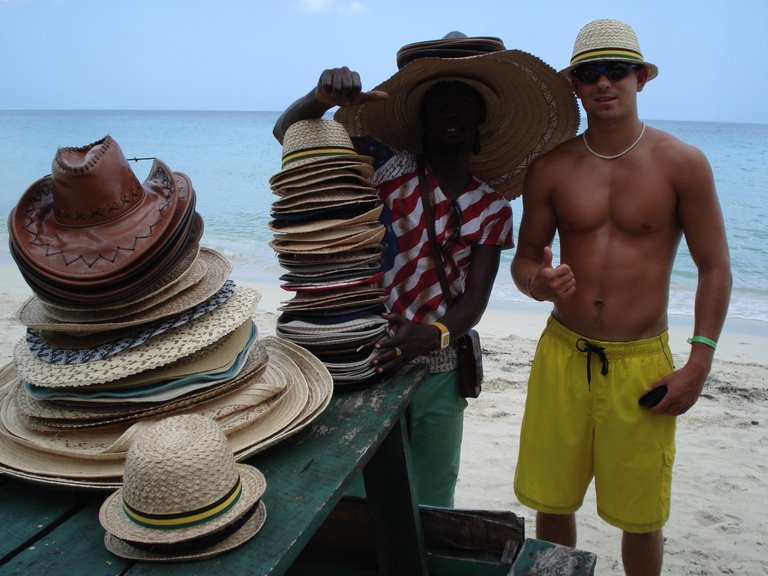 Full spectrum of hats seen in this photo. Check out the darkness compared to the feature photo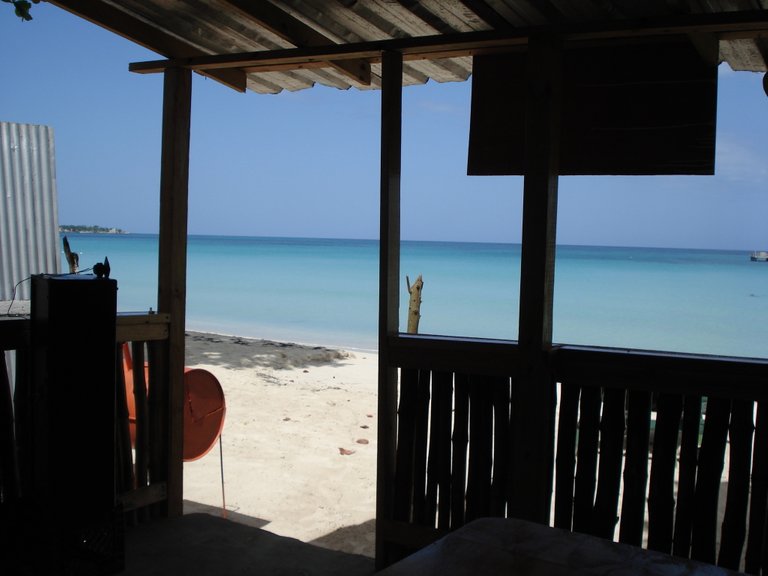 Look how blue that Caribbean sea is - see you in June?
Everything has a meaning, and my intent is to continually bring new flares and flavor while doing what I actually enjoy. As an open forum for content creators to share, STEEM has allowed for me to find a place where I feel welcomed and I see no reason to stray away from something that allows me to openly and freely express my thoughts, feelings, insights, personal experiences, etc. That's what it's all about. ReggaeSteem has become a passion. I can't help but follow my passions, and you should, too - whatever it may be.
The hat man has his own passion - creating a product with his bare hands from start to finish. There's something about creating a product from scratch, seeing that product manifest in stages, putting in the work, and watching someone walk away with something you poured your blood, sweat and tears into making. The hat man genuinely loved seeing me wear his hat, walking away that day on the 7-mile, rocking it Jamaican style. A memory forever lived for the both of us. Irie.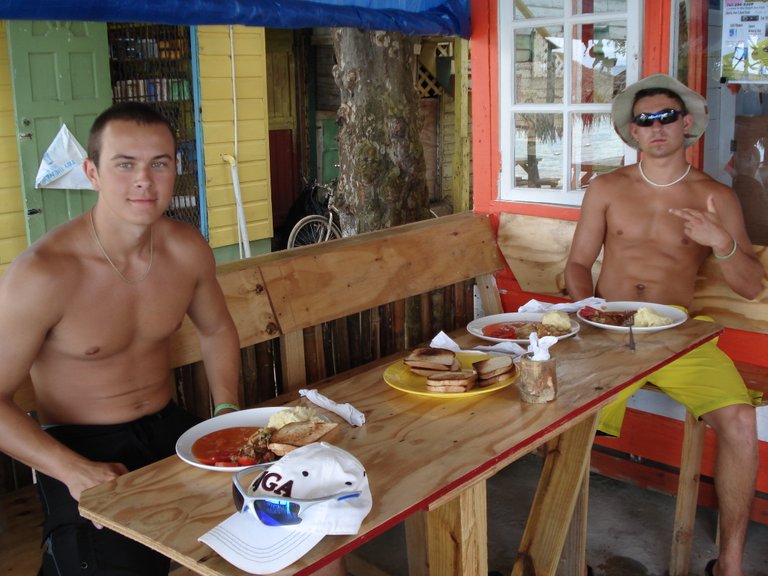 Scuba Steve and I chilling out at the SKA enjoying some good Jamaican eats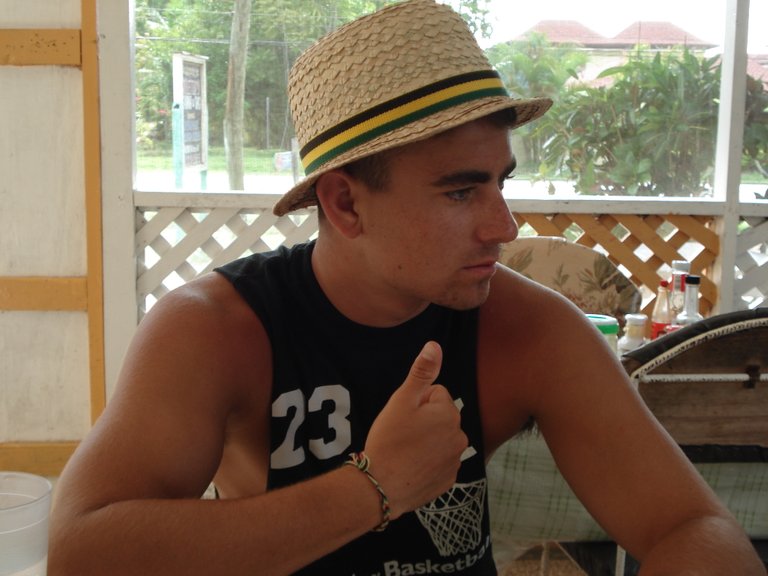 Jamaican vibrations from Coletta's dining room
Next thing we know, the hat man will be customizing ReggaeSteem logo hats and selling them on the 7-mile to locals, tourists, and businesses alike. It's only a matter of time! Soon Come!
What Are YOU Waiting For - Come Join Us On ReggaeSteem Today!

|Web|Tribe|Telegram|Twitter|YouTube|Discord
---
Posted via ReggaeSteem | Reggae Culture Rewarded