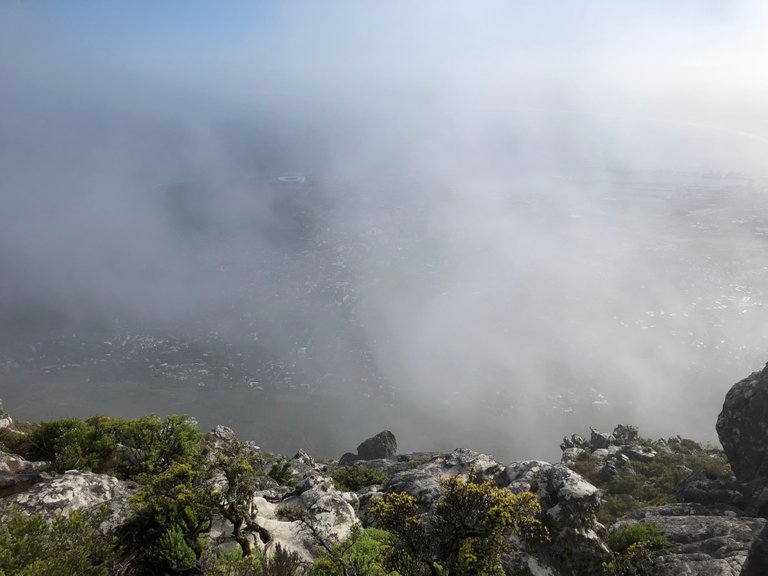 I recently decided to hike up one of the new seven wonders of nature (Table Mountain). I wanted to share my experience with you. I must just say right up front that this hike was not planned properly and was done on impulse more than anything else.
The planning of this trip started about a week ago in the office as we were busy going through our days for the upcoming week. A colleague of mine mentioned that he wanted to hike up Table Mountain on his birthday on the 05 April 2019. At first it was just a casual conversation. We then both decided that we were both fit enough to do this hiking trail and it could not be that bad as we have both done shorter hiking trails in the past. We contacted a few people that have done the trail before and finally we reached a hiker that was able to do the hike with us. Below is a map of the route we took. It is a long route by I hear it's the more scenic one.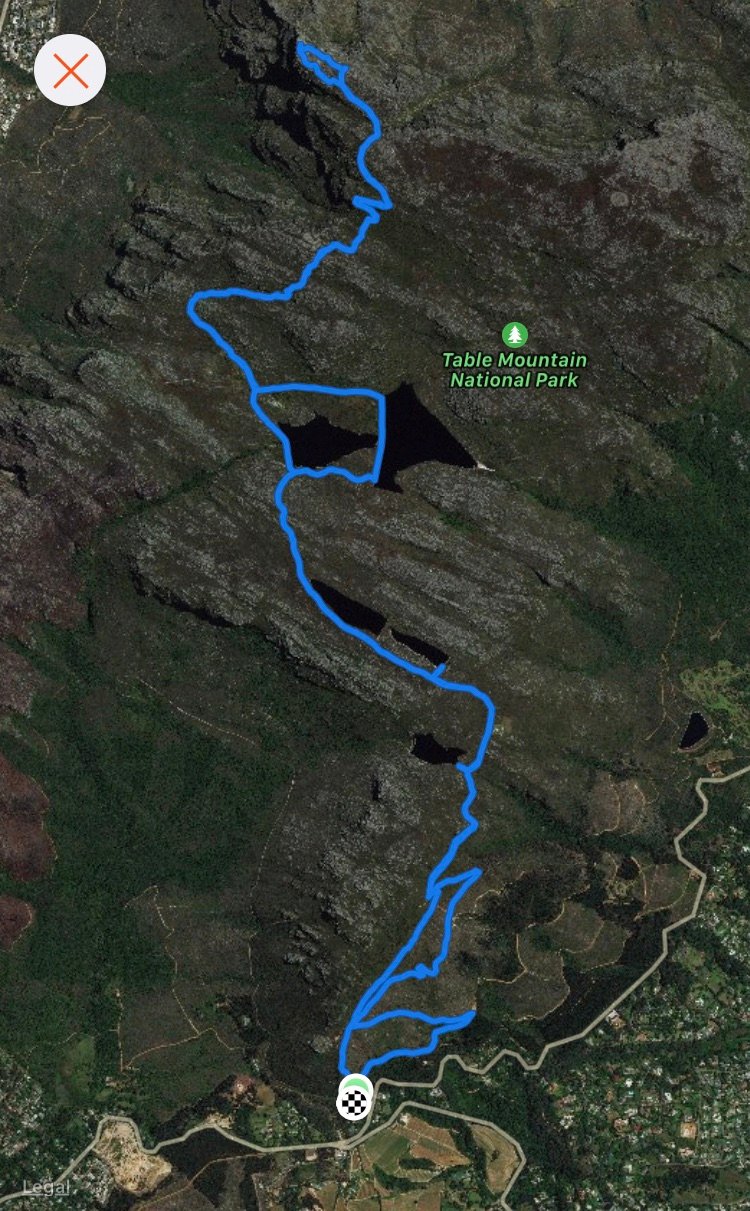 We met at the Constantia Nek Route entrance at 06:00 on the 05th of April as planned. You could barely see two meters in front of you. We checked that we had everything we required for the hike and off we were. The first part of the trail is a jeep track. All of us being active and spending quite a bite of time in the gym we pushed up the first section at a very paced rate. Me being the runner in the group challenged a few of the other hikers up the steep hills. Have to work on that "ego issue of mine". Like the feeling of winning...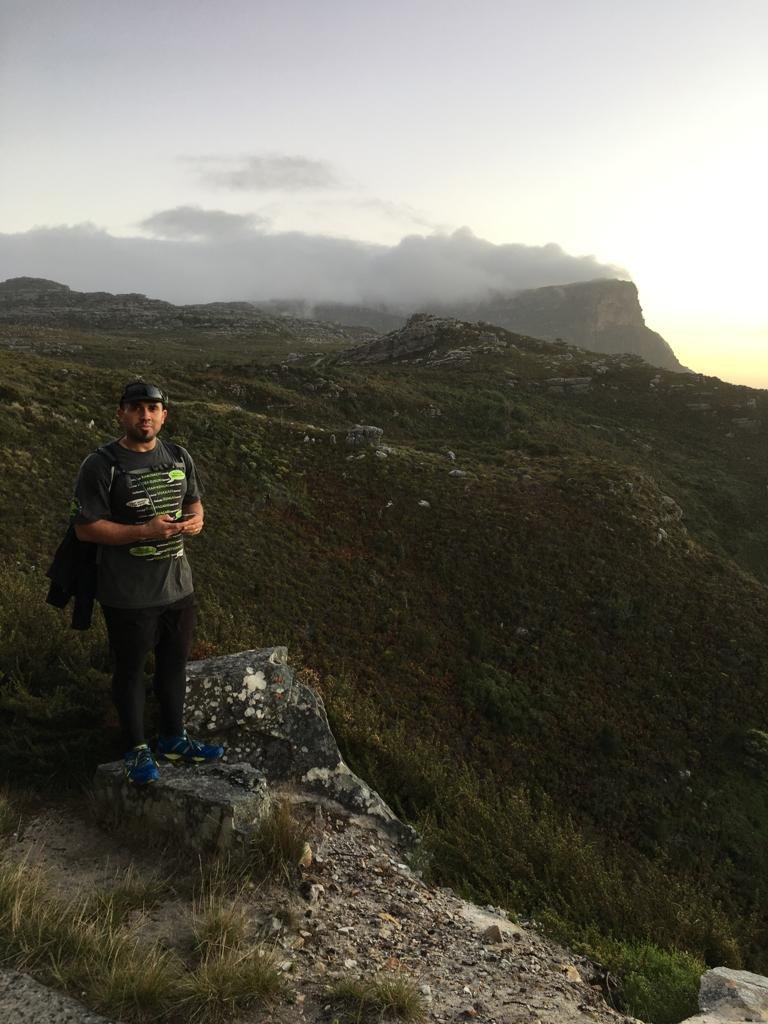 The photo above was taken during our first stop four kilometers into the hike at the top of our first section take note of the cloths I'm wearing here. If you look carefully at the picture you might notice that I have my bonsai club t-shirt on for the hike. From this point on the hike was pretty flat until we reached the overnight huts. Before we reached the huts there were a few detours that we took to look at the dams long the route.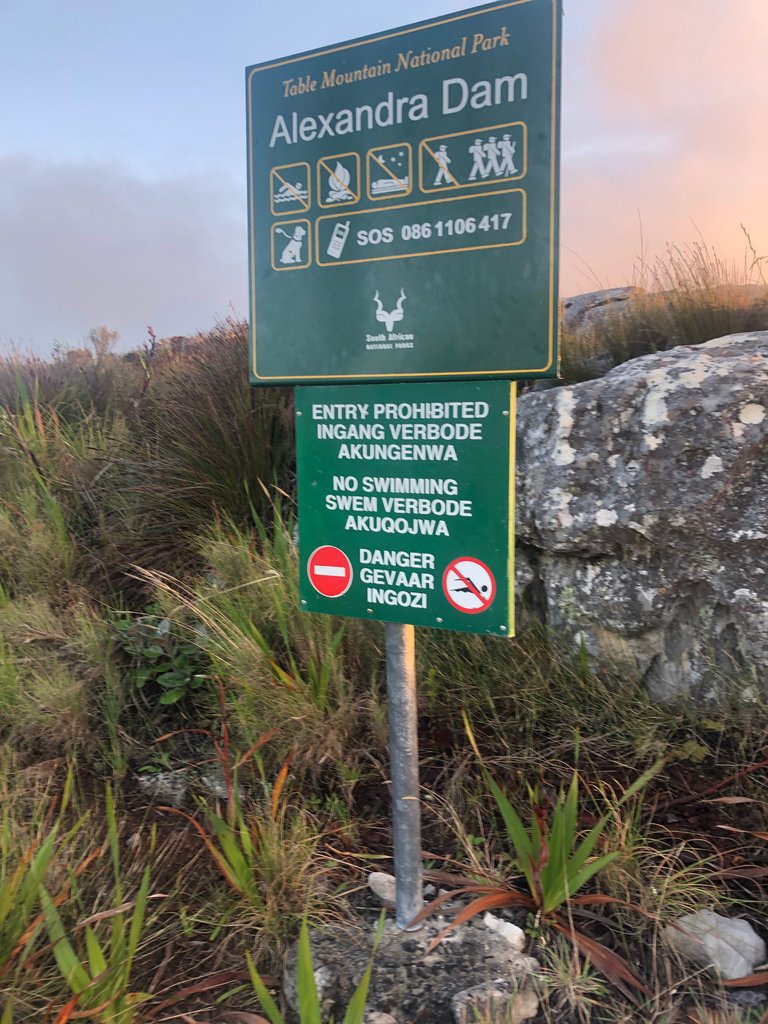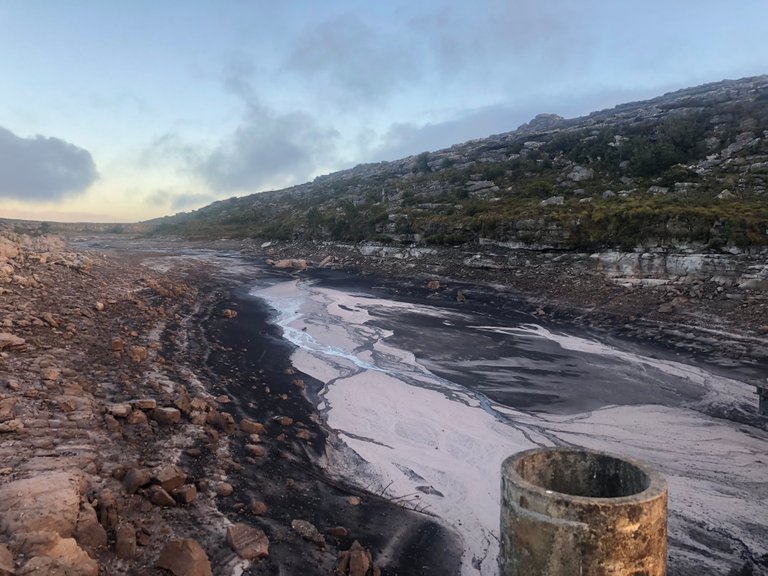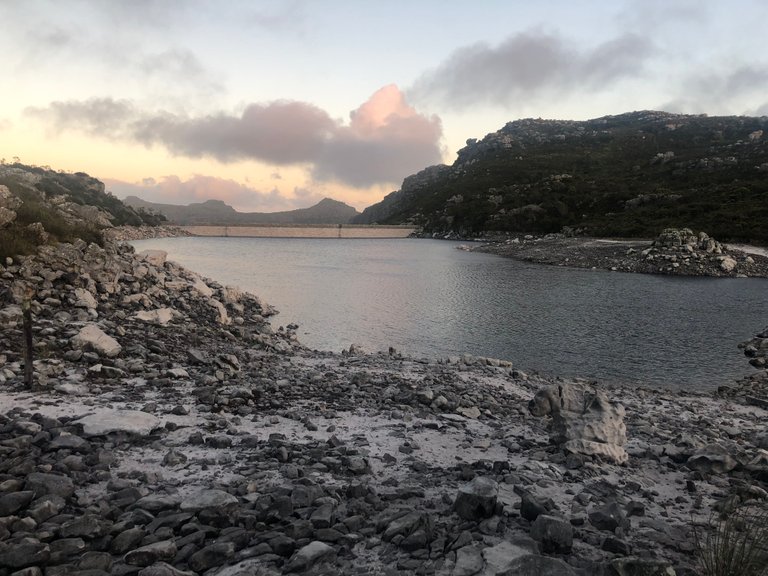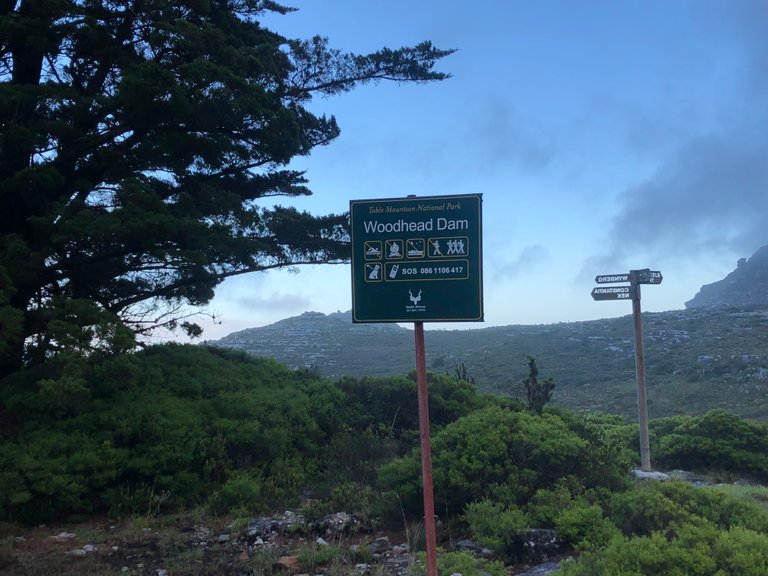 Those of you that know trees would have spotted the giant Juniper tree next to the Woodhead Dam sign. From afar it looks like a pine but as you get closer you can see that it's a Juniper. I have not seen a Juniper this size on a mountain before. The tree is about 7m plus and has this nice green foliage. I just had to stop and take a few close ups.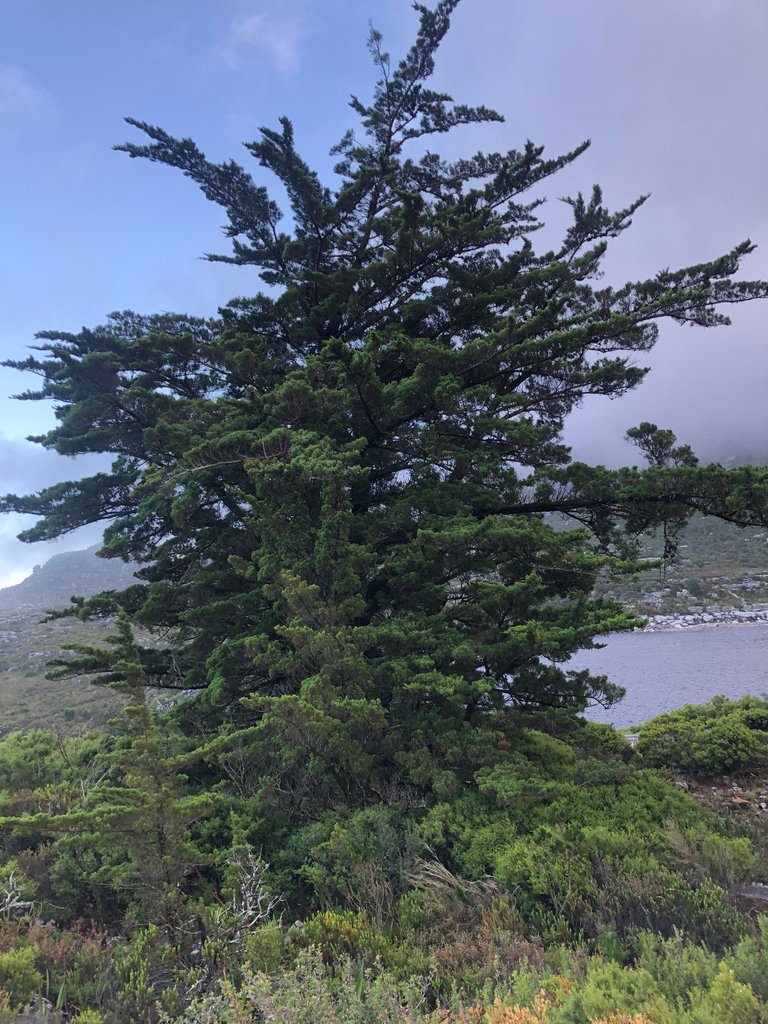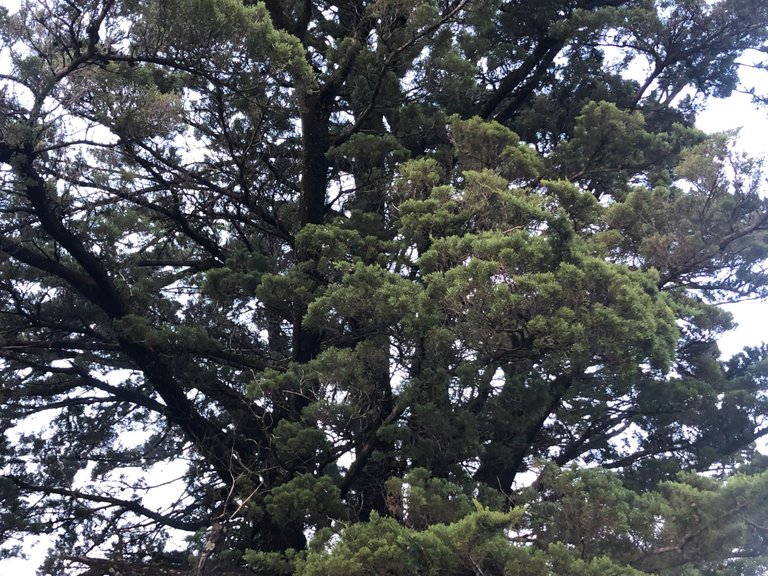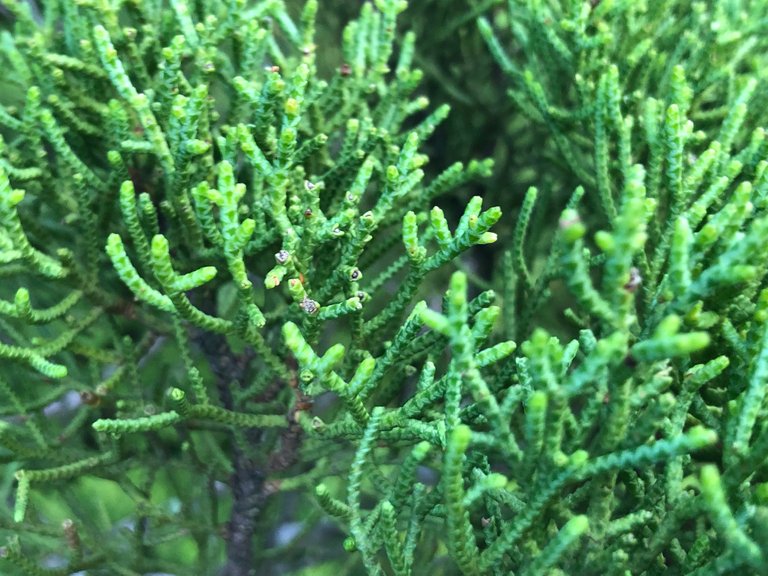 After the stop at the tree we started to hike on a single track trail. The trails are nicely marked and can easily be followed.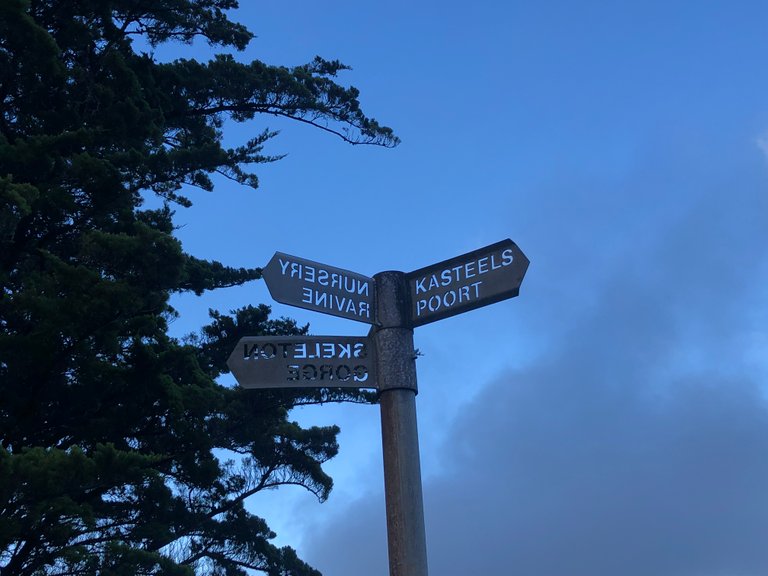 As we started to hike and went higher and higher up the mountain the mist started to roll in. You could only see about 10 to 20 meters ahead of you. Here is photo just to give you an idea of how misty it was.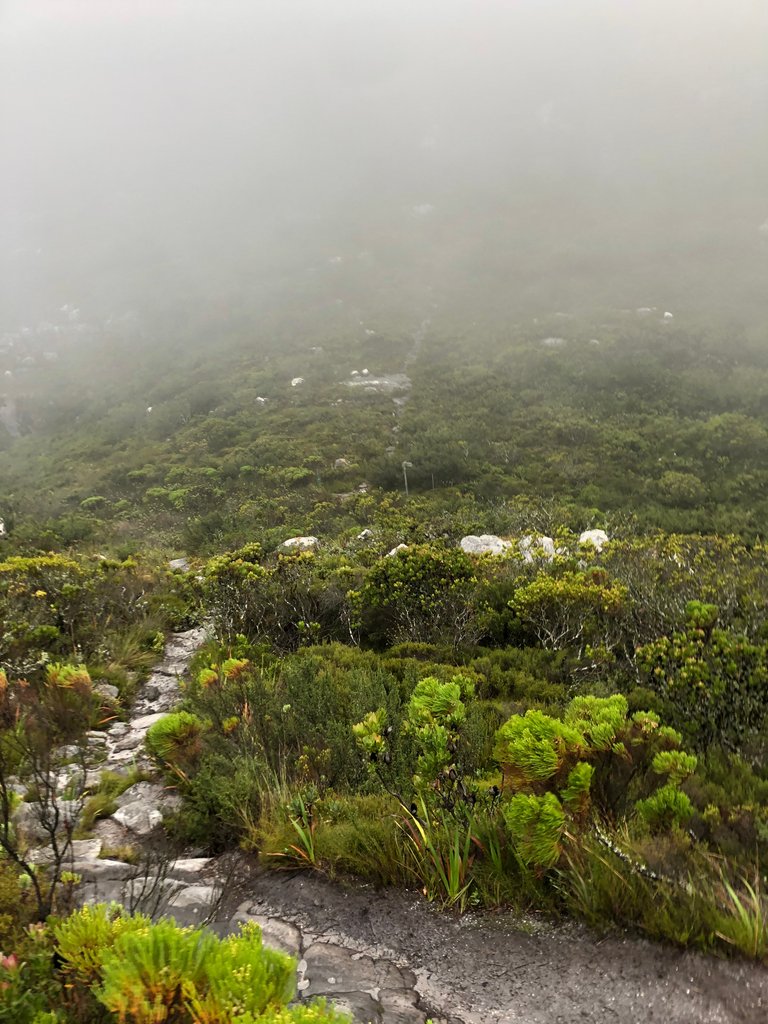 It helped that there were reference points at crossing pathways to point you in the right direction. Some of these points even had estimated times on them allocating how long it would take you to get to the next stage of the hike. But we hike at a pace that was half the time of the allocated times. We really just wanted to get to the top.
There were a couple of stages where you had to climb up steps and leaders. This was fun as it felt like a full body work out or a cardio/endurance work out focused on your legs.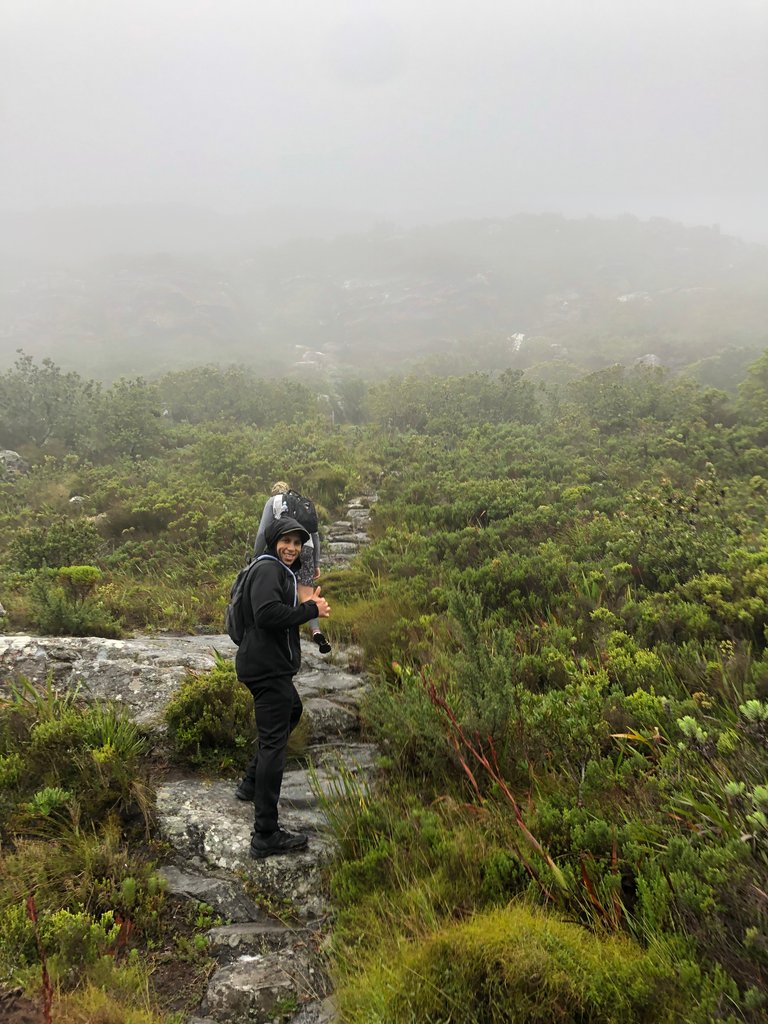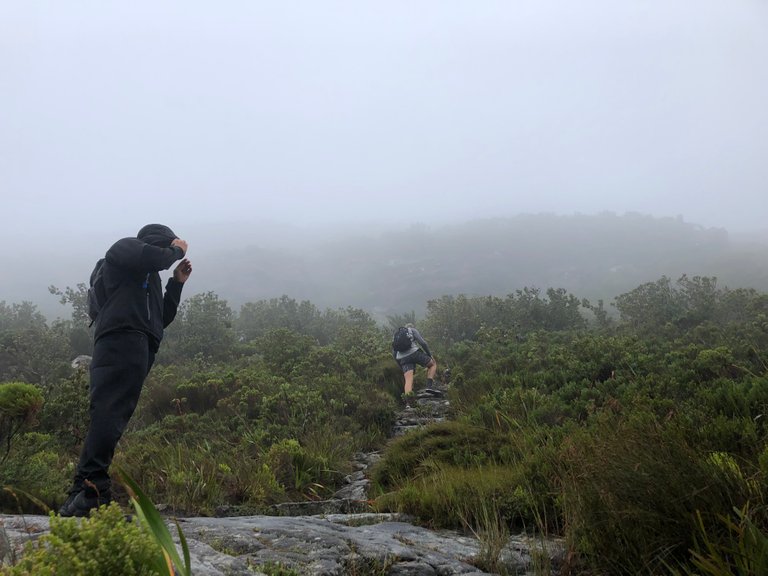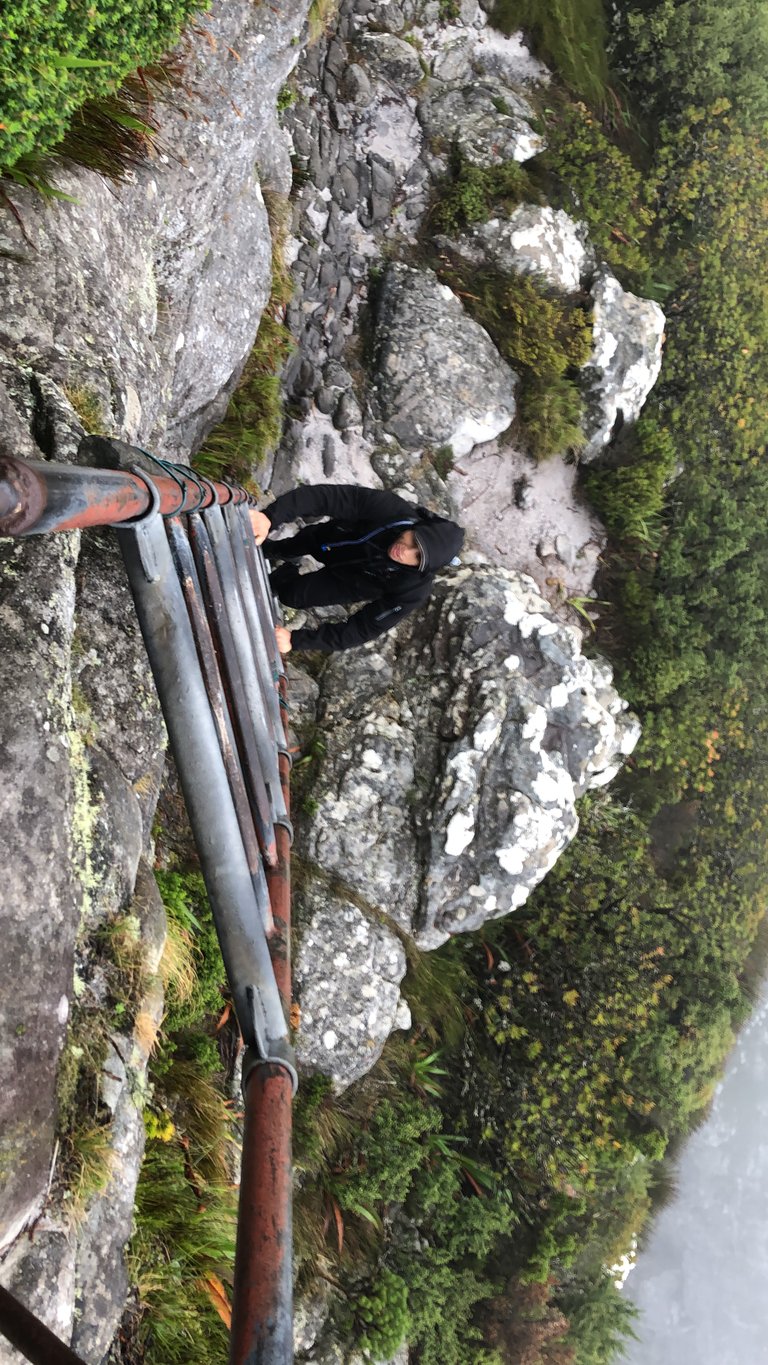 Along the trail were a lot of exotic plants and trees that I have not see before. There was water running along the route and down the rocks next to the trail. Here is a few photos that I took of Protea's that I just had to share.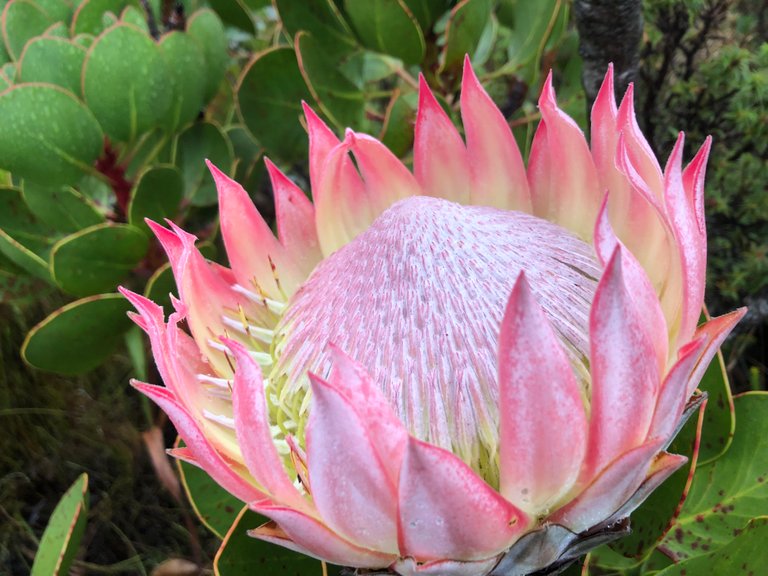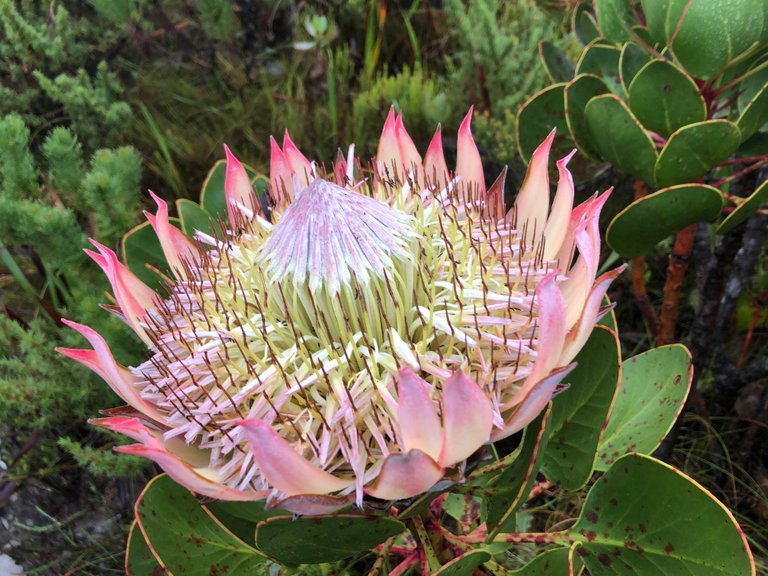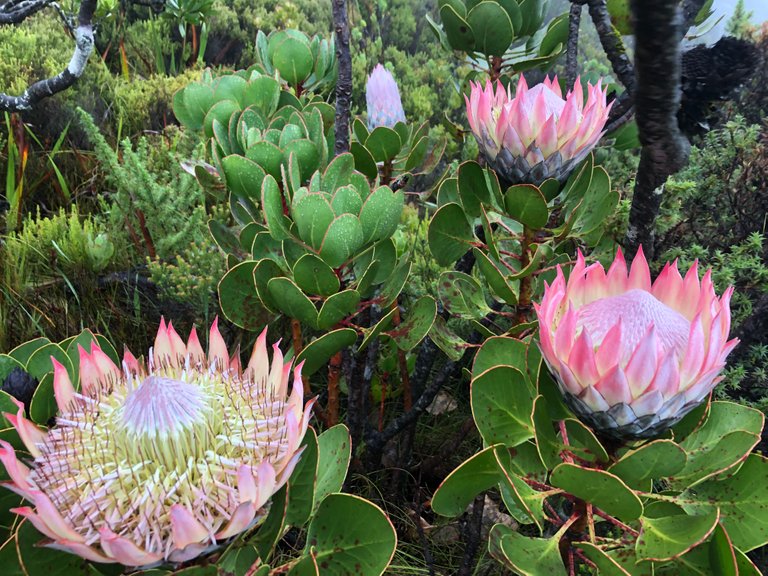 Here and there you could see through the mist even if it is just for a few seconds. I tried to capture a view we had of #Campsbay but the mist covered the gap through the valley before I could capture the scene.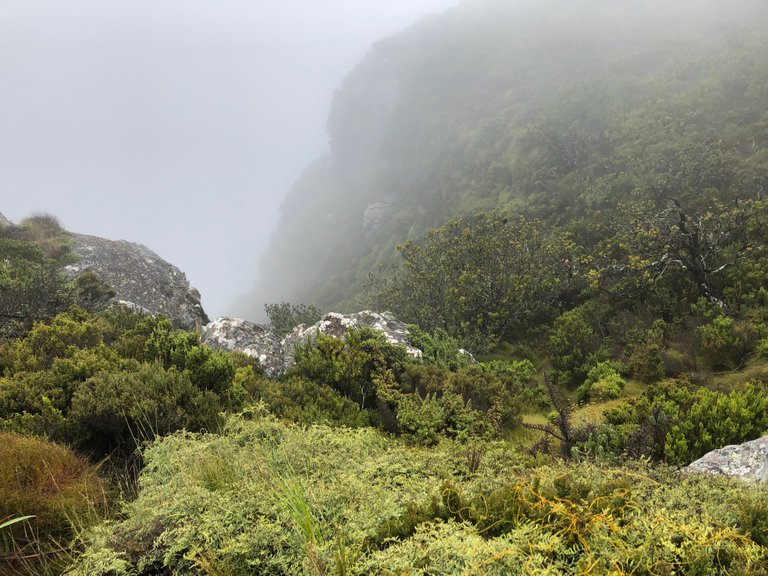 Not to long after we past through the last valley did we reach the final directional signage board. It said that we were seven minutes away from the top of table mountain. We then continues up with a even more pace rate and reachedthe top achieving our goal in two and a half hours.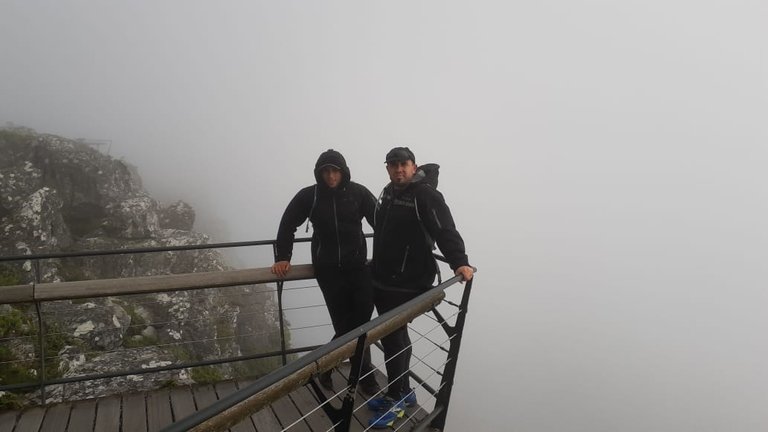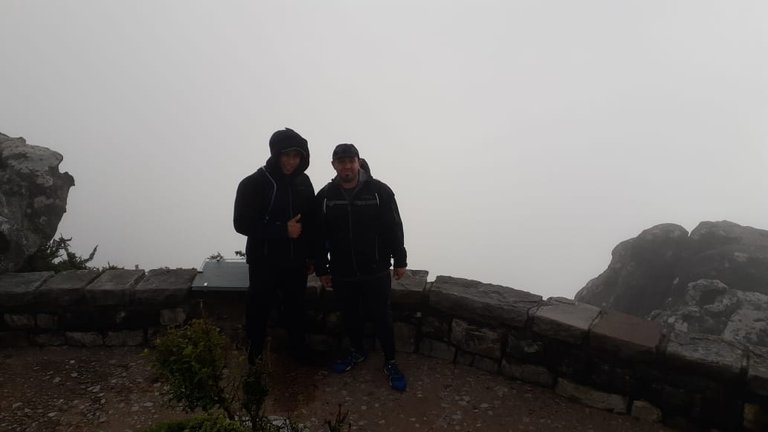 As you can see from the photos we were a bit more covered then at the beginning of our hike. It was not just misty at the top of table mountain but it was windy. It was not the ideal conditions for hiking and photos but it will be a memorable trip.
We spent fifteen minutes at the top of the mountain and then we head back down the trail. The wind and freezing temperatures just did not treat us great. None of the shops of lounges were open as the cable car does not go up the mountain in these conditions. We saw a few other hikers that braved the cold and one guide with her two clients. We even found a person that was lost when he got separated from his group due to the lack of visibility. We directed him to the emergence phone next to the cable car station.
As we past a few more hikers on there way up we were happy to go back down. Down is normally faster but the first leg down is not fast as the trail is slippery and windy so you really have to watch your step. Not just that but the first part back goes up and down so it kind of breaks you momentum and the bit of spirit you have left. After the up an down leg came to an end and once we hit the jeep track we thought it's all down hill from here. We soon realized that it was still a four kilometer hike down from "here". We started the long slow walk down. I really felt like just stopping and resting but we had to get back down as we still had a function that evening that we had to attend. Half way down the decent we found a set of steps that lead down the side of the jeep track. It was a shorter route. The moment we took that route the fun began. We all had enough of this hike so we started jogging down these steps. We pasted a few people heading up the steps that look at us all weird as if we were crazy but in actual fact we were just having fun. I mean it's normal to race to the end.
This might have been my longest, steepest and coolest hike yet and the conditions were not ideal but I am most definitely heading back to do it again.
Hope you all enjoyed the blog. Be sure to check back in as I will be spicing up things a bit more. If you have any questions or comments please feel free to leave them in the section below.