¡Hola Amigos de Hive! Hoy vi la oportunidad de preparar un almuerzo con lo que me ofrecía la despensa y es que he estado ocupada en otros ámbitos... Las compras las haré mañana con un sol radiante (Que Dios me lo permita, ya que ha estado lloviendo bastante últimamente). Debido a que estamos con la furia del MUNDIAL DE FÚTBOL, me tenía que lucir para salir triunfal ante mi familia (ellos son mis hinchas que siguen con pasión y entusiasmo mi desempeño culinario).
Hello Hive Friends! Today I saw the opportunity to prepare a lunch with which the pantry supported me and I have been busy in other surroundings... I will do the shopping tomorrow with a radiant sun (God allow me, since it has been raining a lot lately ). Because we are with the fury of the WORLD CUP, I had to show off to be triumphant in front of my family (they are my fans who follow my culinary performance with passion and enthusiasm).
Entonces, mientras tanto debo optar por ESTRATEGIAS TÁCTICAS que me permitan GANAR EL PARTIDO ante el EQUIPO CONTRARIO llamado EL HAMBRE. Cómo explicarlo de la mejor manera, así mismo como el futbolista que se adelanta desde el centro del campo hasta la zona de la portería, que ve la posibilidad de anotar en zona contraria. Yo debía meter ese GOL DE LA VICTORIA o de SABOR, garantizando esa comida de GLORIA.
So, meanwhile I must opt ​​for TACTICAL STRATEGIES that allow me to WIN THE MATCH against the OPPOSING TEAM called THE HUNGER. How to explain it in the best way, as well as the footballer who advances from the center of the field to the goal area, who sees the possibility of scoring in the opposite zone. I had to score that VICTORY or TASTE GOAL, guaranteeing that GLORY meal.
Ese GOL lo iba a ejecutar con un Arroz con salchichas, salsa de Aguacate y galletas de soda.
I was going to execute that GOAL with a Rice with sausages, Avocado sauce and soda crackers.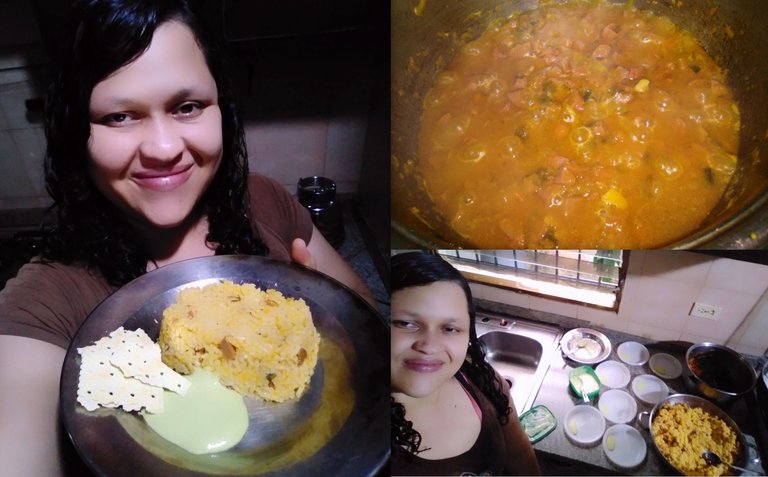 Fotografía tomada por @nancybmp.
LOS INGREDIENTES QUE NECESITAS PARA ESTA PREPARACIÓN:
PARA EL GUISO DE SALCHICHAS:
- Salchichas (15 Unidades).
- Cebollín (100 grs).
- 4 cucharadas de ajo en aceite o 1 cabeza de ajo.
- 2 cubitos sabor a carne.
- 1 sobre pequeño de onoto en polvo.
- 2 Zanahorias.
400 mililitros de Agua
- 3 cucharadas de aceite vegetal.
-1/2 cucharada de sal (en el sofrito de salchichas).
PARA EL ARROZ EN BLANCO:
- 600 grs de Arroz blanco.
- 1200 mililitros de agua.
- 1/2 cucharada de sal (al hervir el agua donde se cocinará el arroz).
THE INGREDIENTS YOU NEED FOR THIS PREPARATION:
FOR THE SAUSAGE STEW:
- Sausages (15 Units).
- Chives (100 grs).
- 4 tablespoons of garlic in oil or 1 head of garlic.
- 2 cubes meat flavor.
- 1 small envelope of powdered annatto.
- 2 Carrots.
400 milliliters of Water
- 3 tablespoons of vegetable oil.
-1/2 tablespoon of salt (in the sausage sauce).
FOR THE BLANK RICE:
- 600 grams of white rice.
- 1200 milliliters of water.
- 1/2 tablespoon of salt (when boiling the water where the rice will be cooked).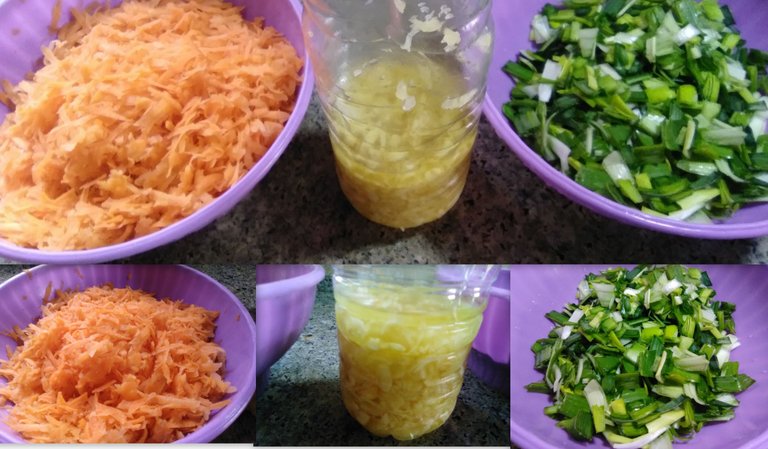 Fotografía tomada por @nancybmp.
Yo acostumbro a tener dientes de ajo ya pelados y conservados en aceite vegetal. Se obtiene un ajo más cremoso y aromático a la hora de cocinar.
Lave corte en trozos medianos al cebollín.
Lave, pele y ralle las Zanahorias.
I usually have garlic cloves already peeled and preserved in vegetable oil. A creamier and more aromatic garlic is obtained when cooking.
Wash the chives cut into medium pieces.
Wash, peel and grate the Carrots.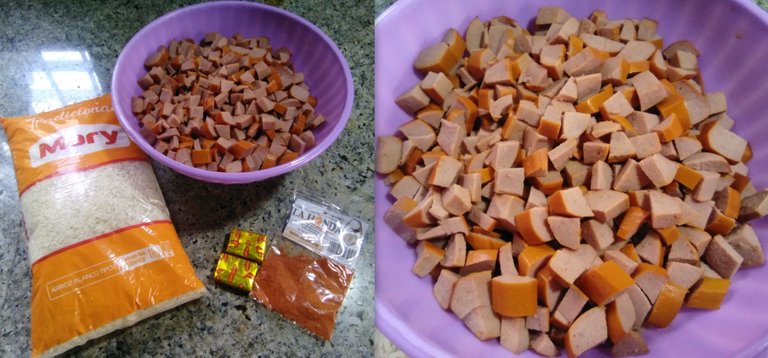 Fotografía tomada por @nancybmp.
Corte en trozos medianos a las unidades de salchichas.
Cut the sausage units into medium pieces.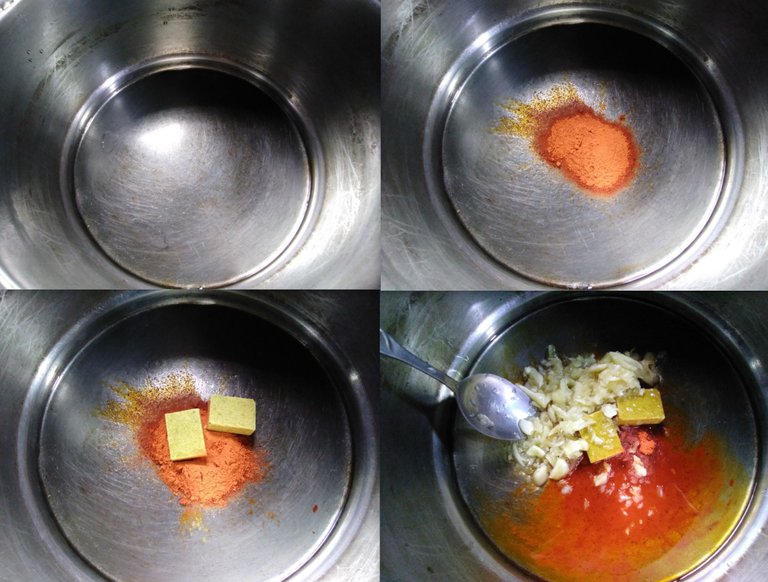 Fotografías tomadas por @nancybmp.
En la olla, añadí el contenido neto de 1 sobre pequeño de onoto molido.
Coloque el par de cubitos de sabor.
Posteriormente agregue cuatro cucharadas de ajo triturado en aceite vegetal.
In the pot, I added the net content of 1 small envelope of ground annatto.
Place the pair of flavor cubes.
Later add four tablespoons of crushed garlic in vegetable oil.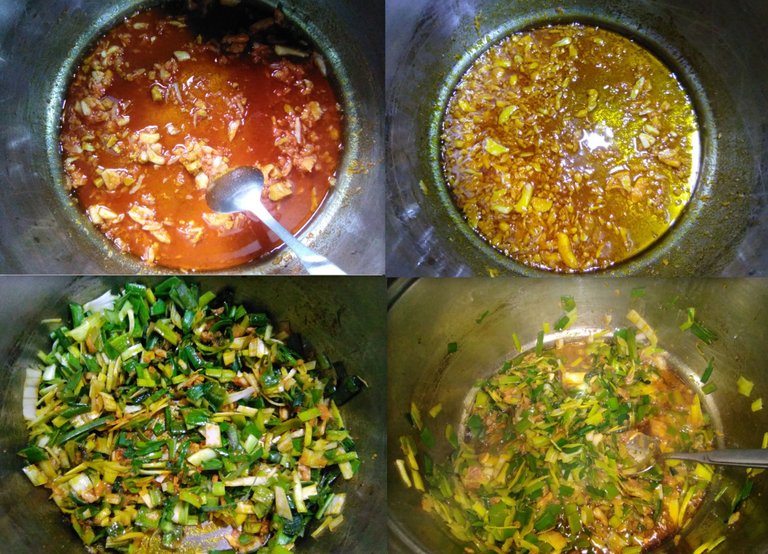 Fotografías tomadas por @nancybmp.
Al colocar a fuego lento la olla comencé con el sofrito, primeramente el ajo con el onoto. Seguidamente con el cebollín. Fui mezclando poco a poco estos ingredientes.
When I put the pot over low heat I started with the sauce, first the garlic with the annatto. Next with the chives. I gradually mixed these ingredients.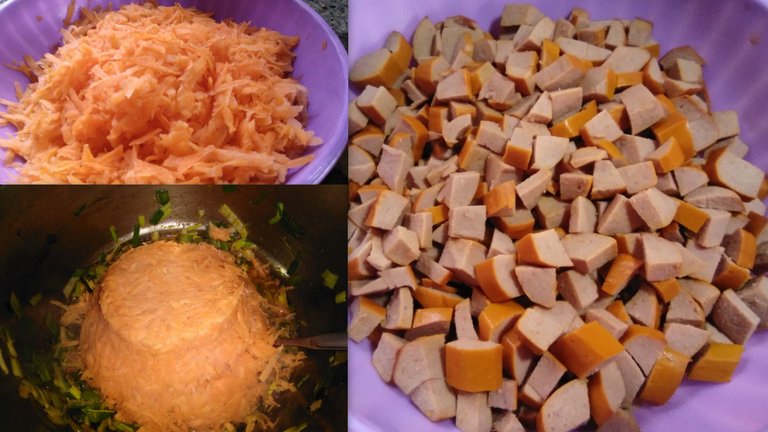 Fotografías tomadas por @nancybmp.
Fue el turno de añadir la zanahoria rallada en conjunto con los trozos de salchicha al sofrito.
It was the turn to add the grated carrot together with the pieces of sausage to the sauce.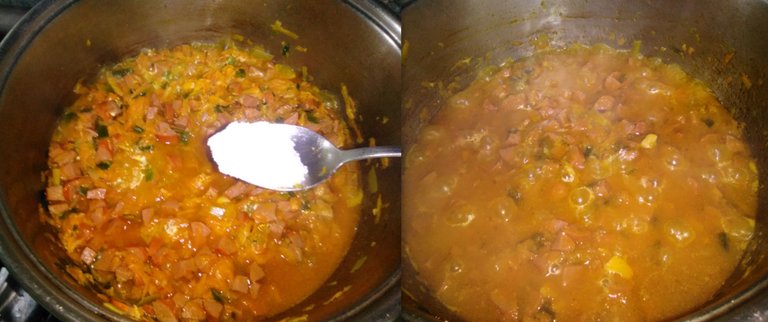 Fotografías tomadas por @nancybmp.
Posteriormente otorgar el toque de salado a este sofrito con 1/2 cucharada de sal.
Dejar que cocinar por 15 minutos o hasta que la zanahoria de íntegre e hidrate bien.
Later, add a salty touch to this sauce with 1/2 tablespoon of salt.
Let cook for 15 minutes or until the carrot integrates and hydrates well.


Fotografías tomadas por @nancybmp.
Para comenzar a preparar el arroz salteado y doradito... iniciamos con el sofrito. 1 cucharada de Aceite vegetal y solo un poco de ajo triturado.
To start preparing the sautéed and golden rice... we start with the stir-fry. 1 tablespoon Vegetable Oil and just a little crushed garlic.


Fotografías tomadas por @nancybmp.
Añadimos los 600 grs de Arroz Blanco y comenzamos a dorarlo a fuego lento por un par de minutos.
Add the 600 grams of White Rice and begin to brown it over low heat for a couple of minutes.


Fotografías tomadas por @nancybmp.
Con previa o anticipada acción de calentar los 1200 mililitros de agua. Los cuales son agregados en el arroz.
With prior or anticipated action of heating the 1200 milliliters of water. Which are added to the rice.


Fotografías tomadas por @nancybmp.
Con 1/2 cucharada de sal en el arroz... Solo queda esperar.
With 1/2 tablespoon of salt in the rice... It only remains to wait.


Fotografías tomadas por @nancybmp.
Su cocción no pasa de 20 minutos y el arroz queda sueltecito.
Its cooking does not exceed 20 minutes and the rice is loose.


Fotografías tomadas por @nancybmp.
Saque las galletas de sota y la salsa de aguacate con ajo. ¡Ya listas para untar!
Take out the crackers and garlic avocado sauce. Ready to spread!

Fotografías tomadas por @nancybmp.
---
---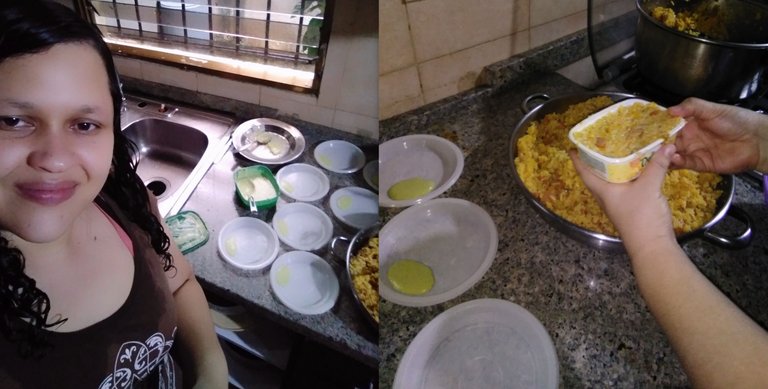 Fotografías tomadas por @nancybmp.
Yo pude haber servido el plato con el arroz y el guiso de salchichas aparte, pero a petición de los hinchas culinarios los incorpore e igualmente se ve apetecible el arroz.
I could have served the dish with the rice and the sausage stew separately, but at the request of the culinary fans I incorporated them and the rice looks equally appetizing.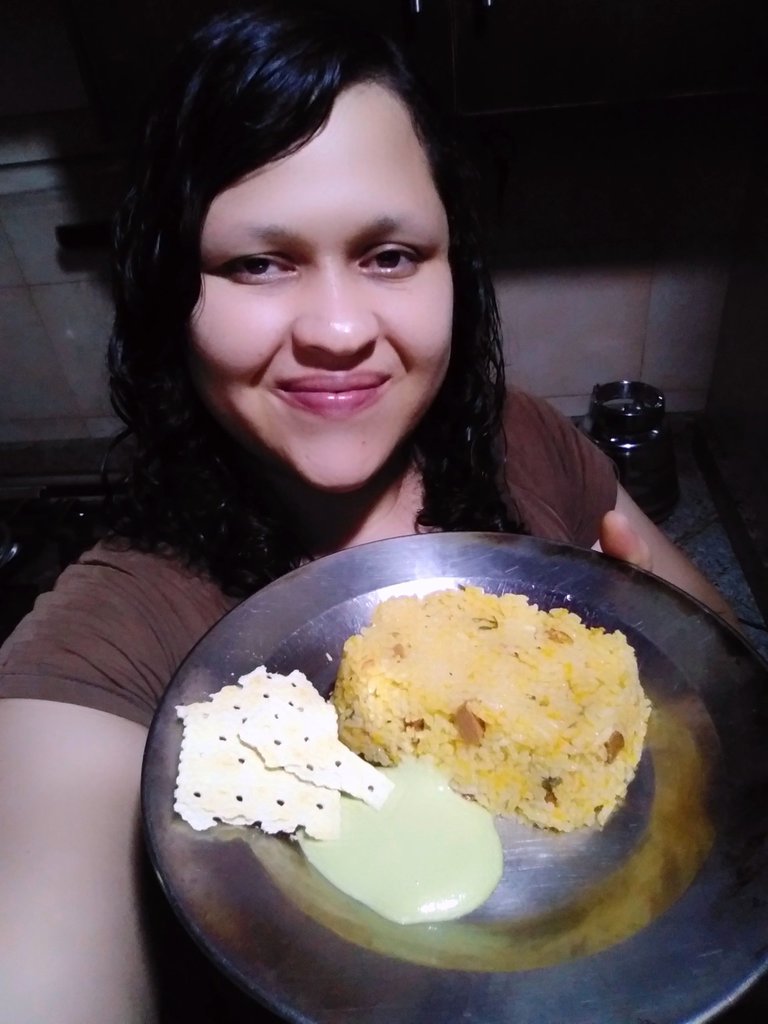 Fotografías tomadas por @nancybmp.
Aunque sea una elaboración sencilla... tiene buena pinta y rico sabor.
¡Y esta fue la manera en cómo metí un ESPLÉNDIDO GOL muy celebrado por la afición familiar!
Although it is a simple preparation... it looks good and has a rich flavor.
And this was the way I scored a SPLENDID GOAL that was highly celebrated by the family fans!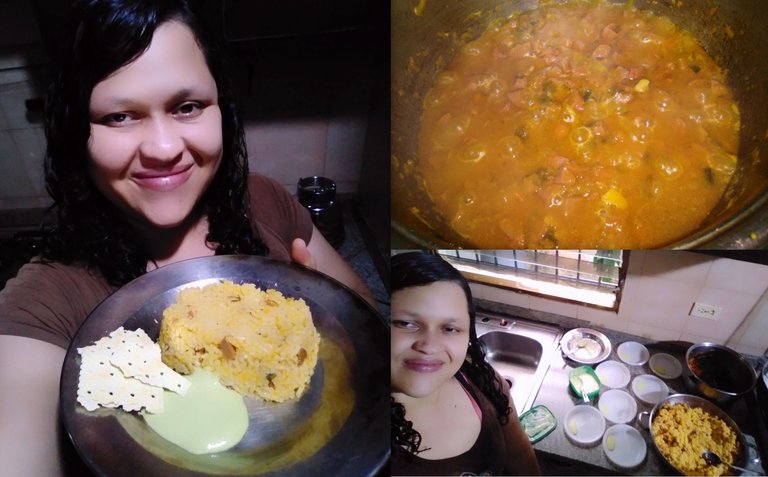 Fotografías tomadas por @nancybmp.
¡Hasta la proxima mi gente linda de Hive y Buen provecho!
¡Muchas gracias por el apoyo a todas las comunidades presentes!
¡Until next time my beautiful people from Hive and Bon appetit!
¡Thank you very much for your support to all the communities present!

Copyright @nancybmp - All rights reserved
¡MI MOTIVACIÓN ES QUE DISFRUTES DE MI POST!.
¡GRACIAS POR SU APOYO!
¡NO TE OLVIDES DE SEGUIRME Y VOTARME!
¡UN FUERTE ABRAZO! @nancybmp