The purpose of this post is to highlight and enumerate some of the helpful tools that exist on the Hive blockchain, mostly for the non-technical individuals we have here. It is not a comprehensive list, nor is it intended to be. Especially with the active development that exists, it is a daunting task to stay on-top of all the new development!
For those wanting to see more than is covered in the scope of this condensed list, I suggest looking through the following site which is much more comprehensive: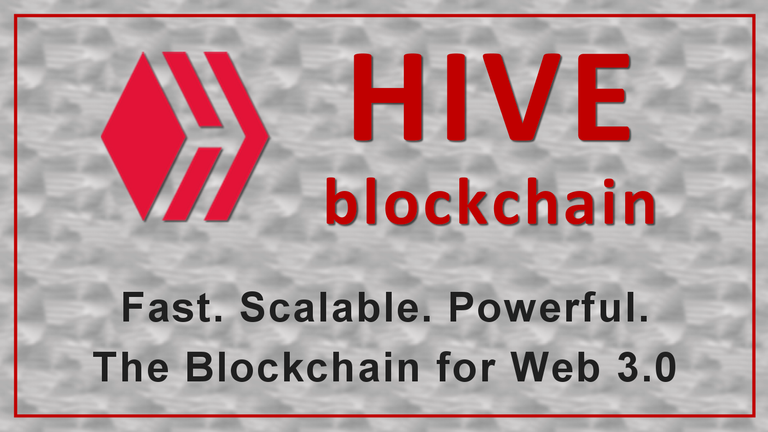 this image free-for-use by anyone
The official portal to the Hive blockchain:


Hive Account Recovery will allow you to safely recover your account if it ever happens to becomes compromised. This is a very important thing that everyone should do now if you have not done so already. After your account has been hacked could be too late to recover access and keep your wallet safe. This tool will lay the foundation for a rapid recovery later, should the need arise.
🔸 Hive Account Recovery by @arcange
If you choose not to use this service for whatever reason, please consider at least changing your 'Recovery Account' to that of a trusted witness or project who can run the recovery code for you should it become necessary. This is especially important for those whose Recovery Accounts are still set to @steem from before the Hive blockchain forked.
NOTE: If your Recovery Account is set to a trusted project who onboarded you, such as Peakd, Ecency, 3speak, etc., that is fine and you do not need to change it.
If you do not know your Recovery Account setting, you can find it easily many different ways. In the PEAKD interface (link below), go to 'Keys & Permissions' and click on the 'Account Recovery' tab. In HIVETASKS (link below), click on 'GeneralData' for your account. Or look on HIVEBLOCKS (link below) in the left sidebar.




These tools allow anyone to view an account's recent activity on the blockchain as well as some general data about the account.
🔸 HiveNow by @penguinpablo
🔸 HiveStats by @leofinance team
🔸 HiveTasks by ???
🔸 Hive Real-time Wallet Dashboard by @nuthman shows, in real-time, how HivePower (HP) and delegations increase with the APR% dividends of the blockchain.

Auto-voters allow for supporting favorite authors on the Hive blockchain even when one is offline and unable to cast manual votes. The first one, below, also allows joining of Curation Trails, so that when your favorite curators upvote something, your account will auto-vote it, too. The second one, below, allows for detailed rules for when votes should be cast. Since Voting Power (VP) recharges at a rate of 20% per day, it is recommended to carefully set up autovoting so that your VP doesn't drop too low, somewhere around 80% minimum so that it will recharge quickly and your vote values will be worth more.
🔸 https://hive.vote by @mahdiyari
🔸 https://rewarding.app by @holger80




Block Explorers allow a low-level view of transactions that are processed on the blockchain. Every transaction can be viewed, whether a transfer of funds, a delegation ("loan") of HivePower (HP), a publication of a post, upvotes, comments, votes cast for witnesses, etc. All transactions on Hive are public, for the sake of transparency.
🔸 HiveBlockExplorer by @penguinpablo for the Hive blockchain
🔸 HiveBlocks by @roadscape for the Hive blockchain
🔸 Hive-Engine.rocks is a block explorer for the Hive-Engine exchange




The following on-chain exchanges are for trading tokens supported on the Hive blockchain, such as LEO, PAL, CCC, and many others. For external exchanges where HIVE is listed (i.e., where one can buy or sell HIVE), see https://hive.io for a complete list.
The following aren't really exchanges, per se, but quick "financial service" options for converting HBD-to-HIVE, STEEM-to-HIVE, etc.
🔸 BeeSwap
🔸 @swap.app by @cardboard with instructions and details here




🔸 Every user on the Hive blockchain should read the official FAQ on Hive.Blog, the default interface to the blockchain. The FAQ is full of useful information. New users will not understand everything at first, but that is okay. Re-read the FAQ every two or three days and it will begin to make more sense. Longtime users would do well to review this document periodically, as well, as it is easy to forget some of the nuances after a while.
Many of the enhanced interfaces have their own version of the FAQ as well:
Gaming on the blockchain started with a couple of dice-rollers and Splinterlands, but there has been an explosion of gaming options in the past year or two. There are so many games on the Hive blockchain now that I will not attempt to list all of them here but will provide a link so the reader can see the listing on HiveProjects. Clicking on any of the entries there will show a description of the game, the developers involved, and a clickable-link to the game site:
https://hiveprojects.io/categories/games
For games of a gambling nature check this link, instead:
https://hiveprojects.io/categories/gambling

There is only one Hive blockchain, but there are many ways with which to interact with it. Just as one can interact with their bank by going into the lobby, using the drive-thru service area, or using an ATM, the different interfaces (also called "front-ends") allow choices for interacting with the Hive blockchain. Every single one of them has advantages over the others. Since they all work with the same Hive blockchain, your username and Keys will work with them all.
🔸 https://ecency.com is the web-version of an enhanced interface by the Ecency project, which also offers a standalone desktop-app as well as a mobile-app for interacting with Hive. They run their own node and their uptime is exceptional.
🔸 https://hive.blog is the default front-end to the Hive blockchain, based on the "Condenser" source code. Since it is open-source and easy for developers to set up, it is often used as the interface-of-choice for Tribes.
🔸 https://peakd.com offers the most feature-rich, enhanced experience for the Hive blockchain. There are too many unique features to list here, but they include such things as the saving of multiple drafts, post scheduling, account analytic tools, enhanced wallet view (such as viewing delegations and Hive-Engine token wallet all on one screen), enhanced wallet operations, witness voting, setup of Account Recovery, and much more, all in one place. They also offer a Voting Power "slider" for all users, which is only available on Hive.Blog after an account has reached 500 staked HivePower (HP).




Key Managers allow the safe storing of account Keys in encrypted form on one's device, secured by password. When a blockchain transaction needs to be 'signed' by the account, the Key Manager can handle it with a simple confirmation, preventing the user from having to dig for the appropriate Key.
🔸 HiveKeychain for Chromium-based browsers (Opera, Brave, Edge, Vivaldi, Chrome, etc.)

This tool allows blogging rewards to be paid in liquid ("spendable") funds rather than in staked HivePower (HP), thus preventing the need to PowerDown for liquidity. This is intended as a short-term solution for liquid rewards, rather than an ongoing activity.
🔸 reward.app by @cardboard & @acidyo




🔸 HaveYouBeenHere is a mobile-app allowing travelers to track their trips, pin places to the map, and find new places to visit from other app users.
🔸 Pinmapple allows users on the Hive blockchain to "pin" posts to a world map. This is ideal for travelers to show locations they have visited, or for anyone to share restaurants, landmarks, hiking spots, and recreational opportunities near where they live. The map is fully searchable by location, and posts are easily read by clicking on the pins placed on the map.



🔸 Actifit tracks your activity & fitness levels on-chain
🔸 cXc World allows musicians to pin music to a map
🔸 dBuzz allows short, microblogging posts, like Twitter
🔸 dLUX promotes Virtual Reality (VR) apps & experiences
🔸 HiveTips tip users on Twitter, YouTube, and other sites with HIVE
🔸 Lensy allows photographers to tokenize their work




Mobile-apps allow for an enhanced user experience on the smaller screens of cellphones and tablets. Besides the ones listed below, note the PEAKD is developing one, too. It's great to have so many choices!
🔸 Dapplr (for iOS & Android) –details & links here
🔸 Ecency (for iOS & Android) –details & links here
🔸 HiveWallet (for iOS & Android) –details & links here




NFT Showroom is a digital art marketplace built on Hive that makes creating and collecting rare digital art simple and accessible. All artists are registered Hive users and their offerings range from the quirky to the sublime.




Long ago, there was only one interface to the blockchain (called "Condenser"), and notifications did not work on that interface. There was no way to know if someone replied to a comment other than to go back to that comment and check for replies. There was no way to know if someone was @mentioned in a post, etc. Then, the GINAbot project was launched to provide notifications via DirectMessage (DM) in the Discord app and our lives became much easier.
PEAKD included working notifications when it was launched, as did Ecency, and notifications were finally enabled on Condenser as well. However, many of us were already addicted to the services of GINAbot by the time those other options became reality. GINAbot is still working today (and provides notifications before they appear anywhere else!) with such popularity that there are two other similar services as well. If you are a Discord user, I would recommend trying them all, then staying with the one you most like.
🔸 HiveBot
🔸 GINAbot



🔸 Many of the front-ends/interfaces to the Hive blockchain feature a "SignUp" button for easily creating a new account, usually on the same screen as one would click the "Login" button. Check https://peakd.com, https://ecency.com, and others. The interfaces based on Condenser (such as https://hive.blog, https://palnet.io, etc.) typically will bring one to the following link:
🔸 https://signup.hive.io has many options because some folks don't want to verify with email/phone (maintaining some degree of anonymity), some are willing to pay extra to get the account quickly, and some want a free account even if it take a couple days.




The following will allow the recording of an audio podcast, or playing podcasts recorded by others.

If you have purchased your own Internet domain and are hosting a website there, syndication will allow your Hive posts to appear on the website. Whenever you publish a new blog post on Hive, RSS (Really Simple Syndication) will automatically allow that post to be visible in a syndicated Feed on your website.
🔸 HiveRSS
A "Tribe" is a Community on the Hive blockchain that has launched their own token via the Hive-Engine exchange. Most of the Tribes also have their own interface to the Hive blockchain which rewards users for publishing their Hive posts through that interface. The first Tribe was http://palnet.io with their token PAL. Many other Tribes formed afterwards.
There are so many Tribes, I will not attempt to list them here. Instead, please see the list at the following link:

https://tribaldex.com/tribes

🔸 3speak offers video uploads with long-term storage
🔸 d.tube offers video uploads with short-term storage (via IPFS)
🔸 VIMM offers streaming services for video & gaming




Witnesses are the 'block producers' on Hive, who run various servers that keep our blockchain operating smoothly. Without witnesses, there would be no blockchain. All of them have invested time, money, & sweat, and each deserves recognition for their efforts.
Many of the witnesses also run separate services in addition to their witness servers, such as @arcange, who has provided a Hive Account Recovery, HiveSQL (a back-end search function for developers), HiveBuzz, and other services. He is just one of many witnesses doing the same, with others producing awesome things such as Peakd, Ecency, Hive-Engine, HiveTips, Actifit, KeyChain, Hive.Vote, and many more! Some, like @foxon and @crimsonclad and @pharesim work tirelessly educating people by answering questions in the official Hive Discord server. Others, like @guiltyparties work tirelessly to keep our blockchain free of bad actors (plagiarists, spammers, phishing attacks, etc.). Others, like @enginewitty, @roelandp, and @aggroed work tirelessly to foster community.
Our witnesses are our most valuable asset!
Support your witnesses, folks!
Every person who has an account on Hive is able to vote for 30 witnesses which they think are doing a good job and reflect the views/goals of each user. Voting is not an isolated act, but an ongoing process, as votes can be changed at any time. Each user can support the blockchain in a small — but-important! — way by casting votes. If you are unsure of which witnesses you should vote, you can always set someone you trust as a "proxy" and your votes will follow theirs.
🔸 https://peakd.com/me/witnesses
🔸 https://hive.arcange.eu/witnesses
🔸 https://hivekings.com/witnesses
🔸 https://wallet.hive.blog/~witnesses




As stated in the beginning, this is not intended to be an exhaustive list. I am aware of at least 150 to 200 items that could have been included here, but this list is meant to inform, not overwhelm. Furthermore, I am hoping that it will be of great help to newer users of the Hive blockchain, although it would thrill me if some veteran users learned something here, too.
If there are any errors here, please inform me so I can correct them. If there is enough interest, I might periodically re-publish this information with updates as things change (and hope that @hivewatchers will grant me a reprieve for doing so). Lastly, if there are tools/services which might be beneficial to the general population on Hive, especially to newer users, please let me know.
Lastly, I intend to 'pin' this post in TheTerminal Community so everyone will be able to find it easily at a later date.

 😊

the above footer free-for-use by anyone
@theterminal assists those new to Hive to learn the etiquette & workings of the blockchain. If you like our work, please consider a delegation to @theterminal or @heyhaveyamet












24-Feb-2021