Conistra vaccinii (Linnaeus, 1761)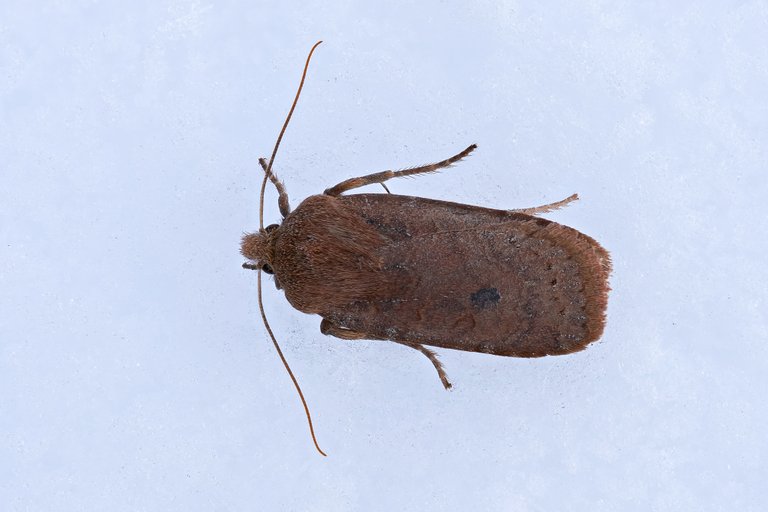 ▲ Click on the image for full resolution ▲
Bei Sonnenschein und -2° bin ich gestern zu einer Tour in den Spessart aufgebrochen. Während im Tal der Schnee geschmolzen war, präsentierte sich der Hochspessart tief verschneit. Am Rohrberg angekommen, knirschte der Schnee bei jedem Schritt unter den Füßen. Als ich im Schnee diesen kleinen Falter entdeckte, konnte ich es kaum glauben. Diese Art verbringt normal den Winter im Winterschlaf und wird erst wieder im zeitigen Frühjahr aktiv.
With sunshine and -2 ° I left yesterday for a tour in the Spessart Forest. While in the valley the snow had melted, the Spessart presented itself deeply covered in snow. Arrived at the Rohrberg, the snow crunched with every step under the feet. When I discovered this small moth in the snow, I could hardly believe it. This species normally spends the winter in hibernation and becomes active again only in early spring.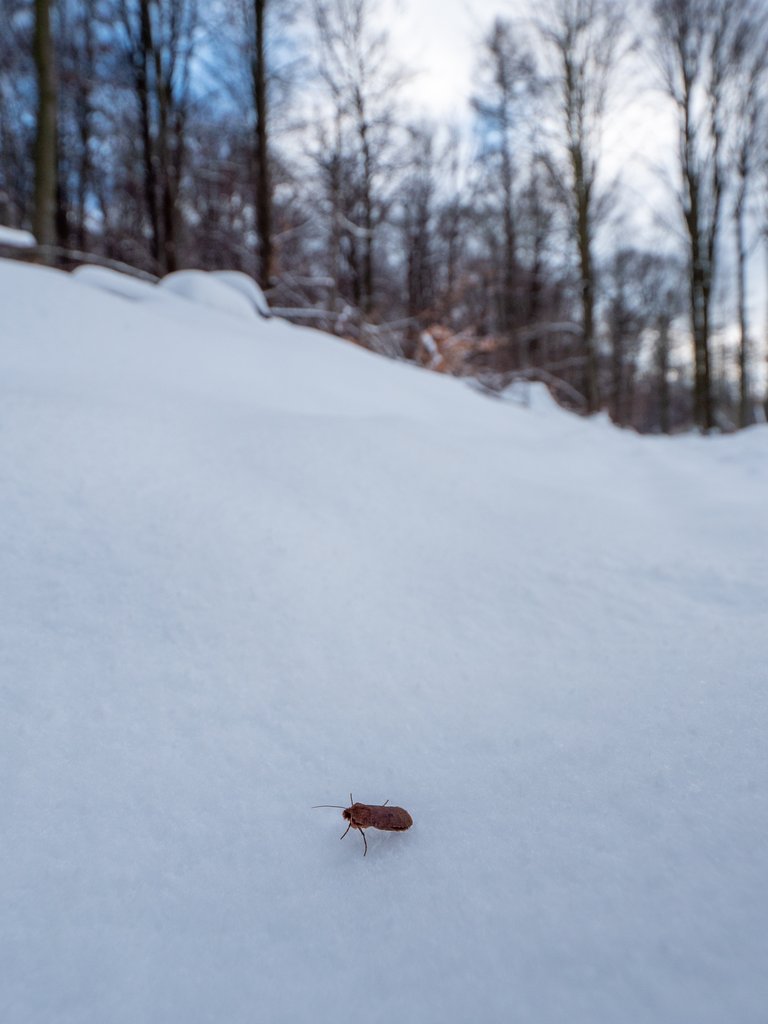 ▲ Click on the image for full resolution ▲
Die Heidelbeer-Wintereule (Conistra vaccinii) ist ein Nachtfalter aus der Familie der Eulenfalter (Noctuidae). Der Falter fliegt im Herbst und überwintert. Ab März ist er wieder aktiv und paart sich im Frühling. Die Raupe ernährt sich von einer Vielzahl von Pflanzen. Bevorzugt werden die Blätter von Laubbäumen. Die Verpuppung erfolgt im Erdreich. Der Falter fliegt in einer Generation und ist noch zahlreich zu beobachten.
The chestnut (Conistra vaccinii) is a moth of the family Noctuidae. The moth flies in the autumn and hibernates. It is active again from March and mates in spring. The caterpillar feeds on a variety of plants. Preference is given to the leaves of deciduous trees. The pupation takes place in the soil. The moth flies in one generation and can still be observed in large numbers.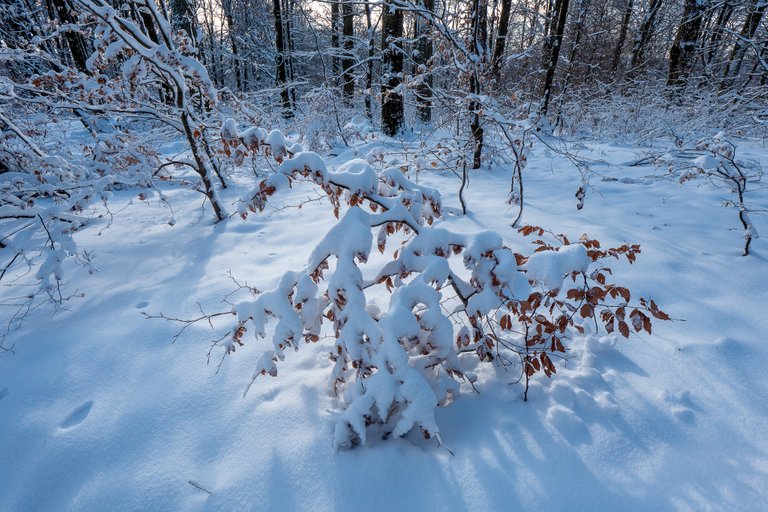 ▲ Click on the image for full resolution ▲
An diesem Tag hätte ich mit vielem gerechnet, aber auf keinen Fall mit einem Nachtfalter, der putzmunter durch den Schnee läuft. Die verschneite Landschaft ist in jeder Hinsicht eine Augenweide. Licht und Schatten im stetigen Wechsel machen Laune, den Wald weiter zu erkunden.
On this day, I would have expected many things, but definitely not a moth running through the snow, chirpy as a button. The snowy landscape is a feast for the eyes in every respect. Light and shadow in constant change make mood to explore the forest further.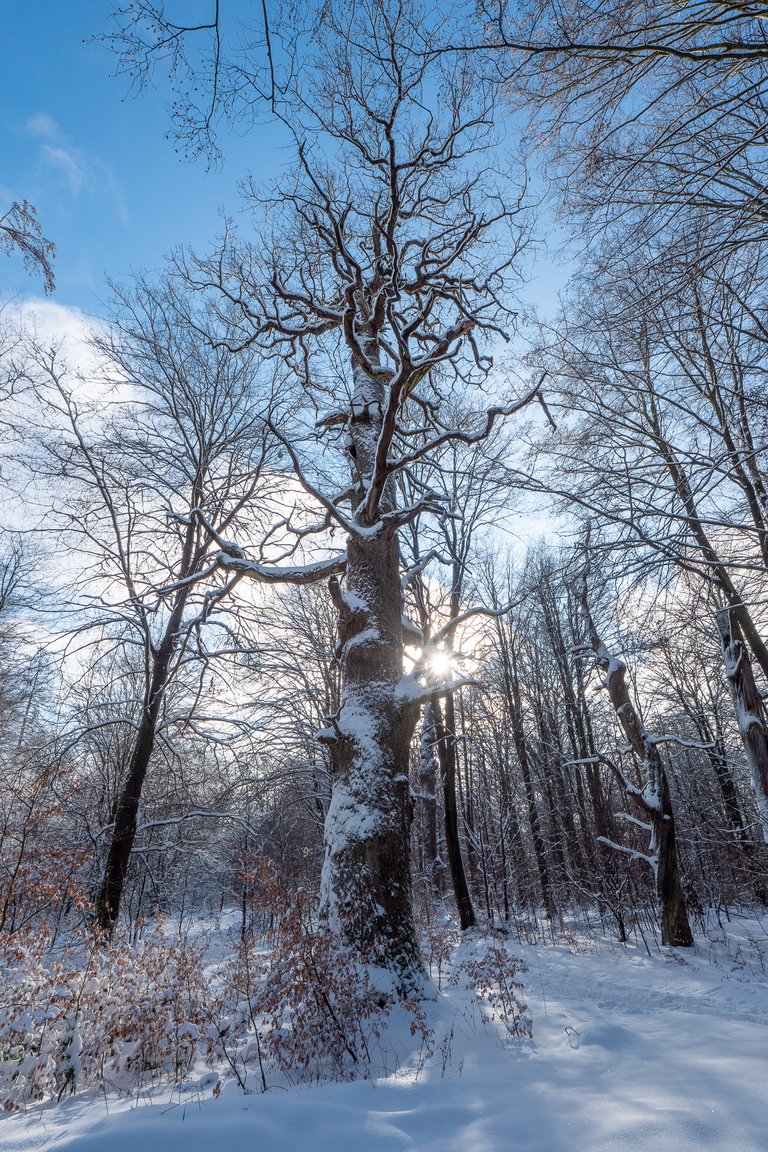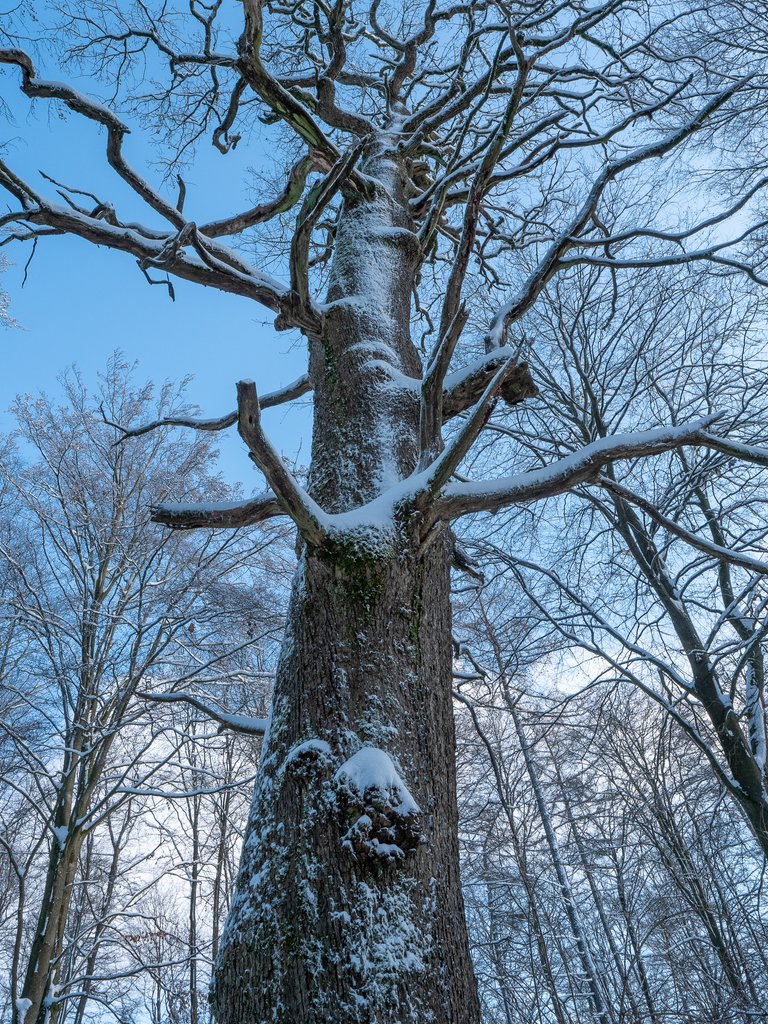 ▲ Click on the image for full resolution ▲
Von den alten Eichen in diesem Naturschutzgebiet hatte ich in früheren Beiträgen schon geschrieben. Diese bis zu 800 Jahre alten Baumriesen bleiben für mich immer wieder faszinierend. Obwohl schon viele Äste abgestorben sind, ist die Baumkrone noch vital und treibt im Frühjahr Blätter aus. Zum Naturschutzgebiet Rohrberg komme ich immer wieder gerne. Zu jeder Jahreszeit sollte man sich dort auf eine Überraschung einstellen. Eine einzigartige Flora und Fauna, die es zu erhalten gilt.
I had already written about the old oaks in this nature reserve in earlier posts. These up to 800 years old tree giants remain fascinating for me again and again. Although many branches have already died, the tree crown is still vital and sprouts leaves in the spring. I always enjoy coming to the Rohrberg nature reserve. At any time of the year you should be prepared for a surprise there. A unique flora and fauna, which must be preserved.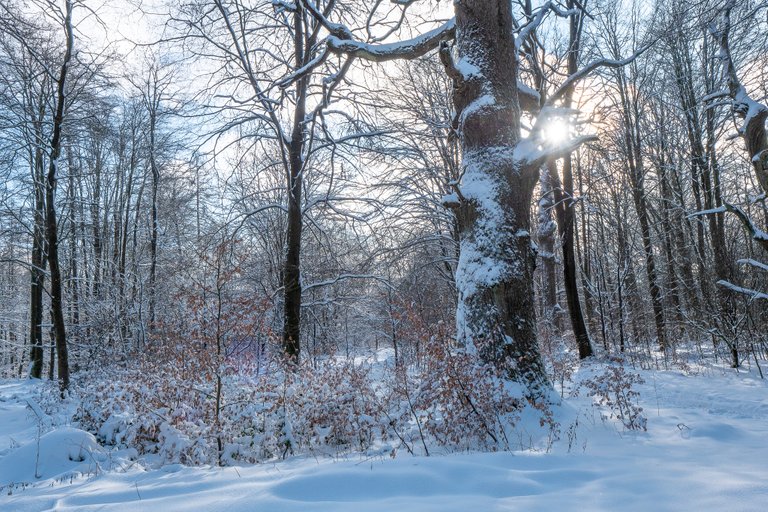 ▲ Click on the image for full resolution ▲
🌳 Wer mehr zu diesem fantastischen Wald mit seinen alten Eichen erfahren möchte, den lade ich ein meinen nachfolgenden Artikeln Aufmerksamkeit zu schenken:
https://peakd.com/lepidoptera/@faltermann/schmetterlinge-im-winter-moths-in-winter
https://peakd.com/nature/@faltermann/mein-spiel-mit-dem-licht-my-play-with-light
https://peakd.com/nature/@faltermann/herbstlichter-autumn-lights
https://peakd.com/hive-166168/@faltermann/austern-seitling-oyster-mushroom
🌳 If you want to know more about this fantastic forest with its old oaks, I invite you to pay attention to my following articles:
https://peakd.com/lepidoptera/@faltermann/schmetterlinge-im-winter-moths-in-winter
https://peakd.com/nature/@faltermann/mein-spiel-mit-dem-licht-my-play-with-light
https://peakd.com/nature/@faltermann/herbstlichter-autumn-lights
https://peakd.com/hive-166168/@faltermann/austern-seitling-oyster-mushroom
〰️
| | |
| --- | --- |
| Category: | Macro + Landscape |
| Camera: | Panasonic Lumix DC-G9 |
| Lens: | Olympus M.Zuiko Digital ED 60mm 1: 2.8 Macro + Panasonic Leica DG 8-18mm f2.8-4 Asph |
| Location: | Germany, Bavaria, Lower Franconia, Rohrberg nature reserve |
〰️
Wenn dir mein Beitrag gefällt, freue ich mich über deine Nachricht.
Herzlichen Dank und viele Grüße vom @faltermann 🐛
If you like my contribution, I am looking forward to your message.
Many thanks and greetings from Germany 🦋
🔴 PeakD (Best user interface for the decentralized Hive Blockchain)🔴
🔴 [DE] HIVE FAQ German Community 🔴
🔴 Fascinating Insects Community 🔴