Boloria euphrosyne (Linnaeus, 1758)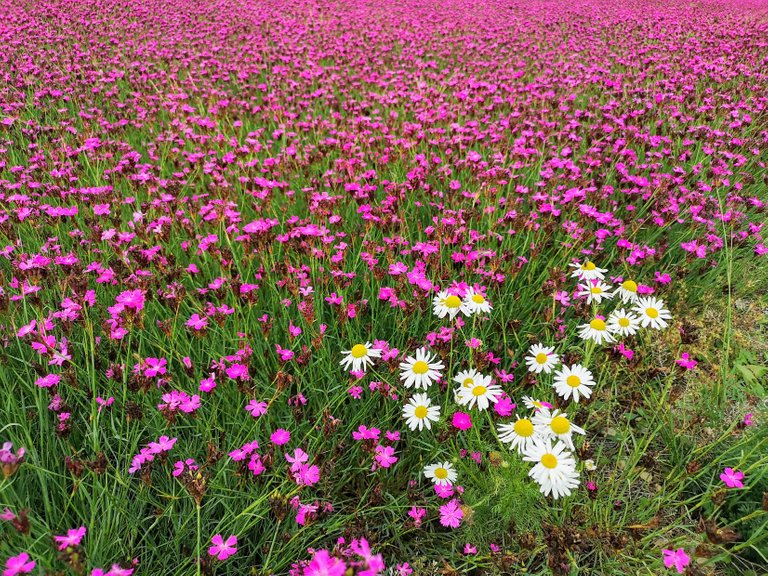 ▲ Click on the image for full resolution ▲
An einem Sommertag hatte ich meinem Freund Ritschi ein neues Habitat gezeigt. Bei der Suche nach Schmetterlingen waren wir beide nicht besonders erfolgreich. Die vielen Kamillen am Wegrand veranlassten uns, die Raupe des Kamillen-Mönch (Cucullia chamomillae) zu suchen. Leider blieb auch dieses Vorhaben ohne Erfolg. Unsere Wege trennten sich, da ich noch etwas Zeit in dem Habitat verbringen wollte. Auf meinem Rückweg ist mir ein Meer von Karthäusernelken (Dianthus carthusianorum) aufgefallen. Diesen Anblick musste ich mit meiner Kamera festhalten. Leider hatte ich auch damit kein Glück, denn der Akku meiner Kamera war leer. Also zurück zum Auto und wie sollte es anders auch sein, der Ersatzakku war auch leer. Es gibt Tage, die sind einfach, wie sie sind und man kann sich dagegen nicht wehren. Der letzte Ausweg war mein Smartphone. Wer sagt es denn, geht doch!
On a summer day I had shown my friend Ritschi a new habitat. Neither of us were very successful in the search for butterflies. The many chamomile along the way made us look for the caterpillar of the chamomile shark (Cucullia chamomillae). Unfortunately this search was also unsuccessful. Our ways separated, because I wanted to spend some more time in the habitat. On my way back I noticed a sea of Carthusian pink (Dianthus carthusianorum). I had to capture this sight with my camera. Unfortunately I had no luck with that either, because the battery of my camera was empty. So back to the car and how else should it be, the spare battery was also empty. There are days that are just the way they are and you can't resist. The last way out was my smartphone. Who says it, go for it!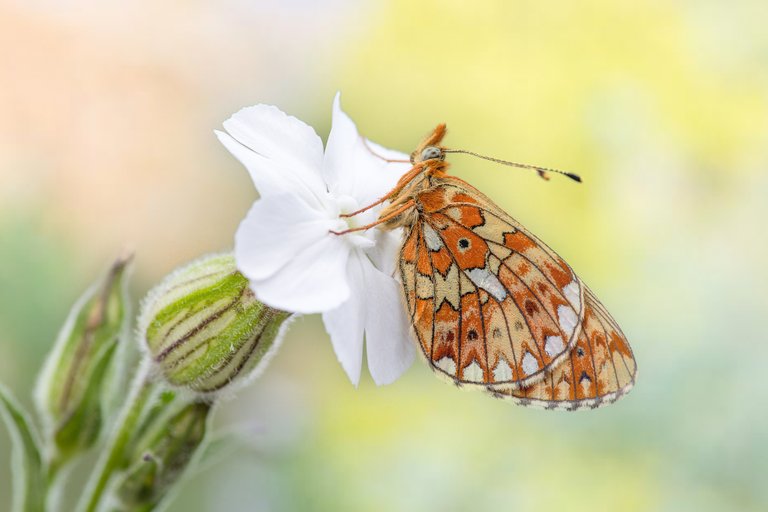 ▲ Click on the image for full resolution ▲
Es gibt aber auch andere Tage, da gelingen tolle Bilder von Schmetterlingen am laufenden Band. Die Technik ist verlässlich und nichts stört beim Fotografieren. Es braucht einfach Geduld und Muse. Ein waches Auge und das richtige Gespür für den Moment. Naturfotografie ist etwas Wunderbares, gerade weil man nicht alles planen kann. Auf jeden Fall gibt es zu jedem Bild immer eine Geschichte.
But there are also other days, when great pictures of butterflies can be taken all the time. The technique is reliable and nothing disturbs while taking pictures. It simply needs patience and muse. An alert eye and the right feeling for the moment. Nature photography is something wonderful, especially because you cannot plan everything. In any case there is a story behind every single picture.
〰️
| | |
| --- | --- |
| Category: | Macro + Landscape |
| Camera: | Canon 5D Mark IV + Huawei P20 pro |
| Lens: | Canon EF 180 mm 1:3.5L Macro USM |
| Location: | Germany, Lower Franconia, Schweinberg |
〰️
Wenn dir mein Beitrag gefällt, freue ich mich über deine Nachricht.
Herzlichen Dank und viele Grüße vom @faltermann 🐛
If you like my contribution, I am looking forward to your message.
Many thanks and greetings from Germany 🦋
🔴 PeakD (Best user interface for the decentralized Hive Blockchain)🔴
🔴 [DE] HIVE FAQ German Community 🔴
🔴 Fascinating Insects Community 🔴